2009 ... the Boss played Glastonbury, Jacko and John Martyn bowed out, The Beatles were dusted off (again), Mott The Hoople reformed ... AC/DC played UK gigs...
But how was it for our reviewers?
One of the skills of the music reviewer is to be able to assess and analyse a new album quickly, highlighting its relative strengths, weaknesses, and potential durability.
With the benefit of hindsight, the 'Best Of' is a chance for reviewers to also evaluate their initial reactions and list those albums that have made a more lasting impression over the past twelve months...

And how was it for...
DEL BROMHAM (Stray)
DUNCAN HAMILTON (Katy Lied)
"The Best of 2009" (reviewers' selection) is featured on Get Ready to ROCK! Radio on Sunday 27 December at 22:00
Get Ready to ROCK! Best of 2009
---
Top Album

1. STRAY Valhalla
2. CHICKENFOOT Chickenfoot (2)
3. DREAM THEATER Black Clouds And Silver Linings (3)
4. MAGNUM Into The Valley of the Moonking (1)
5. PORCUPINE TREE The Incident (4=)
6. SAXON Into The Labyrinth (4=)
(figures in brackets as voted in our pubic poll Nov-Dec 2009)
---
Top Reissue

1. DEF LEPPARD Pyromania Deluxe Edition
2. DEEP PURPLE Stormbringer
---
Top Live Act

1. CHICKENFOOT
2. SAXON
3. EUROPE
---

Top DVD

1. IRON MAIDEN Flight 666
2. KISS Kissology Vol 1 & 2
3. ANVIL The Story of Anvil
---
Jason Ritchie (Reviews Editor)
Top CDs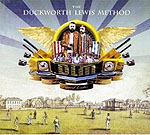 DUCKWORTH LEWIS METHOD S/T
Superb cricket themed album that includes the Divine Comedy's Neil Hannon. Perfect quirky pop bliss.

PLACES OF POWER Now Is The Hour
The best album Foreigner never made.

WORK OF ART Artwork
If you like Toto's 'Isolation' and hi-tech AOR then look no further.

JEFF SCOTT SOTO Beautiful Mess
An album that JSS shows his more funkier side. Worth it alone for the song 'Gin & Tonic Sky'.
>> Check out W.E.T. (below)

W.E.T. Wet
It's that man Mr Soto again doing his melodic hard rock thing and sounding at times how you'd imagine Journey sounding had he been able to record with the band. Essential.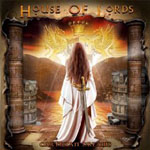 HOUSE OF LORDS Cartesian Dreams
Their best album since reforming and nearly as good as 'Sahara'!
DREAM THEATER Black Clouds And Silver Linings
Made me fall in love again with the band as they focused on melody.

MAGNUM Into The Valley Of The Moonking
They just keep getting better since they returned. Good to see a couple of straight ahead hard rockers on this album.

IQ Frequency
Their best album to date and just marvel at the soundscapes they create.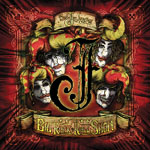 THE JOKERS Great Rock 'N' Roll Show
Amazing debut album that mixes 70's Aerosmith/Stones with a more modern feel. Not a single filler.

Top 5 Reissue Albums

TWISTED SISTER Stay Hungry
Some of the unreleased tracks should have made the original release
EUROPE Out Of This World/Prisoners In Paradise
URIAH HEEP Celebration
Yes they are re-recordings but the songs are old
THE STORYS The Town Beyond The Trees
Great album and just catching up on an album raved about by fellow GRTR! reviewers.
THE BABYS Reissues
They still sound great today.

Top 5 Gigs

RICK WAKEMAN (Hampton Court)
OTT as you'd expect and a close call as to who stole the show, Rick Wakeman or the narrator, Brian Blessed.
CHRIS SINGLETON (Troubadour, London)
Good to hear some new tunes which bode well for the new album
ULTRAVOX (Hammersmith Apollo, London)
Waited years to see them live and they were superb
POWER QUEST (O2 Academy, Islington, London)
New line-up did extremely well and can't wait for the new album
EUROPE (Relentless Garage, London)
A very hard rocking set and included a cracking UFO cover

GUILFEST
Always a pleasure to attend and this year enjoyed sets by the Lightning Seeds and Brian Wilson.

Top DVD
RICK WAKEMAN Hampton Court

David Randall (Managing Editor)
Top CDs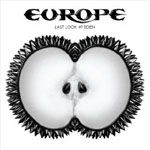 EUROPE Last Look At Eden
This is the album the band always felt they were working up to after their 2004 comeback. Cleverly retaining the best bits from their post-2000 albums to help them conquer a wider audience for their immaculate brand of melodic hard rock.
>> The band tour the UK in February 2010
EDEN'S CURSE The Second Coming
This album slipped out at the back end of 2008, so didn't make our best of lists last year. Fantastic songs that evoke the best of late eighties hard rock but with a tougher edge.
>> The band play Hard Rock Hell on December 4.
SAXON Into The Labyrinth
Barnsley's finest returned with an album that arguably ranks with the best of their eighties output. Memorable songs, great riffs and a sound lovingly updated for the Millennium.
HOUSE OF LORDS Cartesian Dreams
There have been some excellent melodic rock albums out this year, including Places Of Power, Winger, and the latest in the Voices of Rock series. The HOL album is pretty much unbeatable in terms of consistency, excellent vocals, and superb riffs.
JAMES GRANT Strange Flowers
Championed by GRTR! Grant returned with a classy album that recalls the best of his material with Love & Money. He does dark well, but there's a more upbeat vibe and the lyrical imagery and melodic hooks are as strong as ever.
CHICKENFOOT Chickenfoot
A supergroup debut that shouldn't work but does, and then some. Never over-indulgent whilst still showcasing individual talents, notably a marvellous ensemble performance from Satch.
>> The Deluxe Edition features bonus material and DVD
ELEKTRADRIVE Living 4
I'll refrain from stuff like "this packs more punch than a Ferrari' but the Italian melodic rockers return with one of the finest melodic hard rock albums this side of 1987. Alright then, more stylish than Monica Belucci, better than sex with a Fiat 500... Or something like that.
KATATONIA Night Is The New Day
The eighth full-length album from the Swedish metallers. One-time doom merchants, this work is dark, atmospheric, melancholy, and a real career highpoint.
>> The band play UK dates in March 2010
SIMPLE MINDS Graffiti Soul
Black And White 050505, the band's comeback album in 2005, was good but 'Soul' is better. Sounding like a band that is not content to simply rework and rest on their musical laurels, this is catchy and compulsive from end to end.
NATASCHA SOHL Dirty Little Word
There is no justice in this fickle musical world. This album which got an official release in 2009 should have been massive and will impress anyone who likes fiesty girl rock with high production values.
Near misses:
Honourable mentions to PLACES OF POWER (superior melodic rock that reminds me of the long lost Shadow King - no coincidence as that band's Bruce Turgon is on board), KATY LIED (Fleetwood Mac/Heart vibe with new vocalist and produced by Nigel Stonier with his partner Thea Gilmore on backing vocals), TOUCHSTONE (toughened up second album with new vocalist that at times evokes prime-time Threshold), FOREIGNER (excellent comeback album and best-value package of the year) and WINGER (a superb album that may even exceed the best of their classic output in places).
Top Gigs
SAXON (Manchester Academy, 3 May)
Wonderful back catalogue that can always be proudly dipped into, fantastic riffs, and an excellent new album.
EUROPE (Bloodstock, 16 August)
It didn't surprise us that they won over a metal crowd (and many hacks) as we've championed their music since 2004. Great songs, great sound.
DAN REED (Alexanders, Chester 27 April)
An artist humbled by the passing years but reminding us just how good those Dan Reed Network songs are, now stripped down in an engaging acoustic setting.
POWER QUEST (O2 Academy, London 19 October)
Pure nepotism this one as my son is their lead guitarist, but having watched the reconstituted line-up grow in confidence over intense summer rehearsals and some patchy warm-up gigs, the O2 show was a major triumph. They effectively stole Tarja's audience and impressed with their refashioned melodic hard rock.
>> The band support Michael Schenker 16-20 December
ALICE COOPER (Manchester Apollo, 24 November)
A true legend and a big show in a smaller theatre tour, we've waited some years for this. Cooper didn't disappoint trawling through superb back catalogue and reviving some of his iconic stunts for the visuals. Graft on an ace band and post-gig USB stick recordings and you have an unbeatable package.

Joe Geesin
Top CDs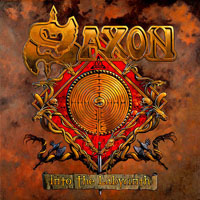 SAXON Into The Labyrinth
Better than a return to form, a cracking album

PRAYING MANTIS Sanctuary
Melodic hard rock at its best

MAGNUM Into The Valley Of The Moonking
Nearly Classic Magnum, great new album

W.A.S.P. Babylon
Best album since Crimson Idol

Reissues (all long overdue and proper treatment)

SAXON catalogue (EMI)

MSG catalogue (EMI)

THE DAMNED Phantasmagoria (Universal)

HAWKWIND Atomhenge series (Cherry Red)


Lost Opportunity

WHITESNAKE Slide It In (EMI)
Incorrect running order, and a lot missing too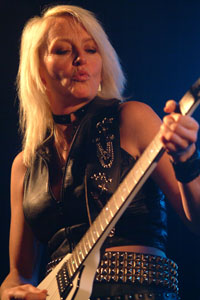 Girlschool (Photo by Noel Buckley)
Top Gigs

SAXON
Never a bad show

GIRLSCHOOL
Ditto

Top CDs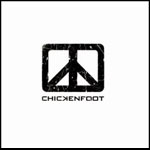 1. CHICKENFOOT Chickenfoot (earMusic)



Living proof that the baby boomer generation can still rock hard. More than that, this CD flies the flag for the well being of the hard rock tag both commercially and artistically.

The first supergroup in living memory to be worthy of its name, the big name line up hits all the right button with Sammy Hager putting in an enormous shift for a 60 year old, while Joe Satriani sounds rejuvenated in a band that allows him to find new avenues for his stellar guitar playing.

2. NINE BELOW ZERO It's Never Too Late (ZedZDC1009)

How many band can boast there best album after 30 years on the road (Stray excepted), step right up Dennis Greaves and fellow founder member Mark Feltham who between them have come up with a hugely impressive batch of new songs of which the rootsy tinged opener 'Mechanic Man' is sheer class, while 'Breaking Down' reverts to the band's old blueprint of short, sharp, shock filled R&B, full of mighty riffs, jerky rhythms and a drum tight rhythm section; Throw in the Keith Richard style riff driven 'Hot the Sport and the grand finale 'You' and you have one great album.


DEL BROMHAM (Stray)

What has been the highlight of the year for you and why?

Receiving positive feedback and reviews of the Valhalla album from fans and journalists and seeing our audience attendances increasing particularly since the tour we did with The Groundhogs.

The lyrics in particular were very important on the album and when you connect with the audience and they understand what you are talking about it is very special.



What have you learned this year, in the context of your career, and how has that helped your musical/personal development?

Both as a solo artiste and as STRAY, we have taken the music to audiences which we would have not necessarily played to before.

I feel the band have always been put in one particular category when it is quite clear from my experience, the music has a much wider appeal. As a songwriter I am very proud of that.

Any discoveries this year and recommendations for readers?

For years I have wanted to see the musical Les Miserables and eventually got around to seeing it this year and thought it was amazing, in fact I went to see it again - it's a "must see".

Also we were invited to play at The Frank Rock Festival in Torreperogil, Spain which is held in the town in a fantastic setting in an outdoor ampitheatre. There I met guitarist Innes Sibunn, who puts on a great show, really enthusiastic, my kind of guitarist a real entertainer and who has the same warped sense of humour as me! In fact his band and his missus thinks we were separated at birth. We've met up since and we intend to keep in touch .... great bloke!

What are you looking forward to in 2010?

Fortunately I do not have 'illusions of grandeur' so as long as I have good health and can keep playing music live, then whatever else comes with it is a bonus.

Obviously I would love to take the band to a greater worldwide audience, not just for me but for the band, Karl and Stu and for our families who have stuck by us through thick and thin!

But as Lemmy once said to me "It's not what you know, it's who you know".


3. STRAY Valhalla

Del Bromham's best ever album. From the excellent art work of bass player Stuart Uren and the cutting edge production by Chris Tsangarides (Gary Moore, Lizzy, Malmsteen, Sabbath) to the Del's effervescent guitar work and his best ever vocal performance, 'Valhalla' is a triumph.

This is hard rock at its best, with Del's searing guitar cutting through the best tracks like ''Free At Last', 'Harry Farr', '1600 Pennsylvania Avenue', go and buy it, it's his best ever!

4. STEVE HACKETT Out Of The Tunnel's Mouth (Wolfworks Records)

Unbelievable that the excellence of guitarist/composer Steve Hackett almost passed me by for a decade; this album redresses the balance being a perfect summation of his craft and wide ranging genre's of music; 'Out of the Tunnel's Mouth' takes in Rock/Prog, Blues/Fusion/ Jazz and Dervish.

There's the usual loud/quiet dynamics at play and a full sweep from electric to acoustic as well as glimpse of the composer's art; A truly great record.


What has been the highlight of the year for you and why?

The highlight of the year has no doubt been the fact that people have been coming out in record numbers to attend my shows. This has been such a beautiful experience for me that in spite of the economic situation and people feeling the pinch in their pocket books, they still value my music and my shows to spend their hard earned money coming out to see my band.

I cannot tell you how it feels to look out in these times and see a packed venue. I really am thankful for this.

What have you learned this year, in the context of your career, and how has that helped your musical/personal development?

I am getting ready to go in the studio and record another CD. I have found much inspiration on the road as mentioned above, and also have had many experiences of fans sharing their stories with me that hit home and go into my "vault" of ideas.

I have started opening the floodgates of inspiration now, and hear song lyrics in all sorts of conversations, the news, even in my dreams.

I get musical ideas listening to the waves of the ocean on my morning walks, my kids talking, or a chord progressions just comes to me and I run in to my home studio to record it.

Any discoveries this year and recommendations for readers?

You are not going to believe this, but two of my kids are vegetarians. So my wife cooks a lot of vegetarian food for our family and I am enjoying this kind of food very much. It stresses the earth less to produce, and I feel it does good for me too.

I am at an age where I either watch what I eat, or put one foot in the grave and play Russian roulette. I want to stick around and keep rockin' for a long time!

Musical discoveries happen for me all the time. I go in phases with it. This morning I was listening to YoYo Ma! Then I put on John Fogerty and rocked out for a while.

The song "The Heart of the Matter" by Don Henley is my theme right now. I just think that song is a masterpiece, and in some ways the perfect song for the Christmas season.

Lots of people harbor resentment and grief at this time of year, and in reality they just end up hurting more.


What are you looking forward to in 2010?

To record a new CD with John Porter as the producer again, and I am really excited about working with John. He adds so much to the creative process for me.

Once that's done,

I am looking forward to go on the road and play live for my fans. There is a certain ebb and flow between recording in a very disciplined way in the studio, and then letting it rip in front of an audience. I need both!

5. WALTER TROUT Unspoiled By Progress: 20 Years of Hardcore Blues (Provogue)

Highlights from a twenty year recording career that has projected Walter Trout into the higher echelons of guitar players. In fact as this mix of old, new and live back catalogue shows, he's as much a prodigious songwriter and soulful singer as he is a passionate rocker.

The set includes a brilliant live rendition of early career favourite 'Life in the Jungle', the late Jimmy Trapp co wrote 'Sweet As A Flower' and a couple of soundboard festival rockers. An essential purchase for fans.


What has been the highlight of the year for you and why?

"Eric Clapton coming out at the Albert Hall. It really is a highlight of a lifetime. Plus the tremendous response we have gotten all around the world.

It's madness but it's been everything I worked for in the last 20 years coming to reality. Although there is still a long way to go."


What have you learned this year, in the context of your career, and how has that helped your musical/personal development?

"I've learned one gig doesn't define your whole career. I've learned that the more complex your life gets the simpler things matter more. Family, home and well one day I hope to have a girlfriend again. Someone who could put up with my travel and time demands."

Any discoveries this year and recommendations for readers?

"My torrid love affair with Nandos Perri Perri continues, musically I discovered the true genius of Ry Cooder even though I worship his playing and always have. I enjoyed going back to my roots for the new album, Black Rock, that was a real blast to make. TV, it's all about the show "Extras" that episode with David Bowie is classic."


What are you looking forward to in 2010?

"I guess touring with the new material, bracing myself for another 9 month lap of the globe. And playing Australia for the first time."



6. JOE BONAMASSA Ballad of John Henry

Not quite in the same league as 'Sloe Gin', this CD nonetheless retains the fiery playing the sense of rock/blues history and once again sets the bar high for others to follow.

'The Ballad of John Henry's is a perfect summation of the strengths of Joe's style. On the title track he's evoking the mythical working class blues hero of John Henry while on 'Last Kiss' he's bringing a riff driven piece way down to a quietly voiced acoustic outro.

A new rock/blues hero for the new age, but always with an eye on the past.


What has been the highlight of the year for you and why?

Probably the response the new album (Equilibrium) has had. You're never quite sure how a new album will be recieved but the reaction has quite quite humbling ;-). Other than that, the other highlight was the shows we did at the NIA and Brixton Academy with Lynyrd Skynyrd.


What have you learned this year, in the context of your career, and how has that helped your musical/personal development?

It's all about entertainment!!!

Any discoveries this year and recommendations for readers?

I tried for the first time this year a four piece line-up and as it stands, I'm not planning to go back. I just love the freedom it gives me to play in the way I feel rather than thinking of the whole sound of the band . My playing style has changed a lot this year and the audiences seem to like the new format.

What are you looking forward to in 2010?

I'll soon start writing again and hopefully soon we'll mix some live material for a potential album early next year. Looking forward to bigger audiences... ha ha!



7. AYNSLEY LISTER 'Equilibrium' (Manhaton Hatman 2024)

Proof that Rock/Blues can act as catalyst for other musical avenues, as guitar slinger Aynsley refocuses his position in the rock market with songs like 'What's It All About', a number that drags Coldplay towards a rockier edge and the equally radio friendly 'Running on Empty' that might just grab Aynsley a bigger slice of commercial reward.

Equilibrium' rocks and charms by turns. It's a well crafted piece of work striking a crucial balance between meticulous pre-production and the spark of the moment. In short a superb album in the old fashioned sense of the word.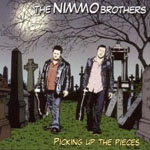 8. THE NIMMO BROTHERS Picking Up The Pieces (Armadillo ARMD00027)

Twin vocal attack and hatful of rock blues songs that bristle with feel, energy and unrestrained rocking blues power from the brothers Steve and Alan.
This album is probably the best Texas rock/Blues album never to come out of Texas! Hailing from Scotland in fact, the Nimmo Brothers open with the riff driven 'All Because of You' and hit the heights with the magnificent hard driving 'Nothing in Chicago For Free'.
The Nimmo Brothers are easily the most exciting rock/blues band to come out of the British Isles for years and this album proves it conclusively!


9. GONG 2032 (G-Wave AAGWCDP001)

As with all bands with a signature sound nothing much changes, even after 40 years! Gilli still delivers her 'space whispers', Hillage continues to explore his trademark ascending guitar glissandos and Allen conceptually oversees 'Planet Gong 'by pulling some beautiful musical tensions into beautiful new unexplored territories. A great link album between the old and new.
10. JOANNE SHAW TAYLOR White Sugar (Ruf 1147)
'White Sugar' is everything a rock/blues album should be striking a balance between Joanne 's fiery playing, her brooding sensuality and occasional funky groove.
Producer Jim Gaines steps in with just the right intuitive touch to being the best of one of the new stars of the British Rock/Blues scene.
There 's link to the previous title holders The Hoax as she covers the ripping shuffles, Bones; and further stylistically emulates them on the title track.
SRV fans will relate to much of the material and playing here, as Joanna has the chops to back up the recent publicity blitz to great effect.
>> Joanne Shaw Taylor plays the Jazz Cafe, London on December 16
Near misses
VIRGIL & THE ACCELERATORS And So It Begins
And here they are - the hottest young combo on the rock/blues circuit; With the average age of the band barely 16 and a half, the band have rush released this 6 track EP/CD to tie in with some high profile gigs. There's a keen muscularity to the band's natural groove, while Virgil explores the full range of tone colours.
BILLY WALTON BAND Neon City
Coming at you out of the blocks at 100 miles an hour Billy Walton and his power trio are everything you would expect from a hard working combo who have built their reputation on the back of relentless gigging on the hard bitten New Jersey live circuit. No surprise Billy has been poached by Southside Johnny.
CD Reissues
1. STREETWALKERS First Cut aka Streetwalkers' (Mystic)

A re-issue of the debut 'Streetwalkers' album with a revamped running order and freshly topped and tailed in the studio.
35 years after its initial release there is still real quality to the Chapman/Whitney song canon and of course Chappo's timeless bleat.

2. CAPTAIN BEEFHEART Electricity (SPV 42392) 2-CD
While it is true to say Beefheart redefined the blues to his own ends, he did so not so much as a blueprint for others to follow, but as the basis from which to explore his unfettered musical approach.
3. THE WHO Live At the Isle of Wight Festival 1970 (Eagle EDGCD339)
As you would expect, this live CD bristles with real verve, energy and purpose, as the band manage to overcome the seemingly stylistic schism between The 'Oo' as an unreconstructed rock band and Townsend's role as a Meher Baba influenced rock opera disciple.

4. BILL WYMAN's RHYTHM KINGS Best Of (Repertoire REP5148 )

Bill has taken over the mantle of Alexis Korner's Rocket 88 in assembling a mix of top performers to bring big band blues in its widest configuration to life.
Much of the material here is essentially what concert fans have been revelling in for just over a decade, so needless to say the band is tight and there are plenty of highlights.

5. KIM WILSON Tigerman/That's Life (Retro World FLOATM6012)

Fabulous Thunderbirds vocalist/harp player Kim Wilson glides effortlessly though this re-issue double pack comprising 1993 'Tigerman' solo album and the 1994 follow up 'That's Life'. The Fabulous Thunderbirds front man, and harp playing vocalist Kim Wilson is the perfect conduit by which the traditional blues is given it best possible contemporary airing.

Top DVDs

1). JOE BONAMASSA Live From the Royal Albert Hall (Provogue PRDVD 72747)
'Joe Bonamassa 'Live FromThe Royal Albert Hall' succeeds on many levels from the inspirational playing and high tech production to its ultimate achievement in that it conveys the feeling that you are there. With guest Clapton and Paul Jones there's a real sense of the British blues invasion reprised, updates and morphed into something new and exciting.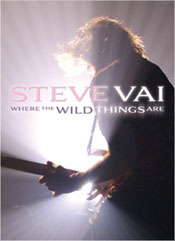 2. STEVE VAI Where The Wild Things Are (Favored Nations FN2610-9)

A multi-facetted guitarist, performer who takes as much pleasure in making a real connection with his audience on both an emotional and humorous level as he does astounding them with his technique.
The music finds its equilibrium in a genuine artist/audience connection that the intimate State Theatre in Minneapolis lovingly makes possible.

3. STATUS QUO Pictures: Live at Montreux 2009 (Eagle Vision EREDV758)

It's all there, the hits, the near misses, the attempted changes in style, the different band members, managers, the dreadful covers album, the Beach Boys liaison on 'Fun Fun Fun' and Rick's quadruple heart by-pass. Phew! 40 years on and still rocking, it could only be the story of Status Quo!

4. GEORGE CLINTON The Mothership Connection (Wienerworld WNRD 2455)

The characters are OTT, the costumes outrageous, the music hot, the stage set lavish and the music guarantees a party party party. In fact the use of funky Hip Hop grooves, rapped out vocals may be familiar radio fodder nowadays but back then any suggestion of conjoining rock, funk and hip hop was still two decades ahead of Run DMC's meeting with Aerosmith!
Bootsy Collins is an influential figure in contemporary music, and this DVD shows you just why.

5. MARIANNE FAITHFULL Easy Come Easy Go (Naive NV81 4412 )
Uncompromising, unrelenting, and idiosyncratic, Marianne (and producer Hal Willner) set to work on 30 songs, whittled them down to 18 before going into the studio before fearlessly laying down the vocals live. She's done it her way with few overdubs and overall just about comes out on top with some clever takes on well chosen covers plus a reverential documentary account of about the making of the album

Top 5 Gigs

1. NEW YORK DOLLS, 100 Club, London 14 May 2009

100 Club was the perfect setting, a hot sweaty unpretentious club with a r&b and punk history and this is after all the band that has been described as 'blues with mascara' but with a punky edge.
The New York Dolls rocked the house, took us up, down, sideways and then back to the top again. And when at the end Johansen proclaimed 'I think we did a pretty good rock & roll show', what do you think'? no one in the house was about to argue.

2. CHICKENFOOT Shepherds Bush Empire, 25 June 2009

What a show it was as the newly formed collective strained very sinew as they tore into the whole of the new album albeit not exactly in strict sequence. And while Joe Satriani and bassist Michael Anthony wielded guitars emblazoned with the Chickenfoot logo - Anthony later swapped this for a more corporate JD emblazoned model - Hagar strutted round the stage in animated fashion with vigorous intent, fully revelling in his role as front man for such a great band.

3. JOE BONAMASSA Royal Albert Hall, London 4 May 2009

He came, he saw, he conquered with both Eric Clapton and Paul Jones in tow. This show was both a celebration of Joe's coming of age as much as a demonstration of the enduring popularity of British Rock-Blues.

4. WALTER TROUT Shepherds Bush Empire Friday 30 October 2009

Blistering 20th birthday party of Walter Trout's solo career was everything his fans could wish for; Together with guest vocalist Andrew Elk who excelled on 'Mercy', Trout wrong every last ounce of passion from both his band and brought his fans to their feet with killer versions of 'Life in The Jungle' and the single 'They Call us The Working Class'.

5. JOANNE SHAW TAYLOR & VIRGIL & THE ACCELERATORS Boom Boom Club, Sutton Sun 15 Nov 2009

If Bonamassa has indeed kick started a rock/blues revival then the guitar wielding Joanne Shaw Taylor is in the vanguard of the British contribution to an exploding scene. She works the stage with great purpose, builds up musical tensions, unleashes scintillating guitar lines and growls like a good 'un. Virgil & The Accelerators are an impossibly young power trio with a killer lead guitar player. The closing jam with JST and Virgil was as good as it is ever likely to get, and that is VERY good!
ONES TO WATCH IN 2009: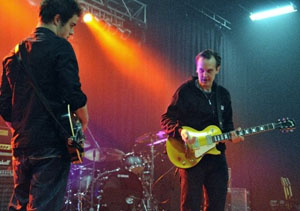 VIRGIL & THE ACCELERATORS
If we are on the cusp of a whole new generation of rock blues then 18 year old Virgil McMahon and his 16 year old rhythm section are surely one of the most exciting new proponents of the genre.
Armed with their 'And So It Begins' 6 track CD/EP and barely 5 months into his career, Virgil and the boys have already earned accolades from the likes Kim Wilson, and Carvin Jones. Now they are stepping out in heir own right; watch the sparks fly.
>> Virgil & The Accelerators play Jazz Cafe on 16th Dec with Joanne Shaw Taylor and Oli Brown and also at Dingwalls on Sun 3rd Jan with The Hoax.

DANNY GILES BAND
A power trio from Crawley, W Sussex who successfully launched their self titled EP/CD last September. They have steadily built up a head of steam with a couple of festival appearances and Danny's heavy duty playing - a cross between Walter Trout and Dimebag Darrell'.
KING KING with Alan Nimmo
Not to be confused with King King Blues, King King is the side project for Nimmo Brothers guitarist Alan Nimmo who has recorded a debut CD/EP ' Broken Heal'. Initial gig reports have been excellent with one of the highlights being a rapturously received appearance at the Maryport Festival just before JethroTull!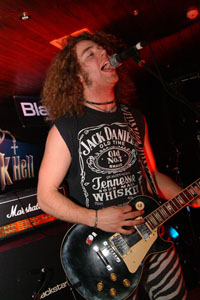 Four Wheel Drive (Photo by Noel Buckley)
FOUR WHEEL DRIVE
This is the band I mentioned last year as a cross between AC/DC and Keith Richard; 2009 saw them release a bone crunching debut album 'High Roller' as well as being picked by Total Rock Radio as one of their favourite bands. Look out for more gigs and lots more media interest

AYREON
Conceptual Prog/Metal of the highest order. Built round the formidable talent of Dutch keyboard playing composer Arjen Anthony Lucassen, Ayreon is home for some of the best Prog rock in recent times. His current album 'Guilt Machine' is actually a side project on Mascot records and as with their last couple of albums is full of guests, including Chris Maitland from Porcupine Tree and Mori Linstruth from Streams of Passion).

Top CDs
EDEN'S CURSE The Second Coming
The best commercial rock since Freddie Mercury passed away...
PENDRAGON Pure
Everything you need (in the absence of Waters, Gilmour, Wright and Mason).
PORCUPINE TREE The Incident
Perfect prog?
LISA SMITH'S POWERHAUS Maze Of Souls
Female fronted rock. With more balls than Beckham.
TINA DICO A Beginning, A Detour, An Open Ending
Singer songwriter's don't come much better than this.
KATY LIED (Duncan Hamilton)
What has been the highlight of the year for you and why?
There are so many highlights! Getting the first copy of our new album 'Echo Games' was great. Meeting Bob Harris and playing a live session on his show on BBC Radio 2 was a very special moment for us. It felt like it validated what we are doing.
Seeing Jackson Browne live (again) was fantastic!
What have you learned this year, in the context of your career, and how has that helped your musical/personal development?
We've learned a lot about the music industry. Sometimes it leaves you feeling a little cynical, but it also makes you more determined to keep on doing what you really believe in.
It's impossible to put too much garlic in food.

Any discoveries this year and recommendations for readers?
Southern girl Katie has discovered a whole new world north of Watford while we've been travelling around the UK doing gigs and radio sessions!
For travelling to gigs sat nav is absolutely essential unless you're travelling with Paul Burgess in which case it's completely unnecessary in the Northern (and possibly the Southern) hemisphere.


What are you looking forward to in 2010?
Performing, touring, making a music video, working on a new album.


KATY LIED Echo Games
Soft rock, par excellence, enhanced by Katie Hartnett's vocals.
TOUCHSTONE Wintercoast
The cutting edge of new female fronted prog.
THE REASONING Dark Angel
More line-up's than Gavin & Stacey repeats, but still perfect melodic nu-prog.
ALANA LEVANDOSKI Lions And Werewolves
Folk and counrty roots meet the mainstream in Liverpool to dramatic effect.

THE WISHING TREE Ostara

Less is more - Steve Rothery & Hannah Stobart demonstrate why.
MARILLION Less Is More
Can Hogarth & Co put a foot wrong? It seems not.
MARYBETH D'AMICO Heaven, Hell, Sin & Redemption
An undiscovered country/folk gem.


Top Reissues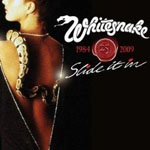 WHITESNAKE Slide It In
Coverdale's finest hour?
MAGENTA Seven
The most underrated band in the UK?
ROD STEWART Sessions
Demonstrates why Rod's a living legend.

Top Gigs
ALICE COOPER (Manchester Apollo, 24 November)
The Godfather of shock-rock rolls back the years.
MAGENTA (Real World studios, 21 November)
Unplugged and intimate.
DEEP PURPLE (Manchester Apollo, 10 November)
Even without Blackmore and Lord, classic rock.


Mark Taylor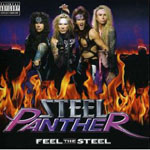 Top CDs

1. STEEL PANTHER Feel The Steel
The most talked about band of the year. Love them or loathe them, there is no denying this release is all killer, no filler. Play it to the mother-in-law on Xmas day.

2. PARLOR MOB And You Were A Crow
New signing on the Roadrunner label.This young band are the nearest to Led Zep your're ever gonna hear, without a hint of copying. The real deal.

3. HEAVEN AND HELL The Devil You Know
Iommi still has the riffs and Dio still has the voice. Heavy and doomtastic. Get well Ronnie for 2010.

4. CHEAP TRICK The Latest
The world would be a boring place without the colourful Tricksters. Still writing pop rock gems.
5. STRAY Valhalla
Surprising return to the studio for Del Bromham and the boys. With great production from Chris Tsangarides. An enjoyable rocking release from start to finish, with some fine topics on the lyrical front too.

Top CD Reissues
1. DEF LEPPARD Pyromania
The breakthrough LP in the states re-released with a bonus disc of a live gig from that tour. The perfect package.

2. UFO EMI reissues
One of the greatest British rock bands ever, all re-released with many bonus tracks. The definitive issues.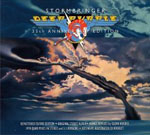 3. DEEP PURPLE Stormbringer
Often overlooked release from Purple. A funky affair that would see Blackmore take a hike. Glenn Hughes is on top form, leading the band along with David Coverdale. Time to give this a listen once again.

4. MONTROSE Montrose
No bonus tracks on this Rock Candy release but, along with the first Van Halen LP, this sits nicely next to it as one of the greatest debuts ever, featuring a young Sammy Hagar on vocals.

5. ANGEL Helluva Band
Title says it all. Pomptastic.

Top DVD
ANVIL The Story Of Anvil
Released the same year as Iron Maidens Flight 666, everyone likes the underdog. You can't help but fall in love with Anvil through the trails and tribulations of a failed European tour. All hail the return of Anvil.
Top Gigs
1. FLEETWOOD MAC Wembley Arena
The guitar work of Lindsay Buckingham was awesome. The pairing of him and Stevie Nicks was just majestic. With so many powerful songs and great renditions, in 2009 the Mac are top of their game.

2. HARD ROCK HELL Prestatyn Wales
The most unlikeliest of venues set in a Pontins holiday camp. It's great going to a festival with a chalet to crash out into nearby. With a friendly atmosphere and music going on until the early hours, only the ultimate bore could not enjoy themselves here. I haven't stopped laughing all year.

3. BIG ELF Barfly Camden
I've been waiting 25 years for a band to bring the heavy progressive sound of early Uriah Heep and Deep Purple twisted with their own identity. Didn't know any songs before this gig, but I was sent into prog heaven.

4. CHICKENFOOT Shepherds Bush Empire
A supergroup that lived up to the hype. Well at least live anyway. All four band members playing like their lives depended on it. With Chad Smith almost decapitating Sammy Hagar at the end. Glorious stuff.

5. ANVIL Dirty Looks London
A great night out at a tiny venue set in a ten pin bowling alley. The launch of the film with a private screening followed by a 90 minute Anvil set complete with guest Scott Ian. Film maker Sascha Gervasi was there too to mingle with the film goers into the early hours, hic... here's to 2010...


Top CDs

EUROPE Last Look At Eden

Combining elements of their last couple of albums with their trademark sound, Europe have released a classic album which ranks amongst the best of their career.

THE BLACK CROWES Before The Frost

Recorded in front of a live audience, The Black Crowes have released their best record since debut album Shake Your Money Maker.

STEEVI JAIMZ My Private Hell

A welcome return for the former Tigertailz frontman. This album is one of the most consistent releases of the year.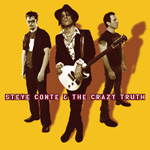 STEVE CONTE & THE CRAZY TRUTH Steve Conte & The Crazy Truth

New York Dolls guitarist Steve Conte has recently delivered a late contender for album of the year.

KISS Sonic Boom

Any worries that I had over the bands current line-up making a record that mirrored their past were soon dismissed once I heard the results. This is an album that you can't help liking.


Top reissues
DEF LEPPARD Pyromania

Part of the Deluxe series, the bonus CD features a great live performance from the band's 1983 US tour in support of the original album.

QUIREBOYS A Bit Of What You Fancy

Re-released as a 20th Anniversary edition, I had forgotten how good this album is.

THUNDER Back Street Symphony

Expanded to 2 discs, extras include a stack of live and rare tracks.


Top DVDs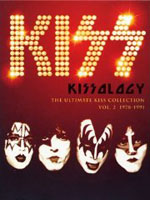 KISS KISSology Volumes 1 & 2

Having already been released in the States, the first 2 volumes in the KISSology series are a must have for fans of the band.

BILLY IDOL Live in Super Overdrive

Say what you like about Billy Idol but this DVD, recorded in July this year, proves he has lost none of the energy and enthusiasm he has been famous for over the years.

HANOI ROCKS Buried Alive

This DVD captures the final gig by Finnish glam legends Hanoi Rocks. The band cover their entire career in a set-list of over 30 songs.


Top Gigs

THUNDER (Hammersmith Apollo)

Superb gig that took this well loved band out on a high.

AC/DC (The O2 Arena)

The band were on fire that night. Performing with the energy of a band half their age, AC/DC delivered an awesome set.

BUCKCHERRY (The Forum, Kentish Town)

Following their successful earlier visit to the UK for this year's Download Festival, the band played a one-off date at The Forum.

EUROPE (The Relentless Garage, London)

The band's most intimate UK gig in over a decade, Europe mixed old and new material in a set that was a taster of what we can expect from the bands European tour early next year.

VAIN (The Underworld, London)

Vain have been receiving some very good reviews for, what is billed as, their Farewell Tour. The band are as good as they were back in the day and, given the response the original line-up have received, I wouldn't be surprised to see more of them in 2010.


Disappointment of 2009

BON JOVI The Circle

Hailed by the band as a rock album, Bon Jovi's new record was a bit of a letdown. Don't get me wrong, it is a good album and there are a few cracking tracks on there - but it is not the hard rock record that it could have been.

THUNDER splitting up

Many fans were sad to see Thunder split up after 20 years - I feel like I have lost a friend.

One to watch for 2010

Keep an eye on THE CRAVE next year. This band is great live, the songs are good and 2010 could be a big year for the band.


Top CDs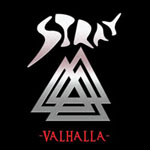 STRAY Valhalla
Forty years in the making. Chris Tsangarides finally puts the real Stray sound on record.

GMT Evil Twin
Following the first album Bitter & Twisted would never be easy. But GMT managed it with this album.

MILLION $ RELOAD Anthems of a Degeneration
Really thought 2009 would be the year this young Irish band would break. Maybe talk of Phil Conalane joining Velvet Revolver stalled things.

NATASCHA SOHL Dirty Little Word
Another artist 2010 could hold great things for. Album full of great pop rock.

THE ANSWER Everyday Demons
Great British Rock n Roll.
Top CD Reissues
MOLLY HATCHET Molly Hatchet

DEEP PURPLE Stormbringer
Top DVDs
IRON MAIDEN Flight 666

THE WHO The Who at Kilburn 1977
Top Gigs
COLIN BLUNSTONE100 Club (20.2.09)
A voice that sends shivers down the spine.

UFO Shepherds Bush Empire (24.6.09)
Classic British band in a packed, hot and sweaty venue... perfect.

Drumfest NIA Birmingham (13.7.09)
600 drummers playing together at the same time ... awesome

WARRIOR SOUL London Underworld (16.7.09)
Kory Clarke simply tore the place apart.

URIAH HEEP Cambridge Rock Festival (8.8.09)
Loads of problems for the band, late start, major sound problems, power going down. The Heep delivered big time.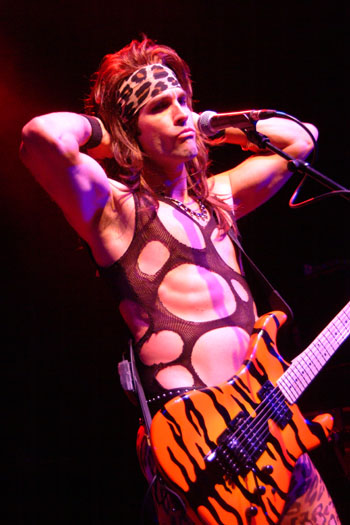 Steel Panther (Photo by Noel Buckley)

STEEL PANTHER Shepherds Bush Empire (16.9.09)
Sleaze at its very best.

DEEP PURPLE Hammersmith Apollo (15.11.09)
One of my all time favourite bands, didn't disappoint.


Natasha Toft
Top CDs
SKINDRED Shark Fights and Dog Bites
EKTOMORF What Doesn't Kill Me
CLUTCH Strange Cousins from the West
DIZZEE RASCAL Tongue N' Cheek
PRODIGY Invaders Must Die
I couldn't put these in order as they are from such different genres. Skindred may just slightly be the winner here as they are definitely original and always guaranteed to get the Fluffy booty going!
Ektomorf for me was a real surprise find considering they've been around for years and now I seek every back catalogue for my enjoyment, you must check them out!
Dizzee & Prodigy are one my dirty passions when in party mode!


Top Gigs
1. Metal Hammer Golden God Awards, 15th June 2009
WOW! Lets see, not to mention Anvil playing their hearts out, DevilDriver enticing a mosh pit with 5 people, Steve Vai popping along to collect an award and Steel Panther taking every woman into their clutches plus many more guest appearances from the metal/rock industry; of whom I met *big cheese grin*.
Oh, did I mention that I met Bam Margera too? My dream come true, making this number one of 2009 for me and probably for the entire century too! None of this would have been possible without my old friend Will - thank you so much I owe you my life!
2. Download Festival at Donington Park, 12/13/14th June 2009
Limp Bizkit blew me away, which was very surprising. Seeing ZZ Top for the first time and going ruddy mental with Down (my legends) and being with some of the most stupendous people in the world (my Bumholes - you know who you are) makes this pretty much a close 1st with above, but Bam won me over!
3. AC/DC at Birmingham NIA, 23 April 2009
How big are the stage props!? A woman with her legs open, a train and the oldest and defined classic aurora of pure rock legends. Need I say anymore!
4. Clutch at Birmingham Academy 02, 6th November 2009
What can I say, it's Clutch for bloomin' sake. Blues rock, with passion, rawness and superiority. Good venue too, well pleased with 02's attempt!
5. Michael Jackson at the errrm Cinema
You've got to let me have this as a gig. I was supposed to be there on August 23rd 2009, to achieve my childhood dream of finally seeing the ultimate man of pop. Sadly, we lost MJ (RIP). We were treated with the premiere of the rehearsal footage instead and it just quite simply; blew me away. The show "This Is It" would have been the biggest, best, most awesome show that anyone ever would have ever seen and I salute the man that is also; King of Entertainment.

Top Metal CDs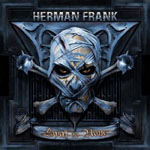 1 VAMPYROUSS A Dark Desire
2 LEAVES EYES Njord
3 WITHIN TEMPTATION Acoustic Night At The Theatre
4 HERMAN FRANK Loyal To None
5 RONNY MUNROE The Fire Within

Top Metal Reissues

1 KAMELOT Ghost Opera
2 KAMELOT The Black Halo
3 UNLEASHED Hammer Battalions
4 ACCEPT Restless & Wild
5 ICED EARTH The Crucible Of Man: Something Wicked Part 2

Top Gigs
1 GIRLSCHOOL
2 STRATOVARIUS
3 FIREWIND
4 MOTORHEAD
5 NEW YORK DOLLS



Darryl Reeves
Top CDs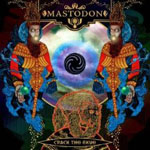 KISS Sonic Boom
W.A.S.P. Babylon
SLAYER World Painted Blood
ALICE IN CHAINS Black Gives Way to Blue
MASTODON Crack the Skye
HEAVEN & HELL The Devil You Know
STEEL PANTHER Feel the Steel
BIGELF Cheat the Gallows
DREAM THEATER Black Clouds & Silver Linings
SAXON Into the Labyrinth

Top Reissues

DIAMOND HEAD The MCA Years
DEF LEPPARD Pyromania Deluxe
DEEP PURPLE Stormbringer
MOTORHEAD No Sleep till Hammersmith Deluxe
BLACK SABBATH Reissues

Top Gigs

W.A.S.P. Manchester Academy
DREAM THEATER/OPETH Manchester Apollo
SAXON/ ANVIL Whitehaven Civic Hall
ALICE IN CHAINS Manchester Academy
METALLICA MEN Arena
AC/DC - MEN Arena
JUDAS PRIEST Manchester Apollo
ERIC CLAPTON MEN Arena
AMON AMARTH Manchester Academy
RITCHIE KOTZEN Manchester Academy


Top DVDs

KISS - Kissology Vol 1 & Vol 2
IRON MAIDEN Flight 666
ANVIL The Story of Anvil


Andy Rawll
Top CDs

CREED Full Circle
Back after a long hiatus. Satisfying combination of Scott Stapp's love-or-loathe voice and Mark Tremonti's peerless rifforama. Sonically closer to Alter Bridge than Creed of old, which is no bad thing.

STEVE HACKETT Out Of The Tunnel's Mouth

Recorded on a shoestring in his front room, but you wouldn't know it. Highly eclectic as we've come to expect from his rock releases, but delivered with real aplomb and bombast.

RAMMSTEIN Liebe ist für alle da

Uncompromising industrial mentallists finally deliver a fitting follow-up to their Mutter platter.

FOREIGNER Can't Slow Down

It was never broken, so why try to fix it ? Great songs, sparkling production and top notch performances. Nothing groundbreaking, but continues the proud legacy and the new Grammless era.

LIVING COLOUR Chair in the Doorway

Still pushing boundaries and defying categorisation, a long overdue and focused follow-up to the 2003's 'Collideoscope'

SKUNK ANANSIE Greatest Hits

A timely reminder of another band that straddled the Brit-pop and Grunge eras, with their unique brand of angry beautiful noise.

Most encouraging is the 3 new tracks featured here, suggest that there's plenty of life left in this beast.

COHEED AND CAMBRIA Neverender

The ever-so-slightly out-there Amory Wars quadrilology rendered back-to-back in a live context with brain and a reality melting consequences.

Whether or not you get the SF backstory, the exuberance of the performance and strength of the material makes you wish you were there. And for those that were, like me, grateful to now be able to relive the experience.

CHICKENFOOT Chickenfoot

What seemed like a bird-brained concept at first, was a real revelation. The songs are good, rather than great, but it's the groove and attitude of the album that screams 'party-time; excellent', that makes this such a triumph.

And what about those gigs ?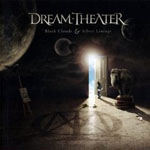 DREAM THEATER Black Clouds And Silver Linings

The dream machine soars skywards on its most consistent release for some time.

This time they sound like themselves, rather than a composite of their influences.

THE MARS VOLTA Octahedron

They claim this is their most mainstream and acoustic project so far; but don't be deceived.

While an excellent primer for Voltan virgins, there is much to cherish for long-time Martian Masochists.

MUSE The Resistance For Some

The tiny Teignmouth trio will never surpass the glory of Absolution. If you consider post-Absolution Muse on its own merits, there's plenty to relish.

Yes, the songs are less emotive and their influences more explicit (Erasure meets Queen in Goldfrapp's kitchen). But any set with a 12 minute Symphony entitled Exogenesis, gets my vote. 2009 -

Top Gigs

DON AIREY London Camden Underworld (14 January 2009)

Rare solo outing for the legendary ivory tickler and organ botherer.

Could've played it safe with a greatest hits set and band of 'names'. To his credit, much of the show was dedicated to the excellent space-rock of 2008's 'A light in the sky' and his band worked damn hard to match Don's chops. Fine selections from his myriad band memberships keep the old-to-new balance just right.

Honourable mention to Carl Sentence, who channelled Graham Bonnet, Ian Gillan, Joe Lynn Turner, as well as himself, with perfectly pitched ease.
STEVE LUKATHER The Brook, Southampton (5 March 2009)

Long-overdue UK visit supporting the very fine 'Ever changing times' CD. No London date this time round, but we do get spoiled most of the time, so I never mind a trip out into the boonies, particular to a superb venue like the Brook.

Although his usually solid and emotive voice was flu-ravaged, Luke's guitar mastery was predictably peerless and his band superlative.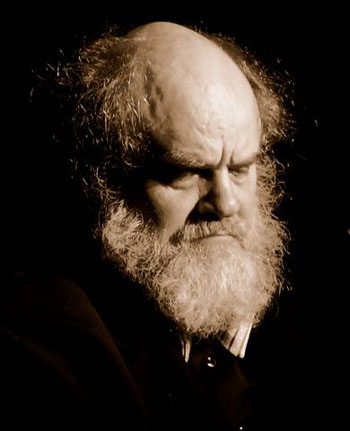 The Enid (Photo by Lee Millward)
THE ENID Bush Hall, London (29 May 2009)

God this was good. Prog deity Robert John Godfrey was back with the latest incarnation of the Enid. New guitarist Jason Ducker may not be technically supreme, but his touch and feel is a perfect match to Enid's style.

Better still, bassist Nick Willis added superb percussion that brought even more dimension to the music. Coupled with the beautifully ornate surroundings of the Bush Hall (although bizarrely located in Kebab Central on the Uxbridge Road), this was gig was one to savour.

JOHN WAITE The Twist, Colchester (1 June 2009)
Although previously cancelling shows at the Scala, Underworld and Garage, ...I was still shocked by the diabolical turn-out of 30 (including support band and bar staff) for the big baby.

To his credit, he and his precision-tuned band delivered a full rocked-up set covering his illustrious career. A class act and definitely worth the waite.

SPECIALS London Brixton Academy (16 May 2009)

A rare joint outing for the wife and I, as our musical tastes diverge more than converge. However, the opportunity to witness one of the seminal bands of the 80s was too good to resist.

We knew that the songs would be great and that the partisan audience would make for a great party atmosphere. What I wasn't prepared for was how good the band was as a unit. They played their assets off. Although his legacy lives on in the songs, the no longer special Jerry Dammers was unnoticeable by his absence. Truly special.

ALICE IN CHAINS London Brixton Academy (7 December 2009)

Somehow they flew under my grunge-averse radar during their heyday. Knew the name, but not the tunes, that's it. Until fellow GRTR! scribe and National Merlot spokesman Mark Taylor recommended that I give the new line-up a try (following their Scala and Forum shows).

So glad I did. Intoxicating riffs, uplifting choruses, complex yet sparse soundscapes. Superb.

IT BITES Stables, Milton Keynes (22 September 2009)

Unable to make their London gig, I was forced to explore the delights of roundabout-town and this typically provincial and middle-class arts centre-type venue. What it lacked in urban cool factor was made-up by the intimacy of the room and the excellent sight and sound on offer.

I'm a big fan of the latest CD 'the Tall Ships', as well as the back catalogue.

What made this one of my gigs of the year was the set-list. They played the second classic album 'Once Around the World' in its entirety. Pretty much note for note, with John Mitchell earning stripes for his stripes, in particular for flawless delivery of Frank Dunnery's two handed tapping solo in 'Rose Marie'.

SHINEDOWN/HEAVENS BASEMENT London Camden Electric Ballroom (16 June 2009)

Had missed them on the Disturbed tour and wanted to make amends, based on the strength of the 'Sound of Madness' release. Was not disappointed.
Brent Smith's commanding stage presence and effortless vocals dominate proceedings, but he's not just a tortured face, he's a great songwriter too. Yes, he can be a little preachy in-between songs, but I found him likeable and sincere (for a sceptic) and as a band, they rocked.

Better still was the fact that Hurricane Star (sic) were the support band. I've a huge amount of time for Richard Evans and his band of cellarmen. They never give less than 100%, they've great songs and attitude; and they really stepped it up a notch this gig and made a load of new friends.

MUSE London O2 Arena (12 November 2009)

Love or hate the direction of post-Absolution Muse, you can't deny they know how to put on a show. This latest production is stunning, even by the high standard they set themselves. Much though I loathe stadium and arena gigs, this was one that demanded a dome of millennial proportions to house the audio and visual ambitions of a band on top of their game.

CHICKENFOOT London Shepherds Bush Empire (25 June 2009)
By no means a band of spring chickens, the fab foursome played with a youth and vigour that belied their age. They also took the brave step of focusing solely on their debut album for the main set, rather than cherry-picking the fine fruits of their collective back catalogues. Delivered with such energy, charisma and warmth, it was a winner from start to finish. The atmosphere was electric and the encores of Bad Motor Scooter and Highway Star simply destroyed.
The Mars Volta Somerset House - Central London (13 July 2009)
Finally a decent band plays this atmospheric venue. A gorgeous open space in-front of a beautiful neo-classical building is an ideal setting for the bonkers Tex Mex Ricans return to the capital.
Touting the allegedly more commercial "Octahedron", this was a fine representation of the TMV experience. From wigged-out psychedelic excursions, whirling jazz fusion dervishes to hardcore metal, this had it all. You might not understand or get it all, but you sure don't forget it.





Top CDs

MARTIN GORDON Time Gentlemen Please
There is not a duff track on this album yet he resides on music's touchline. From his stool in this metaphorical Last Chance Saloon, Gordon urges his maker "Come out, come out whoever you are, my God, whoever you are". We must urge him harder to do the same: from start to finish, this is just great music...

FLORENCE AND THE MACHINE Lungs
Progressive in its refusal to pander, self-belief and innovation, this album crackles with so many wow moments. Bags of fun live, too...

KASABIAN West Ryder Pauper Lunatic Asylum
Hell-bent on being seen to do it dirty, Kasabian manage to haul their influences (most of 70's space/hard rock acts) about the place without detrimenting their own sense of time and place. This album marks their moment well with songs that are even better caught live. Very full on, very much a 'man's' band...


Top CD Reissues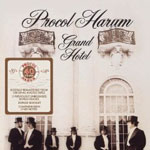 PROCUL HARUM Grand Hotel
Elegant, English and lush in ineffable abundance, 'Grand Hotel' is Procul Harum's finest hour...

KEVIN AYERS The Confessions of Dr Dream
1974's Doctor Dream is the last of his major releases to intersperse the experimentation forged in former band Soft Machine with conventional song structuring, both of which the chameleon Ayers had mastered well. Revisionism has him marked down as an original and this year's latest slew of 70's reissues can only add to his reputation as an innovator. Of the three, Dr Dream is the one...

GALLIARD New Dawn
From the backwaters of deep catalogue prog rock, this obscure act had talent in bags which they rightly lugged of to enjoy escalating music careers...


Top Live Act


MOTT THE HOOPLE
Proof positive that the third age rocks - and I don't mean on a zimmer...

THEA GILMORE
A compelling performer who commands without taking recourse to cheap tricks. Her tongue-in-cheek Christmas single captures perfectly her capacity to pick at and draw from a concept, the perfect song for the moment...

CURVED AIR
A band that defined the progressive movement still retains flair, verve and enthusiasm for the genre...

BLOC PARTY
Individualistic, original in the studio, they light up the stage in so many ways...

Top CDs

1 DANGER DANGER Revolve
Triumphant comeback album showing a new, almost Journey-esque maturity without losing their sense of fun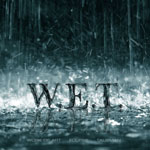 2. W.E.T. Wet
A melodic rock classic for the modern age with quality songs proving the perfect showcase for Jeff Scott Soto's voice

3. WINGER Karma
At last, Kip Winger finds a way of combining his old and new sounds into an album that gets better with repeated listening

4. SUNSTORM House of Dreams
It's 1987 all over again with Joe Lynn Turner singing over summery melodies and banks of keyboards

5. GOTTHARD Need To Believe
Another fine mix of Whitesnake-style rockers and gloriously expressive ballads from the most consistently excellent melodic rock acts of the 2000's


Top Gigs

1 DOWNLOAD
'Classic rock Sunday'- the most enjoyable festival on these shores for many a long year- the weather was perfect, atmosphere great and Def Leppard brought the show, ZZ Top the vibe and Journey the quality

2 FIREFEST VI, Nottingham Rock City
The annual convention of the melodic rock world and the most consistently excellent set of performances yet from likes of FM, Honeymoon Suite, Crown of Thorns, White Sister and Romeo's Daughter

3 Moondance Jam, Walker, MI- superbly organised, friendly three day festival in the rural mid West with stellar performances from Journey, Judas Priest playing British Steel and bands rarely glimpsed in the UK like Kansas, Foghat and Lita Ford.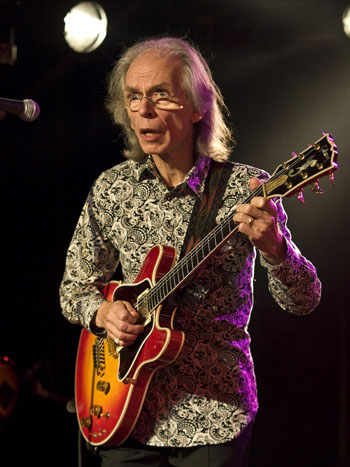 Asia (Photo by Ian Pollard)

4 ASIA Cambridge Rock Festival
Exquisite musicianship with a set that wisely focused on their first two albums

5= CHICKENFOOT, Shepherds Bush Empire
Four superstars in their own right visibly having a ball jamming with their new project and an incredible drumming masterclass from Chad Smith

5= SAXON, Koko
Two excellent London shows from the enduring NWOBHM stalwarts but this 30th anniversary show just shaded it with a blast through their back catalogue
---
If you'd like to contribute, please submit your own Best Of here.
---
---
| | |
| --- | --- |
| | Print this page in printer-friendly format |
| | Tell a friend about this page |
| | Bookmark with del.icio.us |
| | Bookmark with Digg |
| | Bookmark with reddit |
| | Bookmark with Facebook |