PROCOL HARUM Grand Hotel Salvo (2009)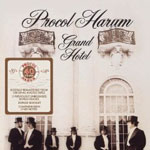 "Tonight we sleep on silken sheets ..." Soulful-voiced Gary Brooker's opening line to this 1973 masterpiece of an album metaphorised changed fortune, with the band dressed up, top-hatted in tux 'n tails, sipping fine wines amidst the splendour of their baroque lodgings, the orchestra returned to the pit, the organ lid lifted again, ushering back what pinpointed their career highlights to date: the carefully-constructed, successfully-mounted epic.
Roots in r 'n b and classical make for inevitable divergence in the ranks of any band and Procul Harum was equally torn, the band yielding to guitarist Robin Trower's drive for a harder-edged sound.
1971's 'Broken Barricades' was resultingly more pared back, tougher (and organ-free) than before; Trower leaves to pursue his solo career. As music author Patrick Humphries comments in his eloquent notes in this definitive re-mastered/re-packaging of the album, 'Grand Hotel' faced stiff competition in the year of its release from the likes of 'Dark Side Of The Moon', 'Band On The Run' and 'Quadrophenia'. That it more than adequately acquits itself is a simple matter of talent.
Brooker and Keith Reid's songwriting reached new heights of memorability and melody in catchy 'TV Caesar', punchy stage fave 'Bringing Home The Bacon', droll and risque 'A Souvenir of London' (banjos and street bass drum beautifully evoking the city), poignant 'For Liquorice John' and the swoon-and-sweep title track. Marrying ballads to feisty mid-tempo rock from the band's most stable line-up (guitarist Mick Grabham, jumping ship from Cochise, on fine form), this liner of an album passes, shimmering in majestic orchestration and chorus, with solid gold production from Chris Thomas, fresh from John Cale's call to look after his own magnum opus 'Paris 1919'.
Elegant, English and lush in ineffable abundance, 'Grand Hotel' is Procul Harum's finest hour.
*****
Review by Peter Muir
Peter Muir presents "Progressive Rock Fusion" on Get Ready to ROCK! Radio, Sunday 19:00, Monday 19:00
---
| | |
| --- | --- |
| | Print this page in printer-friendly format |
| | Tell a friend about this page |