DREAM THEATER Black Clouds & Silver Linings
Roadrunner (2009)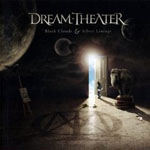 Now Dream Theater are like a few bands I love in that their last couple of albums have been disappointing (Queen around their 'Hot Space' album or Saxon's 90's output) so I approached this album with some trepidation. For me they have become to technical and lost that magical part of music for me, namely melody. But I am very happy to report this new album is one of the band's beat albums to date as the band take the darker progressive metal of their last few albums and add lots of melody and variety.
Opener 'A Nightmare To Remember' carries on from the last album 'Systematic Chaos' being a dark, brooding metal number and drummer Mike Portnoy again adds his death metal like growl which did put some fans off last time around. I have to say it fits this song much better than previously. The lyrical content matches that of the music dealing with the trauma of a road accident. 'A Rite Of Passage' continues in the gothic/dark metal sound and midway through the band switch to some very aggressive playing - amazing to listen to. 'Wither' adds some light to the proceedings and is the album's shortest song. This is a typical Dream Theater quieter moment and personally the sort of song I think the band do so well.
'The Shattered Fortress' is the final step in the '12 Step Saga' and begins with a part from 'This Dying Soul'. Again it is very heavy at the start and end although Jordan Rudess unleashes some Pink Floyd-esque keys midway through the song. This has been released on a recent 'Classic Rock' CD and you can see why as it is the most instant song on the album. 'The Best Of Times' is a very touching tribute to Mike Portnoy's late father, Howard and sees vocalist James LaBrie come into his own, with his delivery sounding like it was his own father's passing he was lamenting. A deeply moving song backed by some wonderful musical variety.
'The Count of Tuscany', closes the album in style and could almost be an advert for what this band is all about as it covers their myriad of musical styles and influences. There is driving prog metal rhythm section, some nimble acoustic guitar passages and lashings of keyboards. If you were a wavering fan like myself, this song alone will restore your confidence in the band.
A truly amazing piece of music from one of the best bands around today in the progressive music field and there is enough on here to please all their fans. There are various versions around as well of this album including one with the six cover versions the band have been releasing digitally prior to the album's release including songs from Queen and the Dixie Dreggs.
****½
Review by Jason Ritchie

---
| | |
| --- | --- |
| | Print this page in printer-friendly format |
| | Tell a friend about this page |