BILLY WALTON BAND Neon City (2009)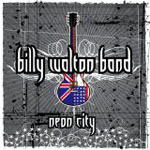 Coming at you out of the blocks at 100 miles an hour Billy Walton and his power trio are everything you would expect from a hard working combo who have built their reputation on the back of relentless gigging on the hard bitten New Jersey live circuit.
But there's more to this hard riffing combo than mere cutting edge musicianship as the band members in various combination open a locker full of strong songs. And when you add strong songs to strong playing and a powerhouse rhythm section, you have the basis of one hell of a band. And on the evidence of 'Neon City', The Billy Walton Band is surely a breaking band ready to happen. 'Put simply 'Neon City' may be their debut CD but it is the work of a vastly experienced outfit with enough material to match their fiery approach, without ever once resorting to cliché.
Look no further than the intense opener 'Turn on the Radio' which bristles with some sizzling guitar from Billy, some tub thumping drumming and crisp cymbal work from Marcus Croan and above all a great hook - 'turn up the radio, just as loud as it will go'. The following title track is another guitar led post Springsteen type groove. The lyrics convey a dark bustling urban atmosphere - hence the title - while Billy's change of tone to a Mark Knopfler style is the perfect counterpoint. There's even room for the kind of white reggae take on 'Hypnotized' that would have graced any Police album.
But perhaps the most impressive aspect to the while project is that the band are unafraid of exploring a commercial bent. On 'Soul Song' they have come up with a modern day 'standard' which features some great harmonies, a clean guitar line and another radio friendly hook, while the rather more oblique 'Set Backs' has an one of those 'nananana' sing-along hooks that lodges in the brain and simply refuses to ago away. Billy duly cuts loose on 'Spreading the Blues' on which he finds some space to indulge in some angular guitar mangling while exploring some Steve Vai style tones. On the altogether more laid back 'Distorted Views', he hangs back a little, letting the melody line breathe before applying some beautifully judged guitar lines.
Bass player William Paris takes over lead vocals on the brooding portentous, 'Jersey Devil' which opens like Steve Stills ' For What It's Worth' and builds up the tension with some imposing chords and an ascending vocal line before Billy resolves the piece with some muscular guitar work in a full blow rock finale. The sudden ending acts as a perfect foil for the closing cool reworking of 'Papa Was a Rolling Stone' and only a rather curious early fade deprives us of a potential block busting finish. But there's enough in the ten tracks here to convince any new listeners that this is a cracking New Jersey band who unlike many of their contemporaries don't need hype to sell themselves;
'Neon City' is all that is good about bluesy edged, soulful tinged New Jersey rock and if there's an occasional understated feel, it merely serves to emphasize the overall impression that they could explode at any time. Perhaps they are holding something back for their autumn tour to fulfil the huge potential that this album effortlessly alludes to.
****
Review by Pete Feenstra

---
| | |
| --- | --- |
| | Print this page in printer-friendly format |
| | Tell a friend about this page |