Dr Funkenstein I presume...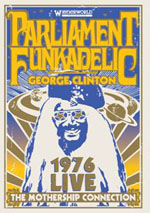 This is a belter of a DVD covering the beginning of what was to be an exhaustive two year tour that led to George Clinton's first big album with a multi-faceted band that included former James Brown personnel such as Maceo Parker and at the end of the set Bootsy Collins.
From the elongated opening crescendo and elaborate stage set to the startling guitarist in an outlandish Glam rock style feathered hat that Hendrix might have bulked at, this is ground breaking stuff.
For here was a black dude playing rock guitar before the band slip into a characteristic funky groove. Back in 75 aside from Stanley Clarke this was unheard of. Then there is George Clinton himself in various guises from 'The Lollipop Man' and 'The Undisco Kid' to his most outrageous creation 'Dr Funkenstein' - possibly the first black man in space!!!
And with a second guitarist in an equally startling white nappy (diaper) and dummy in mouth, the band slip into the first of many sizzling guitar led, bass heavy grooves.
Back in the mid 70's while artists like Herbie Hancock, George Duke, Joe Sample and Bob James conjured up various degrees of funk, none had quite the crossover flamboyance of George Clinton. This stage show predated other colourful characters such as Rik James and Prince and even Dr Funkenstein's space ship is some 6 months ahead of the possibly more famous ELO mothership!
The use of funky Hip Hop grooves, rapped out vocals may be familiar radio fodder nowadays but back then any suggestion of conjoining rock, funk and hip hop was still two decades ahead of Run DMC's meeting with Aerosmith!
This gig was groundbreaking stuff. And while The Tubes were still formulating their 'White Punks on Dope' show and had yet to pen 'Slipped My Disco', GP had already constructed The Undisco Kid' and further added funky guitar and a three vocal front line and a killer horn arrangement to 'Children of Production'.
George Clinton simply broke through the sexual, racial, musical, social and production barriers via some outrageous lyrics, outlandish stage costumes and a myriad of musical styles comprising jazz, funk, gospel, blues, rock, and the nascent hip hop.
The really impressive thing about this DVD is that it manages to capture the dynamic of the show, the energy of the band, and the colourful stage show. In between the frivolity, the provocative dancing and the sexy posing, there are some killer horn arrangements which also add real punch to the title track.
George himself lands by space ship in the guise of Dr Funkenstein to slip in some of the hardest hitting fractured funk of the set. Modern jazz never sounded so cool and looked so good! Perhaps only Zappa at this point could have brought together such a wide array of different musical imperatives.
Listen to the gorgeous muted trumpet/sax/trombone interplay on the intro to 'P. Funk' and you are hearing pure tone colouration, breathtaking dynamics and ultra cool hip music. 'P.Funk' of course opens into a big band arrangement segued with a humorous rap and OTT stage show. George is also cute enough to juxtapose his band's best chops with the more dance floor friendly 'Tear The Roof Off The Sucker'.
And by the time Bootsy Collins and Sly Stone join the fun, the band is in full swing and in with a shot of stealing James Brown's crown. Unlike many retrospective DVD releases, 'The Mothership Connection' is that rare thing, a DVD that genuinely comes close to capturing one of the most exciting and innovative shows of the time. Go out and buy this you won't be disappointed.
*****
Review by Pete Feenstra