ROD STEWART Sessions 1971-1998 Rhino (2009)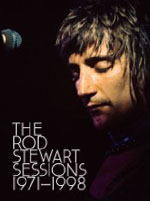 It's going to be a bumper Yuletide in the Stewart household. What other reason could there be for releasing a 4 cd box set of studio out and alternate takes?
Rod's recent Collector's Edition re-releases of Atlantic Crossing and Tonight's The Night were padded out with dusted down material to encourage fans to reinvest. Sessions provides a further 63 tracks. He's even got another album - Soul Book - out before Christmas.
But at £30 you're going to have to be diehard fan to want to invest.
Undoubtedly one of the vocalists of his generation, Rod's back catalogue has been plundered to exhaustion over recent years with an endless stream of Best Of, remasters, and Greatest Hits. Sessions leaves no remaining stone unturned.
Let's be honest, there's a reason most outtake and 'alternate' versions never see the light of day - they weren't supposed to. They're not perfect, they're work in progress.
And if you approach Sessions with that in mind, then it's a very satisfying listen. But none of the versions here are replacements for the classics like Maggie May, In A Broken Dream, I'd Rather Go Blind, Angel, You Wear It Well, and so on.
Some versions genuinely add something to the originals - the alternate version of This Old Heart Of Mine is excellent, as is a less contrived version of Sailing. But it doesn't always work - as evidenced by Rod murdering Carole King's (You Make Me Feel Like) A Natural Woman. On the other hand, the piano cover version of Chris Rea's Windy Town is nothing short of magnificent, as is the acoustic take of May You Never.
Fans will be enticed by some of the previously unreleased material like Innocent (The Killing Of Georgie Part III), Think I'll Pack My Bags which later appeared on Ron Wood's solo debut album as Mystifies Me, an acoustic version of the b-side Rosie, and a cover of Frankie Miller's When I'm Away From You, to name but a few.
Also included are 4 tracks - Time Of My Life, TV Mama, Stupid, and Buddy Holly's Maybe Baby - thought to be originally destined for a double album version of Foolish Behaviour (1980). And it doesn't end there - there's a half a dozen songs recorded in the summer of 1992 that were shelved in favour of an Unplugged release, including a so-so cover of This Wheel's On Fire, and a star studded remake of In A Broken Dream featuring David Gilmour and John Paul Jones (which superb as it is, still fails to usurp the original).
Perhaps only missing is material from the pre 1971 Every Picture Tells A Story period. But Sessions does, at least, in part, tell the story of the making of many fine records and fill in a few gaps. So worth the money? It depends on your perspective. Storyteller remains the undisputed Rod Stewart box set of choice. If that leaves you feeling the need to delve deeper, then dive right in. But really, for value for money and longevity of listening pleasure, this is for probably for acolytes only.
***
Review by Pete Whalley

---
---
| | |
| --- | --- |
| | Print this page in printer-friendly format |
| | Tell a friend about this page |