Just witnessed your best live gig?.. send us a review!
CHICKENFOOT
Shepherds Bush Empire, London 25 June 2009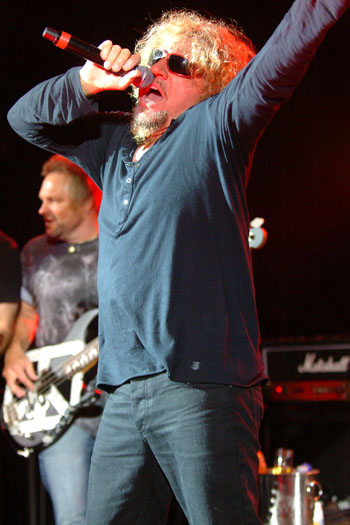 Photo: Noel Buckley
Chickenfoot! Even the name sounds frivolous. It's almost as if this superstar line up of Sammy Hagar, Joe Satriani, Michael Anthony and Chad Smith were hedging their bets, just in case the potential monster didn't quite work out.
In the event both the recently released album and this fun filled show quickly banished any doubts swiftly to the sidelines. For while there are all too few examples of successful rock star aggregations, Chickenfoot look well set to be the exception.
Above all the band is anchored by an album of muscular rock songs that require the best of the component band parts. And as if to emphasise both the organic feel as well as the hard work quotient, Sammy gave us a statistical breakdown telling us how the band spent 43 days writing and recording the album, five days rehearsing for the tour and that the gig this evening was only their twelfth ever show together.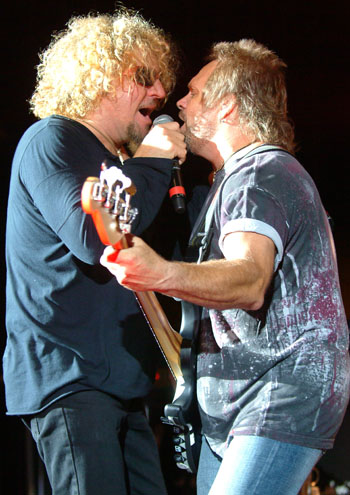 Photo: Noel Buckley
And what a show it was as the newly formed collective strained very sinew as they tore into the whole of the new album albeit not exactly in strict sequence. And while Joe Satriani and bassist Michael Anthony wielded guitars emblazoned with the Chickenfoot logo - Anthony later swapped this for a more corporate JD emblazoned model - Hagar strutted round the stage in animated fashion with vigorous intent, fully revelling in his role as frontman for such a great band.
And if nothing else, Chilli Peppers drummer Chad Smith kept him on his toes, projecting a busy windmill figure, all twirled drumsticks and frequently propelled sticks into the front rows. Hagar meanwhile was cute enough to call for English rather than Mexican beer supplies, while Satriani, ever the formidable muso, let his playing do the talking.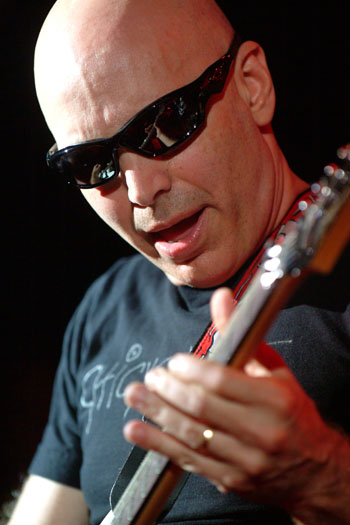 Photo: Noel Buckley
This was particularly evident on 'Down The Drain' which was described as a track put on the album as an after thought at the request of producer Andy Johns. Joe also added some killer shredding as per the album on 'Get It Up' before C had took the notion of an explosive show just a little too far with a quasi demolition of his kit, gashing his arm in the process.
Unperturbed Joe shifted things on to another level on the formidable 'Turning Left Again' as he delivered a veritable cascade of notes. Here was but one example of the fresh new context in which he could apply his unique gifts. The crowd duly lapped it up.
Finally Hagar joined Joe on rhythm guitar for the closing 'Future in the Past', before a well deserved encore dipped into both Hagar and Joe's back catalogues (that is Joe's Deep Purple days) for Montrose's 'Bad Motor Scooter' and an unlikely but cranked up 'Highway Star'.
This left just enough time for Chad to narrowly miss Hagar as he perfunctorily kicked his drums off the riser. Not so much an action of violent frustration as more in keeping with the good time feel of the aptly named Chickenfoot!


Review by Pete Feenstra
Photos by Noel Buckley

---
Album review
Video interview Pete Feenstra talks to Joe Satriani
---