MARIANNE FAITHFULL Easy Come Easy Go Naive NV81 4412 (2009)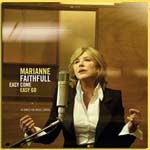 Like many contemporary releases by established artists Marianne Faithfull's 'Easy Come Easy Go' comes in both CD and DVD format. In this case we have a double album and a reverential documentary account of some of the making of the album. And given the music industry's previous predilection for virtually eschewing all but the basic recording personnel of an album, there's a certain irony that artists are now subject to an information overload.
Certainly given the fact that Marianne Faithfull is a de facto interpreter of song, 'Easy Come, Easy Go' is worthy of an extended analysis and appreciation. But we could probably do without the overly sycophantic voice-over from producer Hal Willner who is probably too close to the project to offer anything other than gushing praise. Yet as an exercise in reaching out to the confirmed fan, giving greater value for money and providing a greater sense of communication, the duo format is a welcome shift.
Hal's liner notes also mention the pair's critically acclaimed 1987 'Strange Weather' album, but 'Easy Come Easy Go' is an altogether more ambitious work. There is an inner strength to the album that finds its expression in both the sequencing and artistic flow of the project.
Indeed it is the overall feel of a bigger picture that helps 'Easy Come Easy Go' overcome the occasional hiccup, most notably on the problematic 'Ooh Baby Baby'. For while the pairing of Marianne's husk and Anthony Johnson boundless vocal range might sound a great idea on paper, the latter adds very little emotion beyond some vocal gymnastics over a misguided 70's disco back beat. Steven Bernstein arrangement and Marianne's on camera sensual pout can't rescue this overwrought piece of shallow pomp. Unlike most of the tracks here, the original (Smokey Robinson) song should have been left in aspic.
But this is an exception to the rule as evidenced by disc one's standout track the dynamic duet with Nick Cave 'Children of Stone', which comes smartly on the heels of the stripped down almost New Orleans style title track. This is one of a number of examples of the flow and the feel of the project that emanates from Marianne's uniquely favoured vocal style which glues together the disparate parts.
Disc two opens with arguably the best track, the post-psychedelic Sean Lennon collaboration 'Salvation' and this is cutely juxtaposed by the jazzily arranged blues 'Black Coffee', complete with a cool horn arrangement, fine vocal and weeny organ.
There is a feel of a bigger picture being constantly serviced by Marianne's vocal versatility. She's unafraid to go for those awkward phrases which at times seem beyond her while on other occasions such as on 'Kimble' her expressive delivery is perfect. On Judee Sill's 'The Phoenix', she offers barely a whisper over Jim White's gentle brush strokes but then launches into a misguided duet with Jarvis Cocker to murder the Bernstein/Sondheim classic 'Somewhere (A Place ForUs)'.
On the DVD Marianne makes reference to having 'great fun' on the number, but it hardly justifies producer Hal Willner's assertion that the effort is 'a diamond, a gem', and even Marriane admits she can't sing it! And while Willner is correct in saying 'some artists are doing their best work after 30 years', this track is certainly not one of Marianne's better efforts. But hey if you don't try you won't succeed and even when the results fall just short of what is required as on the closing 'Flandyke Shore' - on which her reading is too harsh and is barely offset by Kate & Anna McGarrigle - it's the intent that carries us along with her.
But that is the measure of Marianne Faithful. She's uncompromising, unrelenting, and does things her own way. She has sat down with producer Hal Willner to work out the whole project (Willner confirms they originally came up with 30 songs) and gone into the studio and fearlessly laid down the vocals live. She's done it her way with few overdubs and overall just about comes out on top!
'Easy Come Easy Go' may not be Marianne Faithfull's best album but it's a splendid addition to her recorded output some three decades on from her breakthrough 'Broken English' album.
****
Review by Pete Feenstra

---
| | |
| --- | --- |
| | Print this page in printer-friendly format |
| | Tell a friend about this page |