ICED EARTH, ACCEPT, KAMELOT SPV Vinyl reissues (2009)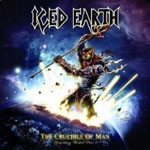 To celebrate SPV's anniversary the brilliant German label are going to release a series of (very good looking) limited edition gatefold vinyl during 2009. These albums by Iced Earth, Accept and Kamelot are the first batch. I guess my only complaint is that the first batch should have been reissues of older albums like the Accept one simply because the Iced Earth and Kamelot albums are too new, and its only die-hard's who will fork out the money to buy the albums again.
Nevertheless vinyl-loving Iced Earth fans will be looking forward to getting a copy of The Crucible Of Man: Something Wicked Part 2. It is the first time the album has been issued on record. The tenth album (released on CD in 2008) by the band saw the return of Matt Barlow who replaced ex-Judas Priest screecher Tim Owens.
The sound quality is crystal clear and the artwork is more powerful on a gatefold LP than CD but of course record collectors know that already. Iced Earth have also been one of those bands that flutter around the mainstream metal scene and in recent year's they've gone from strength to strength despite changes in singers. It's an album worth checking out. ***
Recorded and mixed by the revered rock producer Michael Wagener, Accept's 1983 classic heavy metal album Restless & Wild has lost none of its appeal. Wagener was the band's original guitarist and so he knew exactly what to do with the band's music.
Songs like 'Fast As A Shark' and 'Neon Nights' sound just as powerful now as they did back in the eighties; the latter track surely influenced the thrash metal scene of the mid-eighties. Accept are one of the great German metal bands; it's just a shame they pretty much forgotten about these days. As with the other vinyl release, this looks gorgeous and is a must have for vinyl metal collectors. ****
Finally, Kamelot's Ghost Opera is another well-chosen addition to your record collection. Still living in the shadow of success and critical acclaim that greeted 2005s masterpiece 'The Black Halo,' 'Ghost Opera' (originally released in 2007) was yet more proof that this Florida band are the true gods of their ilk.
With 'Ghost Opera' - their eighth album - they continued to startle and amaze. You'd be hard pressed to find a more talented and original band working in any subgenre of rock and metal. Full of energy and enthusiasm, songs like 'Rule The World' represent the best of this band. They have the ability to compose heavy songs but never loose sight of a good melody. The female vocals that flutter in the background are sensual and even angelic at times.
Kamelot are amazingly inventive, creative and exciting and 'Ghost Opera' shows exactly why. The whole band - Roy Kahn (vocals,) Thomas Youngblood (guitars,) Glenn Berry (bass,) Oliver Palotai (keyboards) and Casey Grillo (drums) - created another amazingly original piece of work that deserves to be released on such high-quality vinyl. ***½
Overall, despite my misgivings about the album choices this is a good collection.
Review by Neil Daniels

---
| | |
| --- | --- |
| | Print this page in printer-friendly format |
| | Tell a friend about this page |