MARILLION Less Is More earMusic (2009)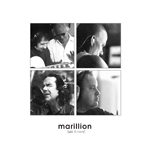 After posting my review of Marillion's last album - Happiness Is The Road - I realised why it had perhaps less impact for me than their previous offering 'Somewhere Else'.
The truth is we have less time these days to luxuriate in extended melodic prog, as our music is consumed largely via computer, the ubiquitous shuffle play, and invariably not at one sitting. In essence 'Happiness' was an album crying out to be appreciated on a reasonably priced hi-fi system, at length through headphones in a darkened room, but probably not via a PC sub-woofer system or an iPod.
'Less is More' by it's nature is a return to the shorter songs and is a full commercial release for something the band have excelled at for two decades: already fans will hold acoustic sessions released on the band's own Racket imprint.
Where 'Less Is More' differs is the choice of material. The band have plumped for the less familiar and, it has to be said, given the less familiar a new lease of life. Some of these songs have never been performed in this way before so there will be an element of surprise for the hardcore fans as well.
With the arrangements pared back, the album once again highlights Steve Hogarth's fine vocals and the band's effortless musicianship. The title of course sums up the approach where - deconstructed - the songs take on a whole new texture and reveal hidden depths.
This is perhaps best evidenced in those songs that originally appeared in full electric frenzy, such as opener "Go!" (from marillion.com), 'Out Of This World' ('Afraid Of Sunlight') and especially 'Hard As Love' ('Brave'). 'Out of This World' is outstanding and is a good enough example of how well these songs have scrubbed up when given the acoustic treatment.
There is a Japanese feel to the opening motif on "Interior Lulu" ('marillion.com') and a jazz lounge feel to 'If My Heart Were A Ball' ('Anoraknophobia') whilst 'Wrapped Up In Time' from 'Happiness Is The Road' is another vehicle for a great Hogarth vocal which has him crooning like some fifties pop idol.
Although we're not counting, 'Anoraknophobia' produces the most tracks (three in total) , whilst 'Holidays In Eden' is revisited with 'The Space'.
There's a new song 'It's Not Your Fault' but I have to say it's not the most immediate piece here, and there's a hidden track - 'Cannibal Surf Babe' - which has a similar jazzy vibe to 'If My Heart Were A Ball'.
Altogether, though, the overall vibe of this album is "tasteful" (as if with Marillion it could be anything else). For anoraks, this will no doubt be a cue to reinvestigate the original versions and, moreover, the albums from which they have come. What it reveals is a band still comfortable in their own skin and - after two decades in the present incarnation - still pushing their boundaries and, moreover, delighting their loyal fanbase.
****
Review by David Randall

---
| | |
| --- | --- |
| | Print this page in printer-friendly format |
| | Tell a friend about this page |