CHICKENFOOT Chickenfoot (Deluxe Limited Edition) earMusic (2009)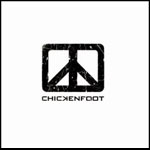 Chickenfoot has to be one of the highlights of 2009. An almighty collaboration that could have gone one of two ways: euphoria or ego-bruising. With a splendid showcase gig in London in June, the band have bucked the trend for less than durable super-albums/bands and you get the feeling that, six months on, this project really does have legs. As Pete Feenstra says in his review of the original album: "Whatever your views on the merits of a super group, this album rocks." Euphoria, then.
This is an album that restored some old-time production values, putting one-time Hendrix knob-twiddler Andy Johns behind the desk and offering a heat-sensitive sleeve for the original release. A repackage for Christmas is timely and especially for those who have not yet savoured the delights. In addition to a bonus track 'Bitten By The Wolf' there is an expansive DVD which includes tour footage, interviews and video for the two singles 'Oh Yeah' and 'Soap On A Rope'.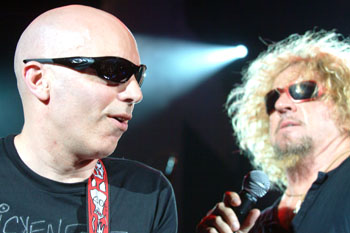 Photo by Noel Buckley

Throughout the album you are aware of that rare thing in super-collaborations: a true band effort. Sammy Hagar has never sounded so good, Satch confirms he can slot in seamlessly and his guitar playing (and composing skills) have never been better, whilst Chad Smith and Michael Anthony cement it all together.

I think it is Satriani who is the true revelation, ensemble-playing is not alien to him (for example, Alice Cooper, Deep Purple down the years) but it is perhaps difficult for a virtuoso to be totally comfortable in this setting, and bearing in mind also that both Hagar and Anthony trod the boards for a decade together in Van Halen.

There are many highlights, from the out and out hard rock immediacy of 'Soap On A Rope' to the ballad 'Learning To Fall'. The DVD takes their Montreux show in April for starters and features a brief band introduction to each song and then either a live or in-studio/rehearsal version.

Perhaps one niggle, but most of the DVD tracks are edited like a promotional video and only 'Soap On The Rope' is the full-length live version. The DVD does though give a flavour of the fun and spontaneity evident in this band and it is hardly surprising to hear 'Down The Drain' was done in one-take.

It may yet turn out that Chickenfoot becomes the pinnacle of four rock careers, rather than an enjoyable pastime as is often the case. Bring on that "difficult" second album.

*****

Review by David Randall

Original album review

Gig review

Video interview
---
| | |
| --- | --- |
| | Print this page in printer-friendly format |
| | Tell a friend about this page |