Here we go again, another year, another hangover, our reviewers present their Best Of 2007...
This page will be updated regularly before the end of December 2007.

Get Ready to ROCK! Best of 2007*
CDs
1. MAGNUM Princess Alice And The Broken Arrow
Listen in to the GRTR Radio Show on 30 December for interviews with Bob Catley from MAGNUM and KEN HENSLEY (Uriah Heep)
2. JOE BONAMASSA Sloe Gin
3. MARILLION Somewhere Else
4. THE ANSWER Rise (Special Edition)
5. GILLAN Singles
DVDs
1. DAVID GILMOUR Remember That Night
2. THIN LIZZY Live And Dangerous
3. QUEEN Rock Montreal & Live Aid
4. SAXON To Hell And Back Again
5. HEAVEN & HELL Live At Radio City Music Hall
Gigs
1. EUROPE
2. MARILLION
3. RUSH
4. HEAVEN & HELL
5. SAXON
*Based on reviewer selections and their relative Top 5 positions
Jason Ritchie
Top CDs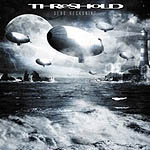 1 THRESHOLD Dead Reckoning (Nuclear Blast) - the band's best yet with some killer riffs and keyboard solos
2 FARRAH Cut Out And Keep (Indie) - sublime pop rock gems. Essential for lovers of Cheap Trick, Jellyfish, Squeeze, Jackdaw 4 and latter day XTC.
3 KAMELOT The Ghost Opera (SPV) - this is how epic metal should be done.
4 SAGA 10,000 Days (Inside Out) - Michael Sadler's farewell and one of the band's best albums.
5 MIND'S EYE A Gentleman's Hurricane (Lion Music) - they keep getting better and worth a listen fro their use of harmonies alone.
Also rated: Blackfield - II, Porcupine Tree - Fear Of A Black Planet, Jackdaw 4 - Bipolar Diversions, Allen/Lande - The Revenge, Sacred Heart - Shake
Top DVDs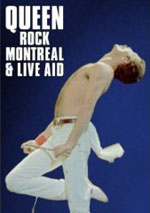 1 QUEEN Rock Montreal (Eagle Rock)
2 FOREIGNER Alive & Rockin' (Eagle Rock)
3 THE BEATLES Help! (EMI)
Top 5 Gigs
1 Rush Wembley Arena, London
2 Kamelot and Threshold Mean Fiddler, London
3 REO Speedwagon Hammersmith Apollo, London
4 Waking the Witch, Windsor Arts Centre
5 Journey Hammersmith Apollo, London
Top Debuts
1 EDEN'S CURSE (AFM Records) - hard rock with a metal edge.
2 TD LIND - glorious pop rock tunes. Every song deserves to be on the radio!
3 WILDKARD Meglomania (Escape Music) - Kick under another name with added keyboards. Wonderful melodic rock.
4 STORMZONE (Escape Music) - if you like Uriah Heep, Whitesnake, Praying Mantis et al then get this.
5 MIKA Life In Cartoon Motion - yes he does sound like Freddie Mercury at times but you can't knock the wonderful OTT pomp of his songs.

David Randall
Top CDs
WHITESNAKE 1987 (EMI)
Excellent reissue of classic album, add in the original videos and more recent footage and a really good value package emerges. In the same series, the Hawkwind Space Ritual reissue is also worth checking out.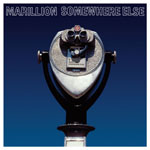 MARILLION Somewhere Else (Intact)
An album that sounds effortless but is up there with the band's best. Combining the best of their post-Fish output.
25 YARD SCREAMER Cassandra (2112/GRTR!)
A biased view, maybe, but the band deservingly received glowing critical praise for their third album - not least a 7/10 in Classic Rock magazine.
MERMAID KISS Etarlis
Second album from female-fronted progressive/melodic rock band and onward and upward. Lush orchestration, intriguing concept.
JAMIE FIELD Mermaid Kiss Best of 2007
CARINA ROUND Slow Motion Addict

The third album from the finest vocalist to come out of the Black Country since Robert Plant only enhances her rapidly growing reputation. Unfortunately, much of this growing reputation currently seems to be in the US! She's on tour in the UK in December so give yourself an early Christmas present and catch her while you can. (www.myspace.com/carinaround)

ROSE KEMP A Hand Full Of Hurricanes

However you might have imagined the music created by the offspring of Steeleye Span's Maddy Prior and Rick Kemp, I can guarantee it wouldn't be anything like the incredible reality of this uncategorisable CD. Listen and be amazed. (And just a little bit scared.) ( www.myspace.com/rosekemp )

MOSES MAYFIELD The Inside

Moses Mayfield are a five piece from Birmingham, Alabama who have all the elements that makes rock great - a terrific vocalist, fine riffs and best of all they write superb songs. (www.myspace.com/mosesmayfield)

TORI AMOS American Doll Posse

OK, so she increasingly seems to inhabit a world all of her own, but surely you don't need me, or anyone else, to tell you just how good this woman is?

NEIL YOUNG Live At The Massey Hall 1971
The concert album that many feel should have been released between 'After The Goldrush' and 'Harvest' finally sees the light of day. Simple and wonderful.
Any good discoveries this year that you'd like to share?
So much good music out there - off the top of my head a few albums that have made an impact for one reason or another include Sarah White's 'Bluebird', 'Dhira' by Dhira, The Beangrowers' 'Dance Baby Dance' and Oom's 'Dead Analogue'.
I've also been relistening to a lot of Gentle Giant, Judee Sill and Al Stewarts's 'Zero She Flies'. Currently listening to Jah Wobble's 3CD anthology 'I Could Have Been A Contender'

What sort of a year have you had? Highlights?
Personal highlight was seeing the release of 'Etarlis' - it's a project that Evelyn and I have been working on for a number of years. And we've been completely overwhelmed by the amazingly positive reaction to the album.
What are your immediate plans?
Currently we're rehearsing a new live set, and also writing for the next album.
We'll be out playing from the spring onwards, and we'll start recording the new album in January.
VOICES OF ROCK (AOR Heaven)
Splendid slice(s) of melodic rock fronted by a variety of vocalists including James Christian and Harry Hess. A fine concept, well executed.
Listen in to the GRTR! Radio Show on 23 December for interviews with Voices of Rock co-creator Michael Voss and Rieser's Chris Blair.
Honourable mentions: RIESER Well Dressed Thief, DELTA The Life & Times Of Jim Vallie & Sweet Rosalyn
Top DVDs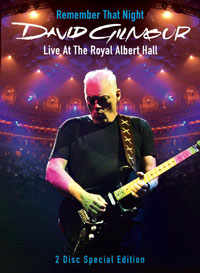 DAVID GILMOUR Remember That Night (EMI)
An immaculate rendition of his 'On An Island' tour, with useful extra footage and bonus material. A true master craftsman at work.
THIN LIZZY Live And Dangerous (Mercury/Universal)
Definitive live gig refurbished for the digital age with bonus live CD of previously unreleased gig. An excellent reminder of one of our greatest rock bands of the seventies.
Top Gigs
EUROPE (Liverpool, February 2007)
The band have successfully updated their sound for a tougher metal age whilst retaining their song craft and stage presence. Magnificent.
MARILLION (Liverpool, June 2007)
Immaculate gig to promote new album.
25 YARD SCREAMER (Cambridge Rock, August 2007)
Festival debut for upcoming Welsh trio, who impressed all who saw them and reinforced (and enhanced) their complex album 'Cassandra'.
JETHRO TULL (Birmingham, March 2007)
Always a good gig, this time spiced up by GRTR! diarist/violinist Anna Phoebe who provided an excellent foil to Ian Anderson and was a darn sight more attractive to look at. Roll on the band's 40th anniversary in 2008.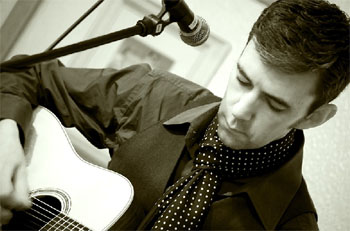 JAMES GRANT (Staffordshire, September 2007)
An interesting gig from one-time Love And Money frontman, in an off-beam location. Reinforcing the artist's songwriting brilliance and allowing the listener to reflect on, and reinvestigate, an impeccable recorded output since the late eighties.

JAMES GRANT Best of 2007
I havent bought any records this year. Bob Dylan - was that last year? Thought it was alright.
I saw Nick Cave which was quite good although he was in his Grinderman phase and I would have liked to have seen a bit more sensitivity, I've never seen anyone assault a piano in such a way..
I saw John Prine, which I thought was pish, (for someone whos written so many great songs, why did he start each one exactly the same way with the same guitar intro?) supported by Mindy Smith who was also poor.
For myself, I enjoyed the gig in Stafford and I also enjoyed two nights I played at the Tron in Glasgow and The Tolbooth in Stirling.
Any good discoveries this year that you'd like to share?
The only films I really get to see are along the lines of Surfs Up, Ratatouille, Stardust etc., actually I did quite like Casino Royale..
I can recommend the books, Carry Me Down by MJ Hyland, 'Stuart' A Life Lived Backwards by Alexander Masters, The Testament Of Gideon Mack by James Robertson.
I cannot speak eloquently enough to do justice to how I feel about The Road by Cormac McCarthy, the terms 'classic' or 'masterpiece' are utilised for marketing purposes on the back of practically every book you would care to peruse. But this is the real thing. Honest.
What are your immediate plans?
I'm recording at the moment , I hope to have something out by Summer, I am positive in as much as I can be about working in a dying industry. Like a miner. I honestly don't think I have found my zenith yet and I will find a way to get through to people.

Big disappointment: DREAM THEATER (Manchester, October 2007) Play the hits! More noodles than a Chinese takeaway.
LOOK OUT 2008!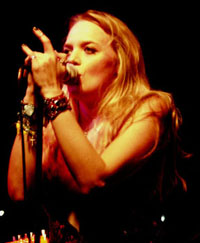 NATASCHA SOHL - GRTR! favourite and her time may have come...
NATASCHA SOHL Best of 2007
1. Fall Out Boy - Infinity On High (This is a great high energy pop/punk/rock album with really musical and hooky sing-a-long songs, it kinda rocks!!)

2. Lifehouse - Who We Are (I wanted to hear more of these guys after I heard 'Hanging By A Moment' and this album is great. There are some gorgeous heartfelt songs on here... I like this band a lot!)

3. The Fray - How to Save A Life (I love this album, I literally played it on loop when I first got it! Everytime I here it it puts me in a good mood!! Great, emotional songs!)

4. Linkin Park - Minutes To Midnight (some more melodic songs on this album and more diverse, which are great. It's a really cool new side to their sound - I like it!)

5. Foo Fighters - Echos, Silence, Patience, Grace (You think it's gonna be more chilled than some of their other stuff but no, it rocks! Erm, pretty much everything they do is awesome, need I say more?!!)
Any good discoveries this year that you'd like to share?
Well I don't think they're new, but I only just heard about a band Paramore, who from what I've heard, kick ass! They have a feisty girl singer and hooky songs and they rock! I'd like to hear more from them...

Gigs
1. Foo Fighters - O2 Arena, London
2. Ben Folds - Hammersmith Apollo, London
3. The Feeling/The Fray - Hammersmith Apollo, London
4. Police - Bonneroo Music Festival, Tennesse, USA
5. Natascha Sohl - Cambridge Rock Festival, UK

What sort of a year have you had? Highlights?
A definite highlight of this year was finding out that one of my songs 'Naked' was used for the MTV show The Hills, that was pretty exciting and great exposure! Hopefully it will be the start of many good things to come!
What are your immediate plans?
At the moment I'm doing a lot of writing and recording with my guitarist. We're getting all our ideas down and recorded as well as we can so that when we record it all 'properly' we dont forget what we were getting at!! Also I'm spreading the word and getting ready for the release of Dirty Little Word!!
DELTA - talented Midlands duo with ace debut album, now following a more soulful route.
UXL - three brothers and friend from Brum, debut album showed maturity far beyond their tender years.
Listen in to the GRTR! Radio Show on 23 December for an interview with John Tierney from UXL

Pete Whalley
Top CDs
1. OH LAURA A Song Inside My Head, A Demon In My Bed
Forget the likes of Rilo Kiley, Swedish debutantes Oh Laura deliver 11 perfect indie/alt/pop gems. Add the exquisite vocals of Frida Öhrn, and this album is as good as it gets.
2. HYDROGYN Bombshell
Dreadful live, but with Michael Wagener behind the production desk, the pneumatic Julie Westlake and band serve up a perfect platter of AC/DC influenced rock. Unoriginal and clichéd, but undeniably great fun.
3. THE MOTELS Clean, Modern And Reasonable
Martha Davis returns to recording under The Motels name for the first time in two decades, with a largely unplugged, understated and fundamental revisiting of the band's back catalogue. A welcome and impressive return to form of an artist who should have been an icon but who has mysteriously remained below most people's radar.
4. MARILLION Somewhere Else (Intact)
Never too old to rock and roll. The band who like to do their own thing continue to go from strength to strength. While past output has been patchy, there are more moments of magnificence here than you'll find on a dozen other prog albums.
5. MISSY HIGGINS On A Clear Day
The Aussie songstress has sidestepped the tricky second album elephant trap with aplomb. While perhaps not reaching the dizzy heights of her debut, this more band and AOR orientated album nevertheless delivers the goods on all counts.
Top DVDs
1. DAVID GILMOUR Remember That Night (EMI)
Live DVDs don't come any better than this. The next best thing to catching DG live, and packed with 'must have' bonus features, every home should have one.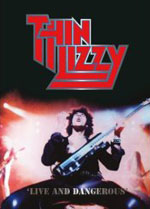 2. THIN LIZZY Live And Dangerous (Mercury/Universal)
At last, a fitting tribute to Phil Lynott and the boys. Lavishly packaged , Live And Dangerous is a reminder of just how good the band were live.
Top Gigs
1. EUROPE Liverpool Academy, February 2007
Forget The Final Countdown, the Swedish rockers delivered a set tighter than David Coverdale's jock strap. Based around their 'comeback' albums Start From The Dark and Secret Society, to a man they were simply stunning. My expectations were zero, I came away a convert.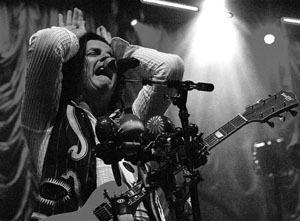 2. MARILLION Liverpool University, June 2007
Promoting Somewhere Else, and in front of an unusally diverse fan base, Marillion remain one of the best live acts around. While Steve Rothery may be a static stage presence, Steve Hogarth is one of the most charismatic front men in the business and makes every gig a night to remember.

Pete Feenstra
Top CDs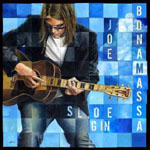 Cross generational top draw rock blues from the man of the moment. 'Sloe Gin' is almost the album Led Zeppelin never made! Just like reinventing the wheel, Joe has opened up rock-blues to a new generation, and like the British invasion, has re-imported it back to the USA.
PATTI SMITH Twelve (Columbia)
The one time art punk turns in an excellent retro rock set, with stellar re-interpretations of Hendrix, Neil Young, The Doors, The Stones, The Allman Brothers etc and even Nirvana, and it all works superbly.
THE YARDBIRDS Live at BB King's Blues Club (Favored Nations)
Steve Vai knew exactly what he was doing when he signed up this latest impressive line-up of The Yardbirds. And in young Ben King, the band has a guitarist to match his illustrious predecessors. 29 cracking songs played live, no overdubs and a real crowd!
RUSH Snakes & Arrows (Atlantic)
An impressive return to form with muscular playing, dense lyrical imagery, and shades of Zeppelin, as the Canadian prog rockers reclaim their crown.
MAN Diamonds & Coal (Point/Voiceprint)
Living proof that the enduring Welsh guitar band still have a tiger in their tank. 'Diamonds & Coal' shows the baton has been successfully passed to the new generation. Martin Ace still supplies dry lyrical humour.
Top DVDs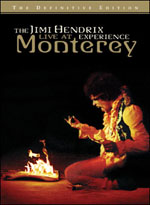 THE JIMI HENDRIX EXPERIENCE Live at Monterey (Universal)
Immaculately restored print of Hendrix's ground breaking performance, with added interviews and Eddie Kramer's surround sound.
TONY PALMER All My Loving (Voiceprint))
As good a retrospective of the 60's as has ever been made.
YUSUF ISLAM Cafe Session: Live From Porchester Hall (Polydor)
Sometimes you just have to overcome your personal prejudices and hold up your hand and accept the fact that there is no substitute for deep, moving, enduring quality songs, and this.
LARRY CORYELL A Retrospective - A sequel to his story (Inakustic)
Where once Larry Coryell was a feted, if not over indulgent jazz fusion guitarist, he now appears have almost been forgotten, which is a shame because this DVD is a master class in rock, blues and jazz.
Top 5 Gigs
FOCUS (Boom Boom Club, Sutton Feb 2007)
Led by the larger than life Thijs Van Leer, and marshalled by drummer Pierre Van Der Linden, Focus unveiled new guitar start Nils Van Der Steenhoven and brilliantly took us back to the source of Prog Rock.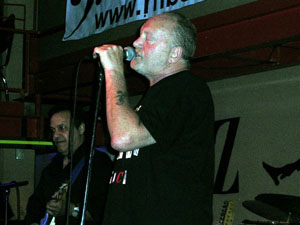 ROGER CHAPMAN & THE SHORTLIST (Jazz Café, London, June 2007)
The old bleater and his cracking band shows no sign of growing old gracefully as he stomped, hollered, wailed, and of course berated the crowd. A magical turn by an only slightly matured wild man of rock.
JOHN OTWAY BIG BAND (Cambridge Rock, August 2007)
An unpromising mid afternoon spot on a wet Sunday in a huge barn, smack in the middle of an animal rescue centre, provided the unlikely setting for a manic and frankly brilliant performance by rock's greatest performance artist.
LOU REED (Hammersmith Odeon, July 2007)
A masterful performance of 'Berlin', complete with orchestra, choir, rock band and audio visual props. Surprisingly powerful, moving and brilliantly arranged.
DEVO (Royal Festival Hall, June 2007)
80's oddball outfit still fighting the system in their middle years, and bringing smiles all round with a blistering performance.
Big disappointment: INXS (London, June 2007) Great band but formulaic front man not worthy of Hutchence boots
LOOK OUT 2008!
OLI BROWN BAND - New Ruf records signing, Oli is an 18 year old guitar slinger who has already traded licks with the likes of Walter Trout
MINUSCULE HEY - Hugely talented French duo, these alt; rockers made their debut UK tour on the indie circuit, but were equally well received by The Zombies and Kinks audiences.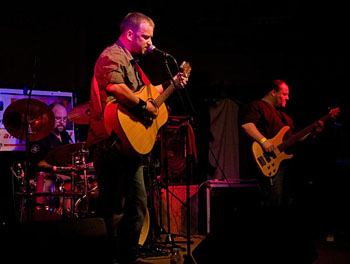 25 YARD SCREAMER - Offering a contemporary take on Prog Rock, this excellent Welsh trio deliver epic songs emotively delivered by vocalist Nick James.
NICK JAMES 25 Yard Screamer: Best of 2007

Albums

1 RUSH Snakes and Arrows

This band showed me the way and the path to righteousness. Twenty two years after I first heard them, they keep it coming. An almost faultless showing, may there be many, many more.

2 DREAM THEATER Systematic Chaos

How I would love to have the ability John Petrucci has in his little finger!
On their own at the top of what they do, this is prog metal heaven.
Occasionally dubious lyrics but my God I could listen to it all day.......and have done just that! They are the masters.

3 PORCUPINE TREE Fear Of A Blank Planet

I was late getting into this band, much as I heard the name bandied about. I thought that Deadwing was an utter masterpiece and they would struggle to top it. WRONG. This is a truly fabulous piece of work and oh for the day I get to invite Alex Lifeson onto one of our albums!!!!

4 FROST Milliontown

OK it's not a release from this year, but this year is when I first heard it. Brilliant contemporary prog. The track 'Black Light Machine' is a great find.

5 MARILLION Somewhere Else

Personally I've struggled with this one. Matt (bassist) loves it, I've found it hard work. There are moments that really shine but much that is just OK. It's in for Matt really.

Gigs

1 RUSH NEC Birmingham

Absolutely rocked the place. The crowd in Brum made the London one seem utterly distant. We danced arm in arm to YYZ all along the row, that's something you don't see every day.

2 DREAM THEATER Newport Centre

Awesome. Only word for it. Donal came and would rather have heard more songs. Personally I thought they were utterly on fire, even if James Labrie seemed a little miffed!

3 25YS Cambridge Rock Festival

No ego trip honest. It was something of a triumph to even get there, through very turbulent and dark times. Get there we did and I don't mind saying played as well as we ever have and had more fun that ever. Many thanks again to Dave R for this one.

DVDs

1 RUSH Snakes and Arrows (Making of)

Fabulous freebie. Great insight into the band. More please and lots of it!

2 DREAM THEATER Sytematic Chaos (Making of)

So wish the Rush one had been this long! One and a half hours of fan geek heaven!

3 Monty Python Movies (Boxed set)

HA HA HA HA HA HA HA HA

What you are doing musically at the moment?

We are currently writing material for our next CD! It's going swimmingly well to. We're hoping to start tying some things together for a couple of taster shows in the New Year and then start recording in the spring.
Ambitious, but then why not!

Your highlights of the past year...?

Our big highlight has to be Cambridge festival. It was hard work getting it all together but the show made up for it. A great crowd, great sound, great hosts, great reaction.
It was a joy to play to an audience who GOT US! Many thanks to them one and all. Another nice thing was being voted for on the 'Long Song Of The Year ' competition on rock24/7 radio.
We got 4th, thanks to Prog Paul for that one. And all the fantastic responses that we've had to our album Cassandra. We would never have predicted that the feedback would be so positive, but we're thrilled that it is!

Your plans for next year...?

Write, Gig, Record, Gig, Deal, Tour, repeat.................

Any good discoveries this year that you'd like to share?

Lindt make a sort of chocolate ball, in a red wrapper that is just the nearest you can get to good sex this side of a blanket.


John Stefanis (Metal Editor)
1. ROTTING CHRIST Theogonia

After many years of maltreatment by the music industry and under the protective wings of a new and more appropriate record label, the members of Rotting Christ found the much needed strength and divine inspiration to release what can only be described as the best extreme metal release of the new millennium!

2. PAIN OF SALVATION Scarsick

Experimentation was always part of Pain Of Salvation's musical outlook, but not even the most acquainted fans of Daniel Gildenlow's musical genius were ready for an album of such a brilliant and diverse nature as "Scarsick".

3. DEADSOUL TRIBE A Lullaby For The Devil

More emotional than "The January Tree", heavier than "The Dead Word", Devon Graves' latest brainchild signals the beginning of a new era for the only one band capable of continuing the same musical chapter that was left open by the break up of Psychotic Waltz.

4. PRIMORDIAL To The Nameless Dead

Describing the suffering of the Irish nation to the world through music is to the members of Primordial a task as sacred as was for Richard the Lionheart the reconquering of the 'Holy Land' and the destruction of the armies of Saladin. Is "To The Nameless Dead" an album capable of conveying such strong emotions? You bet!
5. W.A.S.P Dominator

Much as I respect W.A.S.P, I never expected them to come up with an album as mind blowing as "Dominator". This is not only Blackie Lawless at his very best but also a proof that classic Heavy Metal is still alive and kicking - even at times when strong eyeliner and funky haircuts are considered more important by good quality guitar riffs.

Joe Geesin
Top CDs
FOGHAT Live II
Boogie and blues rock at its best, a fine 2CD collection proving the new line-up still has it.
ANTHRAX Live @ BBC (Universal)
Vintage east coast thrash, at the height of their success with the classic line-up too.
GILLAN Mr Universe, Glory Road, Future Shock, Double Trouble, Magic (Edsel)
Five vintage solo classics of blistering hard rock from the Deep Purple singer, 79-82 with loads of extra tracks. And don't forget the singles box set with bonus DVD, highlighting just how good (and successful) a singles band they were.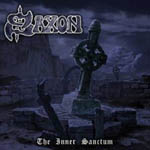 SAXON The Inner Sanctum (SPV)
How can an ageing trad metal band continue to get better? Here's the proof.
MAGNUM Princess Alice And The Broken Arrow (SPV)
New album from the Brummie prog pomp rockers, a real return to form.
RAINBOW Live In Nuremburg 1976
Completes the series of 3 councerts from Germany that year, of just about the best hard rock ever. Featuring Cozy Powell, Ritchie Blackmore, Ronnie Dio, Jimmy Bain and Tony Carey.
Top DVDs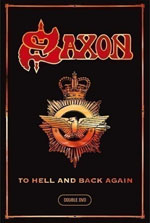 SAXON To Hell And Back Again (SPV)
The band that influenced Spinal Tap in their own documentary. Still relevant, still down to earth, still rock'n'roll.
The rest of my 2007's DVD viewing has been taken up with Dr Who and Simpsons.
Top Gigs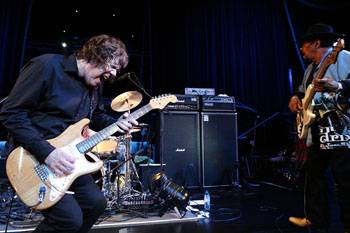 THE GARY MOORE EXPERIENCE Hippodrome, London, October 2007
As part of a tribute to Jimi Hendrix, a fitting tribute from one legend to another.
SAXON Astoria, London, 15 May 2007
GIRLSCHOOL Underworld, London, 10 May 2007
Two magical evenings - two of my favourite bands, and they did not disappoint.
HIGHLIGHTS 2007
CHRISTOPHER LEE - interviewed, face to face. What an amazing guy!
SAXON - album launch 19 January 2007.
Preview of new album, and interviewed the band too.

Alan Jones
Top CDs
MARTHA TILSTON Of Milkmaids And Architects
Superb collection of contemporary songs from Steve's daughter - a real chip off the old block as the guitar playing is first rate and the quality of the songwriting exceptional.

FIONN REGAN The End Of History
My Album Of The Year! Unbelievably this is young Irish singer/songwriter Fionn Regan's debut album, yet he sounds like he's been doing it for years. Fabulous guitar playing and incredibly diverse and off-kilter lyrics make you keep pressing the replay button.

JOE BONAMASSA Sloe Gin
This came down to a toss up as to who was the best blues-rock guitar player on the planet between Joe and Walter Trout. Joe just wins out due to the diversity on this album - superb string-busting blues/rock with some nice acoustic twists. Brilliant.

RICHARD THOMPSON Sweet Warrior
Yet another tour de force from the superb Richard Thompson. With the exception of 'Henry The Human Fly' I have never been disappointed with a RT album and I can't imagine anyone who likes fine music, well played will be disappointed with this. And surely the track 'Dad's Gonna Kill Me' is among Richard's very finest.

KATE RUSBY Awkward Annie
Kate just keeps raising the bar with every album she releases, but even by her standards this is exceptional. Self-produced for the first time, this is just a superb collection of both contemporary and trad/arr folk music of the highest calibre.


Top Gigs

FISH - Unbelievably good - the band were so tight, the between-song banter was great and the big man himself was well up for it. Everyone left with a smile on their face.

WALTER TROUT - steaming blues as it should be played! No matter how close you are to the stage you still can't figure out how he does it - fingers just weren't made to move that fast…

MARTIN SIMPSON - Despite having been ill for two weeks, despite being almost unable to talk and despite only arriving from Germany that afternoon, this was a consumately professional and, to be honest, simply stunning performance.

NICK HARPER - Simply brilliant. If you've never seen a Nick Harper gig, make sure you do soon. Incredible guitar virtuosity coupled with great songs and a sense of humour - what more do you want?

THEA GILMORE - Although I've seen her a number of times, she always seems to turn in a performance of staggering originality. Her politics can have you punching the air, her up-tempo numbers can have you tapping those feet and the ballads can reduce grown men to tears. Catch her live before she gets too popular!

Nikk Gunns
Top CDs
HOUSE OF GAMES Rise and Shine - great new band from Estonia.
PAUL STANLEY Live To Win - brilliant solo album from Kiss frontman.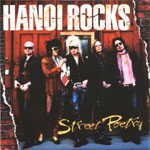 HANOI ROCKS Street Poetry - this CD is the natural successor to 1984's "Two Steps From The Move" album
MICK JAGGER Best Of - great best of collection from the legendary Mick Jagger
VELVET REVOLVER Libertad - sophimore effort from the band...and very good it is too!!
Top DVDs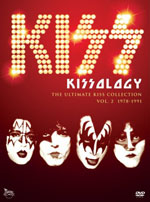 KISS Kissology Vol 2 & Kissology Vol 1 - I grew up listening to KISS and this collection brought back years of fun.
ROLLING STONES Biggest Bang - 4 DVD set covering the bands massive "Bigger Bang" tour
EUROPE Live In Sweden 1986 - a great concert DVD from a great band
SAMMY HAGAR Sammy and The Wabos - Livin' It Up In St Louis - this DVD is a party from the first chord until the last (I wish I had been there myself!!)
Top Gigs
BRYAN ADAMS at Wembley Arena, London
MOTLEY CRUE at Hammersmith Odeon, London
TESLA at Shepherds Bush Empire, London
EUROPE at Shepherds Bush Empire, London
BUCKCHERRY/BACKYARD BABIES/DAMONE at The Mean Fiddler, London

Top CDs
VAN DER GRAAF GENERATOR Real Time
NEIL YOUNG Chrome Dreams
JORDAN RUDESS The Road Home
ELP From The Beginning
Top DVDs
ROGER HODGSON Give A Little Bit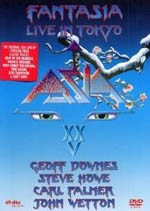 ASIA Fantasia Live in Tokyo
HEAVEN & HELL Radio City Music Hall 2007
DEEP PURPLE Live In Montreux
YES Live In Montreux

Gigs

RUSH Manchester MEN, October 2007
GENESIS Manchester, Old Trafford
VAN DER GRAAF GENERATOR Wolverhampton, Wulfrun Hall
ROGER HODGSON Manchester, Palace Theatre
PAUL GILBERT JB's, Dudley

Andy Nathan
Top CDs
1. PRIDE OF LIONS The Roaring of Dreams - Wonderful grandiose AOR as if the 80's had never gone away, with the great combination of master songwriter Jim (Survivor) Peterik and the soaring vocals of Toby Hitchcock
2. BON JOVI Lost Highway - again BJ move with the times and manage to take the contemporary Nashville sound and marry it with their enduring ability to write memorable hooks
3. JOHN MELLENCAMP Freedoms Road - a return to his roots with simple but effective blue collar anthems and tales of the American heartland that reclaim patriotism from George W Bush and his cronies
4. BRUCE SPRINGSTEEN Magic - great to see The Boss at his up tempo best with the E Street Band back in tow and a series of rousing anthems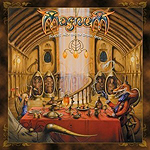 5. MAGNUM Princess Alice and the Broken Arrow - a mellow but surprisingly effective return to the olde-worlde Magnum sound.
Top Gigs
1. SUMMERFEST, MILWAUKEE - the 40th anniversary of this wonderful ELEVEN day downtown music festival. So many highlights including Def Leppard revitalising their setlist on a triple header with Styx and Foreigner, Heart rocking out, REO Speedwagon in commanding form before a home crowd and The New Cars and Lindsey Buckingham both being a revelation
2. FIREFEST 4 Nottingham - the best ever of these fan run festivals that are an AOR fan's dream. Sensational comebacks from Valentine and FM just eclipsed by Tyketto's fiery farewell performance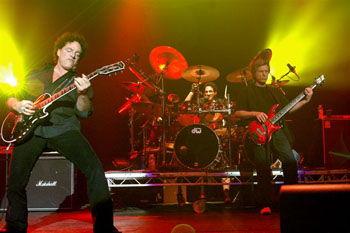 3. JOURNEY Hammersmith Apollo - a very special occasion both for being the first appearance of one of my favourite bands in a quarter of a century in my home city, and sharing the show with my new family three days after getting married!
4. JOHN FOGERTY Wembley Arena - rocking out to his Creedence classics with the vigour of a man half his age
5. TESLA Islington Academy - vintage performance showcasing the best in American hard rock

Bill Leslie
Top CDs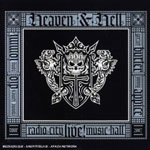 1) HEAVEN AND HELL Live At Radio City Music Hall (SPV)
- at last a live album that does the Dio fronted era of Black Sabbath justice.
2) VELVET REVOLVER Libertad
- against all expectations the GnR offshoot actually justify the hype
3) JOE BONAMASSA Sloe Gin (Provogue)
- blues perfection, even if half of it consists of covers.
4) SLOUGH FEG Hardworlder
- 'proper' metal, mixing a twin guitar attack a la Wishbone Ash with the power of early Sabbath.
5) MUSTASCH Latest Version Of The Truth
- excellent melodic hard rock featuring the best Bond theme that never was
Honourable mentions: Magnum Princess Alice And The Broken Arrow, Road To Ruin - RIIR, Helloween - Gambling With The Devil, Mother Superior - Three Headed Dog, Tesla - Reel To Real
Top Reissues
1) SLADE Whatever Happened To Slade
- the long lost 1977 album proved to be the jewel in a fine reissue series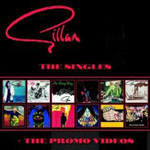 2) GILLAN The Singles Box
- every Gillan single plus the promos in reproduced covers and a nice box - a collector's dream!
3) JAGUAR Archive Alive Vol.1
- a superb collection of rarities from the nwobhm bands early days
4) HEAVY PETTIN Prodigal Songs
- with this many gems not making the actual original albums it's even more perplexing that Heavy Pettin' missed the gravy train.
5) THE ANSWER Rise II
- one of the best albums of recent years gets better with a full CD of new songs, live takes, covers and demos added.
Top Gigs
1) HEAVEN AND HELL Cardiff Arena (14 Nov 07)
90 minutes spent in the company of legends
2) Y&T Bristol Thekla Social (28 Oct 07)
Dave Meniketti and co. on fine form - just why did this band never get huge?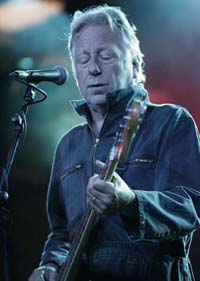 3) MAN Cambridge Rock Festival (18 Aug 07)
Pushed close by John Otway and Stray as the best performances of a fine festival, the Man band were so good it shaped my listening and record buying for the next few months.
4) THE ANSWER Chepstow Rock Festival (1 Jul 07)
- the young Irish four-piece have no right to sound so bloody powerful.
5) TWISTED SISTER Hard Rock Hell, Butlins, Minehead (10 Nov 07)
- he might look like Bet Lynch on a bad day but what a set Dee Snider et al produce - a hell of a show riddled with rock classics and er ... Christmas songs!

Dave Hunter
CDs

GILLAN The Singles
I'm not sure this should be included, being as it's a box set, but it is absolutely the dog's danglies. Brilliantly packaged, limited edition and most definitely a 5/5 collectors piece!
THE ANSWER Rise (special edition)
How do you improve on the brilliant first issue of an album? Easy, just add more of the same and re-issue as double CD!
QUEEN Rock Montreal
OK, so there is an unlimited amount of good quality Freddie live material out there but this show was one of the best. A couple of extra tracks from the original video release and not available on the DVD either makes this a must have for every Queen fan.

WAKING THE WITCH Boys From The Abattoir
Four Yorkshire lasses, four acoustic guitars and four splendid vocalists. A bit folk, a touch rock, very slightly country and often compared to Crosby, Stills, Nash and Young.

MAGNUM Princess Alice and the Broken Arrow
Top quality melodic hard rock, almost but not quite up to the dizzy heights of On A Storytellers Night.
DVDs

THIN LIZZY Live And Dangerous
Quite simply the definitive live album now available on DVD, sheer delight.

DEEP PURPLE Live In Montreux
This show is from the 40th anniversary of the festival in 2006. Certainly not the first Deep Purple show to be recorded there but this one covers their career right up to Rapture of the Deep, and of course includes Smoke On The Water

AC/DC Plug Me In
A pretty comprehensive collection of live footage from the Bon Scott era, (even if the quality of some of the earliest is a bit ropey) and some classy stuff from Brian Johnson makes this a must have for anyone remotely interested in AC/DC.

DAVID GILMOUR Remember That Night
Superb set featuring many Pink Floyd classics, helped by a stellar cast including Crosby Nash and Bowie.
THE GAS Are Going Up
Brings back memories of a fantastic day. The roar of 40,000 Bristol Rovers fans going absolutely mental as Sammy Igoe runs almost the full length of the Wembley pitch to slot home and seal the play-off final sending The Gas up, still sends shivers up and down my spine!
Gigs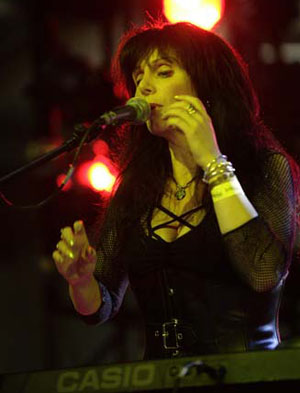 BLUEHORSES Cambridge Rock Festival
The biggest eye-opener of the weekend, I still can't get the vision of the headbanging violinist, Liz Prendergast, out of my head. Definitely one of the most visual of performances I have ever witnessed.
MOSTLY AUTUMN Cox's Yard, Stratford
Bryan Josh is, without doubt, one of the finest guitarists in today's prog market and Heather Findlay definitely has the best female voice I have ever heard, so quite why this isn't the biggest band on the planet is beyond me. Everyone needs to catch them live at least once and there is nowhere better than at an intimate venue like this.
Y&T Thekla, Bristol
An unusual venue, an absolutely storming set in front of a packed, extremely enthusiastic crowd by a band all too infrequently seen on these shores.
BLAZE BAYLEY/WOLFSBANE Rock of Ages Tamworth
History in the making in the town where it all kicked off for them.
TWISTED SISTER Hard Rock Hell, Minehead
It must have been 20 years at least since I last caught these guys and it will probably be another 20 until I see a show that totally blows me away like this one! A totally unashamed return to my formative years.

Stuart Hamilton
Top CDs
1. EPICA The Divine Conspiracy
...a bleak year for female fronted gothic metal, but this is a truly stunning album.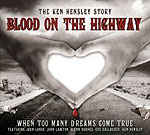 2. KEN HENSLEY Blood On The Highway
... ex Uriah Heep dude brings his life story to music.
Listen in to the GRTR! Radio Show on 30 December for an interview with KEN HENSLEY
3. MICHAEL KATON Live & On The Prowl
... dirty, dirty blues, just downright nasty.
4. ANNIHILATOR Metal
... did exactly what it said on the tin - proper metal.
5. BONERAMA Bringing It Home
... the worlds greatest four-trombone rock 'n' roll.
Top DVDs
1. KAMELOT One Cold Winter's Night
... awesome presentation of awesome prog tinged power metal
2. HEAVEN & HELL Live From Radio City Music Hall
... don't listen to fools, cos this rules
3. THE REALM OF NAPALM RECORDS
... awesome collection of hard to find clips inc Korpiklaani, Leaves Eyes and Tyr.
4. SPACE RITUAL Satiricon
... hoary old Hawkwind dudes breathe life into hoary old Hawkwind tunes for hoary old Hawkwind fans.
5. SAXON To Hell And Back Again
... cos it's Saxon
Top gigs
1. HEAVEN & HELL Glasgow SECC
...it had to be, nothing else matched the power.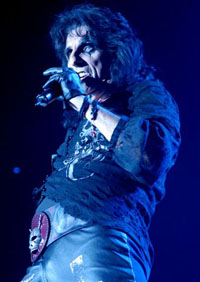 2. ALICE COOPER, MOTORHEAD, JOAN JETT Glasgow SECC
... great package with something for rockers of all ilks.
3. GRAHAM BONNET The Classic Grand, Glasgow
... one of my childhood heroes, up close and personal.
4. SAXON Glasgow Garage
...heavy metal thunder blasted out in a sweaty club like it was 1981.
5. KROKUS Glasgow QMU
... it's Krokus, people! In the UK! Rocking!
---
If you'd like to contribute, please submit your own review here.
---
---
| | |
| --- | --- |
| | Print this page in printer-friendly format |
| | Tell a friend about this page |
| | Bookmark with del.icio.us |
| | Bookmark with Digg |
| | Bookmark with reddit |
| | Bookmark with Facebook |