KEN HENSLEY Blood On the Highway
Politur/ Membran Music 231683 (2007)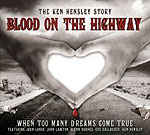 A rock opera of sorts is a brave undertaking these days, and one-time Uriah Heep keyboardist and songwriter Ken Hensley has taken a nostalgic trip down memory lane and no doubt exorcised a few demons at the same time.
This album is an autobiographical trip through a career that spanned the decade of loon pants and kipper ties, a time when Hensley experienced world success with Heep.
All this is chronicled in the collection of tunes which go from elation to deflation when Hensley went solo and was recoiling from the usual rock excesses.
Hensley had also seen his close friends caught up in the fallout: bassist Gary Thain had died in 1975 of an overdose and David Byron (a great interpreter of Hensley's songs) was well on the way to an early demise (in 1985).
With vocal help from Jorn Lande (an inspired choice), former cohort John Lawton and the great Glenn Hughes, the songs have a seventies vibe that will chime with Heep/Hensley fans. In particular, 'Okay(This House Is Down)' will evoke memories for anyone who attended a Heep gig during the period.
After the rousing optimistic opener 'We're On Our Way' the title track introduces a welcome element of darkness, dealing with the casualties of the business.
There are linking dialogue pieces, unnervingly titled 'Doom', and we follow Ken into his solo career, the eighties, and personal hiatus.
But, as in all good operas, things come good in the end. The final track - 'The Last Dance' - with Hughes and a small orchestra is a classic, and one wonders if a further collaboration with the 'Voice of Rock' would be beneficial as well as cathartic for both performers.
A couple of the pieces have been available before, notably 'It Won't Last' (from 2002's 'Running Blind') and indeed 'The Last Dance' (from his 2003 solo album). But they have been polished up and improved.
The chronicle of a rock 'n' roll journeyman, this album is personal, passionate, well produced, and may have the effect of kindling justified reappraisal of one of rock's survivors.
****
Review by David Randall

---
| | |
| --- | --- |
| | Print this page in printer-friendly format |
| | Tell a friend about this page |