Ken Hensley is best-known for his keyboards, vocals, guitar and songwriting contribution to Uriah Heep in the seventies.
He wrote, or co-wrote, the majority of the Uriah Heep's songs during that period, including such hits as "Look at Yourself", "Lady in Black" and "Easy Livin'.
He released the autobiographical rock opera 'Blood On The Highway' in June 2007. This features special guests Glenn Hughes, Jorn Lande, John Lawton and Eve Gallagher.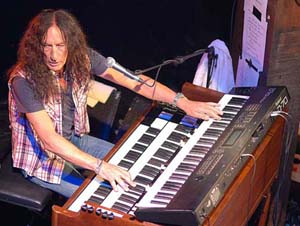 Photo © Website
How long has the concept behind Blood On The Highway (ie - rock opera based on some personal experiences and '70s rock history in general) been kicking around in your mind? Can you discuss the concept behind the new album?
After I finished writing the first edition of my autobiography (which was self-published with the help of a printer in Poland!) I began looking around for a real publisher/distributor and, through an amazing set of Heaven-sent circumstances, I met up with Membran, the parent company of Politur Rock.
After we agreed that the book should and could be expanded before being officialy released, Jurgen Jakobsen (the main man at Membran) read the book and called to see if I thought the musical part of the story (i.e the Heep years) could be told in words and music.
I thought about this, went through some of my books of songs, saw some potential there and sat down to write some more "concept-related" stuff, just to see what happened.
I went into the studio with three new songs, recorded them with Juan Carlos Garcia (drums), Antonio Fidel (bass guitar) and Ovidio Lopez (guitars). When they were ready (effectively as production demos) to be heard, Jurgen and Ronald David from Membran flew down, listened and we signed the deal at lunch.
You have an array of guest artists appearing on Blood On The Highway, including Deep Purple/Trapeze legend Glenn Hughes. When did you first meet Glenn, and why did you choose him to record on the new CD?
The decision to use different voices was made at the very beginning of the project and for three very good reasons...
1. We wanted different voices to colour certain songs in a different way and to add various "characters" to the story.
2. I can't sing hard rock songs very well!!
3. We wanted to avoid this being characterized as a "solo" record.
Glenn and I had travelled the same path for many years but seldom at the same time so we know more of each other than anything more personal.
But I won't forget the day he walked into the NAMM show in Anaheim, looking so fit and healthy...a real victory for the grace of God.
Glenn and I share so many rock & roll experiences that we will be brothers for ever so, when I ran into him in Moscow I told him that we finally had our opportunity to work together, sent him the two songs from B.O.T.H and we made "the plan" !
This is also a reunion of sorts for you and John Lawton - can you talk a bit about this. How do you compare the vocals of John to the late, great David Byron.
John is a great blues-rock singer. DB was a great pop-rock singer. I write mainly pop-rock songs but as soon as I finished "It Won't Last" I contacted John about coming to Spain to sing it.
I was pleased when he agreed and we had some fun doing it.
Are you happy with the finished CD - performance, recording and packaging?
I am extremely happy with it and I think it's one of the best things I have ever done, if not the best.
It was a lot of work and it took a lot of co-ordination to get everything and everyone together but I think everyone involved did a fantastic job, especially my partner and co-producer Dani Saiz!!!!
There are one or two things I would do differently, but they are minor and such things always exist in the fruitless search for the perfect record!!
You performed Blood On The Highway live in concert in Germany recently - how did the performance go - were you happy with the outcome? Was it filmed and recorded for possible later release?
The concert was great and everyone enjoyed the very special moment. It wasn't perfect by any means but the energy and the spirit were infectious and the end result was a great night for everyone involved.
Now I am working on the audio and it will eventually be a double DVD.
Any plans to tour the album on a large scale - would John, Glenn, Jorn and Eve be part of the live ensemble?
We have had some discussions along these lines and, based on schedules, it could work but it's not cheap!!
You have your biography coming out this month - can tell us about it - is it going to be hard and soft bound? Many rare photos? Who's publishing it?
The book is very personal and very honest. It was difficult to write because, as opposed to "memoirs" I actually had to re-live a lot of stuff in order to be able to write about it accurately.
It has many personal and previously unpublished photos and I hope that it will be informative, helpful and maybe humorous in places.
How is the response so far for Blood On The Highway?
Really good and really solid. Sales are better than expected and the reviews and reactions have been universally positive.
We believe it is a product that will sell well over time - kind of a "long-life" product!
Who came up with the CD design and artwork - concept?
This was totally Membran's design department and I have to say they did a fantastic job. I was kept informed throughout the process and I did have some minor input but the credit belongs to them.
You lived in St. Louis, MO in the USA for many years, now you are residing in Spain. Why the move and how is life in Spain?
Life in Spain is great. After Monica and I decided to move from the USA we tried England for a while but it was too wet and way too expensive!! We did love the pubs though and we do miss that.
I really wanted to be closer to my family so now we are very close to Monica's family and only a short flight away from mine.
Spain overall is like every other country and living here does have its challenges but we live in such a remote place that, at the end of the day, when we sit on the terrace with a glass of wine, we could be anywhere really.
The other thing is that we are isolated from the "noise of the world" and I think that accounts for the fact that I am writing more (and, hopefully, better) songs than at any other time in my life.
(Here's a broad question) On a large scale, what do you hope to purvey to the world with Blood On The Highway - you are a deeply spiritual and religious man, through your music what is the message you want the world to know?
Hmmmm! I'll have to think about this a bit!
First I would say that, in my humble opinion, songs are a medium for sharing rather than preaching and, even though I am a man of strong opinions, I also know that no-one is always right so, if the gift of music is used in a political sense, I think it loses some of its magic.
A long time ago I chose to separate my overtly faith-based material from everything else and I think that was the right decision. I am a very commited Christian and I will always share this with anyone if invited to do so, but I am not a "Bible basher". It's more important to "live" your faith than to talk about it!
Of course there are always messages but I think the message of Blood On The Highway is, overall, a positive one. Music didn't force me to make the bad personal choices I made, music only ever gave me beautiful experiences. I lived my dreams and I survived and, at a point in my life and career when the "rules" would say I should be gone, retired and forgotten, I find myself at one of the most productive times of my life and with a lot to look forward to. I have writing projects booked for the next 18 months!!
I am convinced that there are greater forces at work in our existence and I am totally commited to seeking the guidance of my creator so that every step is taken to fulfil His purpose.
I will do everything I can to encourage others, regardless of the personal cost.
I worked hard and I enjoyed the rewards. I will never, ever give up and I will always strive to be the best I can be for God, for my family and for anyone who needs help.
---
Interview © July 2007 Billy James