Just witnessed your best live gig?..send us a review!
JAMES GRANT
Biddulph Arms, Staffordshire 28 September 2007
It's a somewhat strange situation when you first set eyes on one of your musical heroes, someone you've admired but only known through album cover and song.
I had the same feeling when I first encountered another musical hero, Jan Akkerman, in a small club in Holland back in 1991.
Arriving at the soundcheck, at the unlikely venue of Biddulph Arms in Staffordshire, I thought James Grant seemed a more gaunt and slight figure than his cover art. Perhaps more worldly-wise than his halcyon days as the frontman of Love And Money, he was realistic - if somewhat self-effacing - when he told me before the gig that he is regarded as a 'has-been' by some promoters.
All credit, then, to Eric and Craig at the Biddulph for having the foresight and the cunning good taste to stage this gig in their ever-expanding music club.
Softly spoken, unassuming, enigmatic, I found James an engaging raconteur when he told me that he now plays a few gigs on the "house circuit" where well-to-do hosts book him for "parties, weddings and barmitzvahs".
The audience at Biddulph was unashamedly partisan, with a good number familiar with James' earlier incarnation and prepared to travel for it: an age when he sold a quarter of a million albums with Love And Money and made pop videos. There's been much water under bridge since then of course, the band split in 1994, Grant went solo in the nineties, and L&M bassist (and sometime co-writer) Bobby Paterson sadly died in July 2006.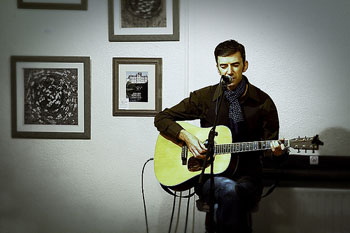 Photo: Biddulph Up In Arms
If James capitalised on his musical heritage this evening, he gave new poignancy to his material in an acoustic setting. We always knew the strength of the songs, but stripped down with just voice and guitar, lesser performers might be exposed. Grant on the other hand breathed new life into old wine bottles.
Starting with the wonderful 'I Can't Stop Bleeding', the crowd was heartened by a brace of L&M classics including the beautiful 'Walk The Last Mile' from the 'Strange Kind Of Love' album, 'Whisky Dream' from James' favourite 'Dogs In the Traffic'; all interspersed with James' dry good humour recounting some of his past glories and encounters, giving a context. Even a reference to the Led Zeppelin reunion and the revelation that a teenage James had replaced his Kenny Dalglish bedroom poster with that of Jimmy Page. The Shape of Things To Come?
The second half warmed up with more from his solo output, and a wry introduction to 'Breaking The Law': "I wrote this for Johnny Cash and he died...I thought I'd write my next song for Boris Johnson". An amusing sing-a-long interlude, and then a choice of song where James offered up a Bruce Springsteen or Van Morrison classic: the latter, a former label-mate, he described as "a cantankerous old f--- , if a genius" and then went on to perform 'Crazy Love'.
Rounding off with the encore of 'Winter' and 'Will The Circle Be Unbroken" James' house party training - where he invites the odd request or two - came into play. But he never expected demands for an old B-side 'Wanderlust' and genuinely fumbled with the chords. But - spurred on by the willing crowd - he executed a superb and spontaneous rendition.
This was a gig, and a performer, to cherish. Grant told me later that he is still learning his trade, finding new challenges, still grateful for past glories, but moving on. And that slight, unassuming person at the soundcheck grew somewhat in stature during the evening so that life imitated (cover) art and all was well in the world again.
Review by David Randall
Setlist
I Can't Stop Bleeding (Sawdust In My Veins)
Walk The Last Mile (Strange Kind Of Love)
Whisky Dream (Dogs In The Traffic)
Holy Love (Holy Love)
The Streets You Walk Everyday (Holy Love)
Long John Brown and Little Mary Bell (I Shot The Albatross)
Strange Kind Of Love (Strange Kind Of Love)
Lips Like Ether (Dogs In The Traffic)
Religion (My Thrawn Glory)
Breaking The Law
Scarecrow Song
Jacqueline's Shoes (My Thrawn Glory)
The Last Ship On The River (Little Death)
Crazy Love
Does It All Add Up To Nothing (My Thrawn Glory)
Winter (Dogs In The Traffic)
Will The Circle Be Unbroken
Wanderlust

---
Interview with James Grant, 28 September 2007 (30:14)
© 2007 David Randall/GRTR! All rights reserved.
If you can't see the embedded player, you'll need Real Player. Follow the audio help link at the top of the page.
---
Thanks to Eric and Craig at the Biddulph Up In Arms
Related>> Feature
Related>> Interview (2004)
Biddulph Arms website
---
| | |
| --- | --- |
| | Print this page in printer-friendly format |
| | Tell a friend about this page |