Latest interview! (September 2007)
JAMES GRANT
James Grant was the frontman of Love And Money who were feted in the late eighties, and their second album - produced by Gary Katz (Steely Dan, Laura Nyro) - sold quarter of a million copies.
The band split, and in the late-nineties James Grant followed a low-key solo career. He is regarded as one of Scotland's greatest songwriting talents, and his new album 'Holy Love' is due in the autumn.
Inevitably, those who remember Love And Money will want to ask James about that band, although it is clear that - understandably - he has distanced himself from that period of his musical life. Thanks to Karen at Vertical.
1. How is the latest album going. Can you tell us a bit about the mood, the songs, and any aspect you are particularly pleased with? Does it complement previous albums?
The album is finished , due for release in October . The general vibe of the record is a stripped back ascetic approach , there's only drums on one track, so to all intents and purposes its an acoustic record . I've generally had a couple of tracks like that on my records anyway and it's always been something I've wanted to do but lacked confidence or not had the specific songs.
I'm very happy with it, at a time when the album as a format is being called into question I feel that its a set of songs that evokes and sustains a particular mood .
I think I've always made music that needs to be listened to , which may sound ridiculous, but at the end of the day its all I can ask . It would be beneficial if it were listened to at least once whilst not doing anything else at all; driving, ironing, watching football, having a dinner party etc.

2. How do you view your time with Love And Money? In retrospect, was it a good time in your life?
The highs were high , the lows were as low as you go , I regret none of it . We were indulged by our record company to the point of idiocy and I basked in that indulgence for many years accruing great debts for them .
All our records cost a lot of money and we worked with great producers, (Tom Dowd , Gary Katz Steve Nye ). Ultimately, music is the least important thing in the music business and I've had my fair share of wankers with perms in satin Dire Straits tour jackets telling me what I should and should not do , but I managed to do it my way the majority of the time.

3. What do you consider your major achievement during that period and why did the band split?
Our best record , Dogs In The Traffic , I think it still stands up . I felt I really had to kick against the pricks to get it made , it was worth it , but it certainly took its toll on me.
We split up because it just seemed like that was a natural course of action, I had dragged my friends through the morass of my subconscious for long enough , there was no acrimony.

4. Do you keep in touch with the other (Love & Money) band members and do you think you would ever play some gigs together "for old times"?
Yes, and no. The current hunger for nostalgia is nauseating and stagnant, leave the past in the past.
5. Who have been your main musical influences and who are your all-time favourite artists/albums?
Led Zeppelin, Joni Mitchell, Dylan, The Stones, Tom Waits, Dostoyevsky, Carson McCullers, Charles Buckowski, Chic, seeing Bowie on Top of the Pops , Van Morrison, Glasgow vocalist Paul Quinn, getting chucked, Helen Adam, Kieslowskis' The Ten Commandments, The Catcher In The Rye, Twin Peaks, The Bride Of Frankenstein, Vertigo, Mazzy Stars' So That Tonight I May See, Strawberry Fields Forever, Rogets Thesaurus, Sly And The Family Stone, The Sea, Motown, The Third Policeman, the Catholic church, death, sex . LOVE.
Alternative tunings, Aretha, Whats Goin' On, The Shaggs, Hank Williams, En Coure En Hiver, Orson Welles, Money by Martin Amis, Lucian Freud, Tony Benn, Townes Van Zandt, Eric Satie, Mahlers fifth, Louis Ferdinand Celine , Jimi Hendrix, The Talking Heads, Nick Drake, Do Your Thing by Lynn Collins, Things We Lost In The Fire by Low, Ry Cooder on his own, Miles Davis, Philip Marlowe...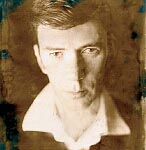 6. Tell us a bit more about what gives you inspiration in music and how you approach the songwriting?
Difficult. In that, I could break it down to fundamentals which would demystify the entire process. I've been asked what specific songs were about in the past, and found that when I explained it only served to dissappoint people or dispel their interpretation, which I believe is just as relevant as mine. I like them with a built in ambiguity, but I think its obvious a lot of the time what the initial meaning is .
Its a fairly visceral process, I can explain the events in my life that led me to write a song but they won't be as interesting as the song itself or how others perceive it . I know its a hoary old chestnut, but it holds true that you feel the best songs come through you, not out of you, I'm still wont to cast a thankful glance skyward now and again.
Mostly, it just happens, its just something that has been absolutely neccessary in my life for a long time now, I still have to work at it though, and I dont think I've found my zenith yet .

7. What have been the highlight(s) and lowpoints(s) of your career to date?
To be honest, I detest the term 'career ', because being in a band is about as far from a career as you can get. I've travelled a bit, played some big gigs, TV shows, met some famous people etc. I've even done the hotel room destruction thang; the highs and the lows are not mutually exclusive.
Besides, we weren't that successful, in the Wembley stadium kind of way ...it was a long time ago, and I feel kinda stoical about it all .

8. Tell us in more detail about what happened to you after Love And Money. It all seemed very low-key in contrast.
I got married and have two daughters .
I wrote a soundtrack for a film, 'The Near Room', I co-wrote , edited and narrated a selection of 20th century Scottish poetry for another, 'Transition'.
I wrote songs for Karen Matheson of Capercaillie and played on her records I've been involved in various other film and TV projects.
It only seems low key because none of my artistic endeavours have been marketed to any great extent, nor achieved much commercial success, but this has allowed me to successfully alienate any Love and Money fans who may still want to hear old songs.
A big turning point for me was meeting Karen Matheson and Donald Shaw, before then I was spending an increasingly large amount of time up the dark portal of my own sphincter.

9. What was the best career move you ever made?
See question 7.
Probably reading Crime And Punishment , it totally changed the way I thought about art in general.

10. Will you be playing some gigs to promote the new album, south of the border? Do you include songs from Love And Money days, your previous solo albums etc. Do you gig with a band?
I will be playing some shows, yes.
I would love to tour extensively, but lack the fan base to do so without sustaining blistering debts as I am no longer subsidised by a major record label. If anyone has any ideas about how I could facilitate this, or indeed, would like to book me for weddings, childrens' birthday parties, barmitzvahs etc, please get in touch.
I play songs from my past that I regard as relevant to my current material , as you will probably have realised by now, I am not sentimental .

11. Outside of the music business, what do you enjoy doing in your free time?
I watch Celtic and maintain a morbid interest in practically all football . I play football every Wednesday night. I read. I like the Guardian crossword. I am constantly at war with myself which doesn't give me a lot of free time.
12. Message for your fans...
Please, Just leave me alone.
---
Interview © 2004 David Randall/
Format and edit: The Music Index.
All rights reserved.