Just witnessed your best live gig?..send us a review!

CAMBRIDGE ROCK FESTIVAL
Godmanchester, Cambridgeshire 16-19 August 2007
Festival review 2 (Rising Stars stage)
Subscribe to our RSS feed and obtain the Cambridge Rock Festival 2007 audio review link!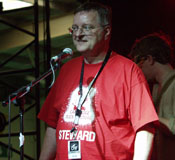 Dave Roberts,
photo Ian Pollard
The Cambridge Rock Festival 2007 worked like a dream. While the much higher profile V Festival down the road in Chelmsford saw fans leave early because of the combination of rain and mud, the 4 day Cambridge Rock Festival positively basked in the success of its own planning.
Promoter Dave Roberts had obviously learned from his previous years experience with bad weather and relocated the festival to an animal rescue centre that doubled superbly as the festival grounds.

The event was so well organised that the animal lovers were still able to do their thing and mingle in the outdoor with rock fans who were in transit from one stage to another.
It was apparent that both Thursday and Friday had already got off to a cracking start with Eddie & the Hot Rods the name that most people were talking about.
But come Saturday there were three stages to choose from, including our very own getreadytorock sponsored Stage 2, which presented two days of up and coming band and solo artists.

And it was gratifying to know that fans took time out from the bigger names to support some excellent sets from an array of consistently good bands.
Stage 2 was in fact in a sizeable room in a restaurant, and while some bands found this incongruous, most revelled playing to an enthusiastic rock crowd who enjoyed the chilled atmosphere.
In fact Stage 2 got off to a laid back start with singer-song writer Charlie Barker - who incidentally had appeared to an impromptu set on the camp site in the early hours of the previous night. Her stage presence and heart felt lyrics did the trick holding the crowd for a full hour.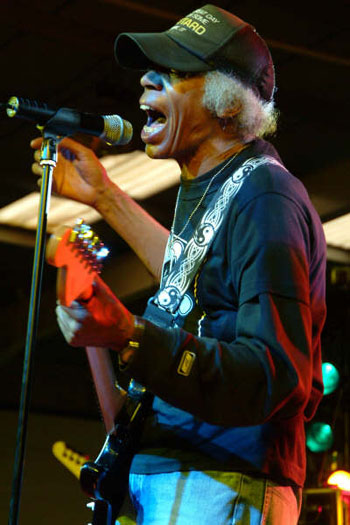 Ray Owen, photo Noel Buckley
In between her songs there was time for a quick dash to catch Ray Owen rolling back the years with Juicy Lucy, who are today a powerhouse rock band, though Ray's bluesy vocal refrain acted as a foil for the guitar overdrive.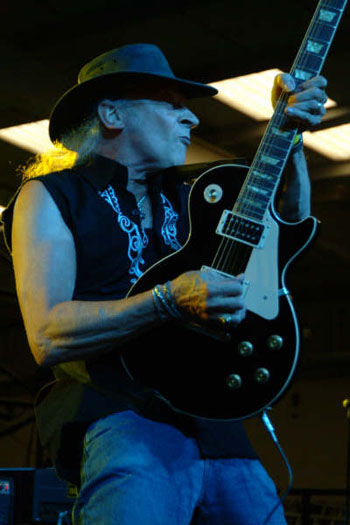 Del Bromham, photo Noel Buckley
Del Bromham's Stray followed in a power trio format with Del rocking the place to great effect with such anthems as 'I Believe It', the powerful 'Jericho' and the magnificent rock anthem 'All in Your Mind'.

Back to GRTR! Stage 2 for two numbers by ambient folk band Tidy before nipping back to the big stage for the Celtic, multi instrumental Bluehorses, who went down very well especially with the rock crowd who had never seen them before.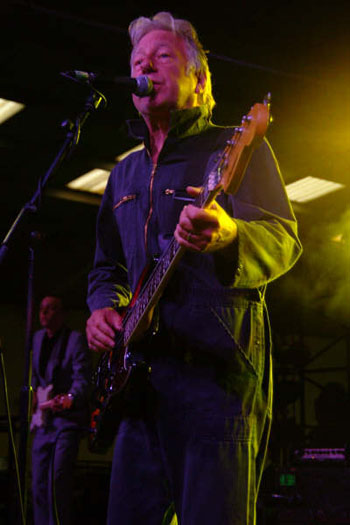 Martin Ace, photo Noel Buckley
The re-born Welsh rockers Man followed and gradually built up a head of steam. For a band whose numbers often top 20 minutes, the prospect of playing a set little under an hour didn't seem to faze them, as they mixed two highlights from their Diamonds & Coal album - the title track and the tub thumping riff driven 'All Alone' - with long term favourites 'Romain', and of course the climactic twin guitar workout 'Spunk Rock'. The latter gave the band a great reception, and they duly took their bow with veteran Martin Ace positively beaming.



A quick dash to the young bands on Stage 3 found several punters still in a state of shock from coping with the excellent Led Zep 2 playing their an early morning wake up call, before the Grunge factor took over. But both Strawberry Shortblade and Kyrbgrynder acquitted themselves well on the two songs by both that I caught.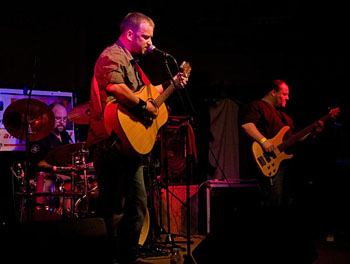 25 Yard Screamer, photo Paul Rule
PUCK rocked things up on Stage 2 and while 25 Yard Screamer proved to be a unique prog rock outfit who somehow combined thematic development with impassioned singing and great playing. Already signed to getreadytorock, this is a fine band well worth catching as is Natasha Sohl who worked a more straightforward but very effective rock approach.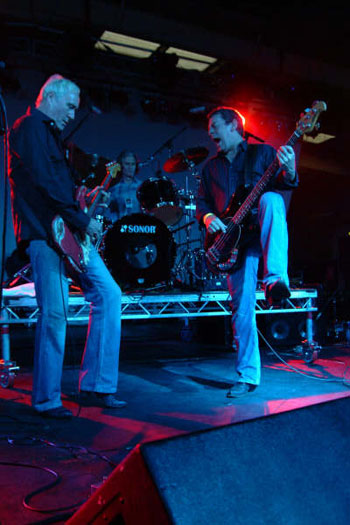 Nine Below Zero , photo Noel Buckley
Back to the big hall for the unflappable Nine Below Zero who in the form of Dennis Greaves proved you can't beat a great front man, and virtuoso players in an R&B format. Brazilian metal merchants Mindflow were certainly committed to their cause but seemed out of step with the programme while the Australian Pink Floyd in truth delivered a rather pedestrian 'Dark Side of the Moon' before picking things up on a 'best of Floyd' second set, that was ultimately rapturously received.
John Otway, photo Noel Buckley
Sunday may have seemed a strange day to rock people out, but by the middle of the afternoon well over a thousand people had sufficiently woken up to give John Otway and his big band a brilliant ovation.
Otway seemed genuinely delighted by the crowd, and his twin guitar line-up worked up a stirring dynamic. By the time of the theramin driven cover of 'Crazy Horses', Otway had visibly left people in tears with his zany show. In fact on a top ten ranking of the whole weekend, Otway came a close second!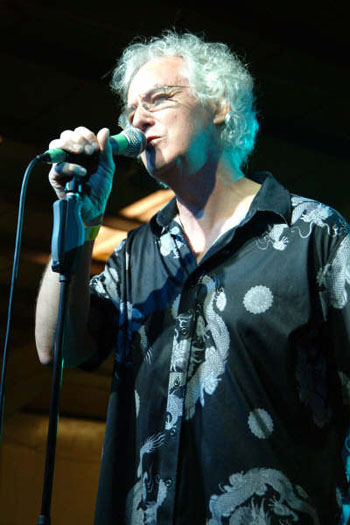 John O'Leary, photo Noel Buckley
The following John O'Leary Band had it all to do, but proved to be an inspired choice for a bluesy chill out zone, as a good crowd hit both the front of the stage and filled the chairs to listen to a high octane set full of funk, swing, cool grooves, inspired harp and dazzling guitar playing from O'Leary and Jules Fothergill respectively. Blues never sounded so good from the founder member of Savoy Brown, and the band again received a fine reception at the close.

The only casualty of the unremitting rain was the walk way to Stage 3 which was very muddy, so back to Stage 2 for the political folky Simon Hopper Band and the well received local heroes Respond, before a quick sprint back to the main hall for some fine thematic prog rock from Karnataka. While the vocalist looked very Gothic the music proved to be both intricate and complex by turns but was accessible enough to please the assembled throng.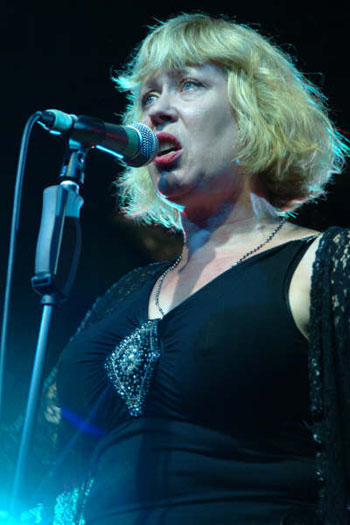 Hazel O'Connor, photo Noel Buckley
Hazel O'Connor and her band proved to be one of the surprises of the festival, winning over the crowd with real passion most notably on a cover of the Stranglers 'Hanging Around'. Certainly the queues on her merch stalls suggested she had connected well with the crowd.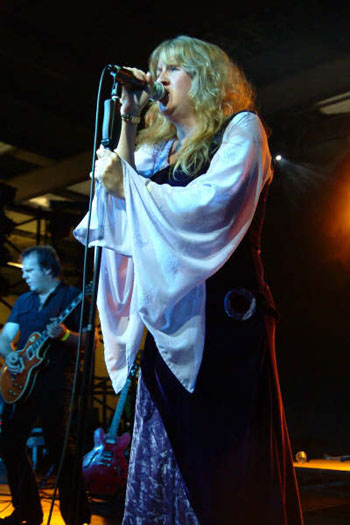 Deborah Bonham, photo Noel Buckley
Deborah Bonham followed, and what a voice she has. And although some of the arrangements in her set were a trifle ponderous, she excelled on the Steve Marriott gospel favourite 'Black Coffee - with Jerry Shirley on drums - and a chilling version of Zeppelin's 'Battle of Evermore'.

Back on Stage 2, and Taildragger deservedly got a tremendous response with their classy mix of shuffles, boogie and blues. Perhaps their reception was not so surprising as they were a good choice in mixing up the styles.

Sacred Heart topped the bill, and their fans were out in force for some hard hitting melodic rock that pleased the diehards.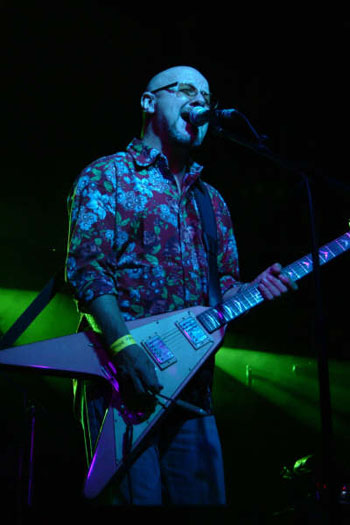 Andy Powell, photo Noel Buckley
Back on the big stage Wishbone Ash overcame technical problems to deliver a mellifluous set full of melodic lines, sweeping harmonies and some fine solo's as expected from Andy Powell, and the impressive Muddy Manninen from Finland.
And finally after a long enough wait the bill topping appearance by Thunder. They didn't hit the stage until 10.45pm, but Thunder thrillingly demonstrated just why they were the festival headliners.
Every cliché, every riff, every note, every call and response, every joyous rock and roll moment was mined in a bar storming set. Some of the crowd had already left after a few numbers simply because it was very late Sunday night and they had to get home in the driving rain. But the Cambridge Rock Festival will have to work very hard to ever get a headliner to top this performance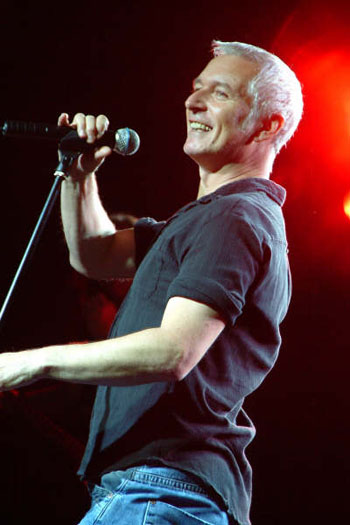 Danny Bowes, photo Noel Buckley
Vocalist Danny Bowes is arguably the most charismatic front man in the land with an immense vocal range and joyously choreographed dance routine.
Thunder don't deal in the unexpected, but what they deliver is a stupendous rock show that lives off the back of some compelling melodic hooks, lots of sing-alongs, plenty of hand clapping, bags of fun and of course crunching guitars and Hammond a plenty.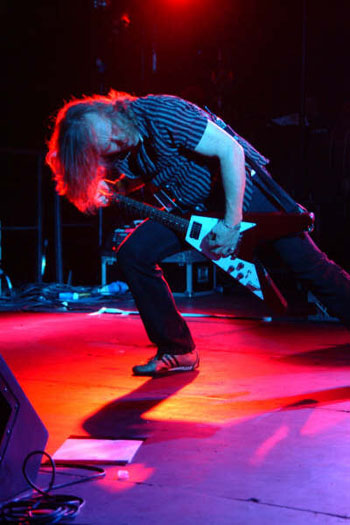 Thunder, photo Noel Buckley
Thunder take it all back to how it was many years ago, and for most of us at Cambridge 2007, this was the band that personified what the festival was all about. Thunder were simply magnificent. And so was the festival.
The stewarding, security, signage and services were all excellent, the atmosphere was friendly, the prices were affordable, and with 140 real ales, still no one fell over. Here's to the next one chaps.

Review by Pete Feenstra
Photos © Noel Buckley, Paul Rule, Ian Pollard/GRTR!
Festival review 2 (Rising Stars stage)
---