GILLAN Reissues Edsel Records (2007)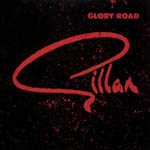 Two things immediately spring to mind with these four CDs (first batch, more to follow);
Firstly, singer Ian Gillan had himself an amazing band here, that for whatever reasons, worked, and worked incredibly well. Several top ten albums and singles for a start. As bassist John McCoy recently told me, they had the best singer in the rock business, who just needed a kick up the bottom. I'm inclined to agree; the chemistry was explosive!
Secondly, these reissues, with bonus tracks, are a lot more coherent than the original CD reissues of some 10+ years ago. Not totally perfect in the spread of the bonus cuts, but pretty damn close. The original CDs were poor, to put it very politely, and these with their sleevenotes et al can be filed under 'About Bloody Time'.
After leaving Deep Purple for the first time, Ian dabbled in various projects before forming the jazz fusion oriented Ian Gillan Band. 1978 saw the formation of Gillan, with only pianist Colin Towns staying on.
Only bassist John McCoy remained from 'The Japanese Album', and Mr Universe was the Gillan Band's UK debut, adding drummer Mick Underwood and guitarist Bernie Tormé.
Unlike Rainbow, PAL and Whitesnake, Gillan really moved away from the Deep Purple template in a big way, the music fiery and explosive.
Towns' keyboards moved from intricate to lead and back, Bernie's guitar mixing punk and Hendrix, and the Underwood/McCoy rhythm section solid and heavy.
Mix punk energy, trad rock and NWoBHM, with Ian Gillan's voice at its pinnacle.
The melodic metal of 'Vengeance' was issued as a single, and the 8 minute live jam of 'Smoke On The Water' b-side is added as a bonus. *****
1980's Glory Road, here as a double disc, kicks off with the original album, and has a bigger Tormé/McCoy influence. Opener 'Unchain Your Brain' is a classic riff as you'll get, as is 'Are You Sure'. Riffs and solos combined, it is an essential album.
The second disc is the 'For Gillan Fans Only' LP which was a limited edition at the time. A single b-side, and several studio jams, covers and rock'n'roll irrelevances. A solo track from Colin Towns (from an unreleased solo album), John and Bernie playing with drummer Thunderstick, and a track by the Split Knee Loons, it's all good stuff. Two more b-sides (to the single 'No Easy Way') complete the disc. *****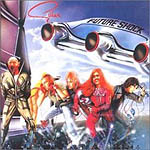 Future Shock, Bernie's last album with the band, is another classic, and a more cohesive sound, with writing and performance more equally spread (neither keyboards nor guitar taking control, but working equally well together. The excellent 'No Laughing In Heaven' saw the band play Top Of The Pops, and a cover of 'New Orleans' was a single too. The bonus tracks here, all relevant, are excellent too; the cover of Elvis Presley's 'Trouble' and the anti nuclear 'Mutually Assured Destruction' (both singles and Gillan at his best), and several b-sides, including a brilliant (and humorous) take on 'Lucille', with excellent interplay between Tormé and Towns. *****
Double Trouble followed quickly, as a double album (the second disc a live set), and featured ex White Spirit guitarist Janick Gers (now of Iron Maiden).
The studio is solid, a very good set by normal standards but compared to Future Shock and Glory Road a little unspectacular. A couple of singles were raised, and the opener 'I'll Rip Out Your Spine' is worth a listen and more. The lengthy 'Born To Kill' is Towns at his best. In fact on reflection it's a damn good set, just a little different. The studio set finishes with the bonus track 'Spanish Guitar', first time on CD and previously only on a rare flexi disc.
The second live disc kicks off with the original live album, great takes on Gillan classics recorded at Reading 1981 ('If You Believe Me' is taken from The Rainbow). Two additional reading tracks that appeared as b-sides, and three from Reading 1980 that include 'Smoke On The Water', that were issued on the 'Trouble' double single. ***½
These complete albums really are essential listening and form an important part of British hard rock at its peak. Good to see them available again and given the job they deserve.
Review by Joe Geesin