MERMAID KISS Etarlis MERM03 CD (2007)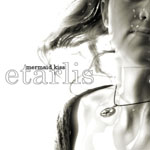 Many bands wait until they're established and better known before unleashing the proverbial concept album. Whilst it is essential in any prog band lexicon, it can appear somewhat pretentious and ambitious in a fledgling career.
What strikes me about 'Etarlis' is that it is born out of its time. In earlier days, on release date, old buggers like me would have legged it to ye olde pop shoppe and then luxuriated in a gatefold sleeve, probably inked by some regarded graphic artist, examining at leisure but in fine detail the lyric sheet and the esoteric imagery. No such glory for 'Etarlis' (although Chris Walkden's images are evocative) - but then this is one of the sad fallouts of the digital age.
'Etarlis' is prog - or more precisely - elemental rock on an epic scale, and moves the band on in terms of production and content. Jamie Field and Evelyn Downing's story tells the journey of two friends, Anna and Gerri, and their adventures in the fantasy land of Etarlis. You have to be in on the conceit, really (there is a helpfully-provided website), but fortunately most songs can also be enjoyed in their own right. One has to ask, though: what the hell was Jamie smoking at the 1975 Reading Festival?
Are there any secrets, any coded messages in Mermaid Kiss' new-found neverland? A quick go on the anagram picker and we get 'realist', 'retails' and more prosaically 'ale stir' which is what I'll be doing after this review.
All the earlier musical reference points are in situ but the whole approach is more classical, not least in Andrew Garman's wonderfully rich orchestration and production. But the album easily connects with bands like Iona and Capercaillie (especially on 'A Sea Change'), a touch of Floyd, and - turn the clock back - Annie Haslam's Renaissance.
To bolster prog credentials, there are guest appearances from Troy Donockley and his ubiquitous uilleann pipes, and Jonathan Edwards (keyboardist of the much missed original Karnataka line-up). The addition of woodwinds (Wendy Marks) and flute (Evelyn) gives an air of civilised chamber music in places.
Mermaid Kiss' strong point has always been the use of very fine female vocalists and, once again, Evelyn Downing is featured extensively. Evelyn has a beautifully pure voice and it may be too perfect for some, whilst second vocalist Kate Belcher is perhaps more conventional in terms of a pop rock approach.
When I heard Mermaid Kiss' debut album I thought it was a little too restrained in places. Part of this restraint comes from Evelyn's vocal style, she doesn't appear to do rock or vamp. She sounds like the sort of wholesome girl you could take home to mum for cakes and tea.
And indeed my original comments may have missed the point. Although the stop-gap 'Salt On Skin' showed a potentially more menacing side to the band, 'Etarlis' is altogether more refined, more gently undulating, somewhat like the Herefordshire countryside in which it was created. And, frankly, it's probably best savoured tucking into your Tupperware box and Thermos whilst taking in a view over the Wye Valley.
'Etarlis' reflects the sheer joy of classic music making and discovery rather than any hard-nosed commercial bent, a gift for those who really want to listen and share the secret. It could have been made anytime in the last 30 years, and therefore defies time and place. Only the meticulous drum and keyboard programming give the game away. It is, indeed, an antidote to the Glastonbury Age when every other band sounds the same or follows the crowd.
For a band wanting to go places fast, I don't see this fitting the bill. Although they've cleverly produced shorter pieces for accessibility (notably 'Walking With Ghosts', 'Dark Cover', 'Siren Song' and 'Shadow Girl'), the album and concept has to be enjoyed in total, and demands some time investment. And one of the more immediate - and upbeat - tracks, 'Beat The Drum', clocks in at six minutes.
'Etarlis' reveals its pleasures after intense and repeated listening and revels in the sheer lushness of texture and turn of phrase. The story is rounded off with the splendid ten-minute 'The City Of Clouds' which builds to a wonderful finale. The stage version surely beckons.
'Etarlis' will further bond Mermaid Kiss' growing fanbase and should win over lovers of well-proportioned, beautifully crafted, symphonic rock. Listen up Mostly Autumn...Jamie and friends are snapping ferociously at your well-laundered leathered coat-tails.
*****
Review by David Randall

Crayola Skies
© 2007 Mermaid Kiss. All rights reserved.
Interview
Etarlis website

---
| | |
| --- | --- |
| | Print this page in printer-friendly format |
| | Tell a friend about this page |