Just witnessed your best live gig?..send us a review!
Latest gig review (London, 4 June 2011)
JOURNEY
Hammersmith Apollo, London, 14 March 2007
Wow, can't believe I am finally getting to see one of my five all time favourite bands, albeit without the band's most famous vocalist Steve Perry. Mind you Jeff Scott Soto (Yngwie Malmsteen/Talisman/Soul SirkUS) is a worthy addition and he certainly deserves this big break as he has been a true underrated talent for many years.
First up though is another underrated vocalist Danny Vaughn (Tyketto/Waysted) who is in acoustic mode tonight, joined by his guitarist Tony Marshall and plugging his excellent new album 'Traveller'. The Tyketto tunes get the warmest reception and when they are as good as 'Wings', 'Burning Down Inside' and 'Forever Young' you can se why. His new solo tunes get a good reception as well especially 'Badlands Rain' which harks back to his Tyketto days. Hopefully he has won over some new fans tonight and the real treat comes in October when Tyketto return for Firefest IV - weh hey!
The band less Jeff Scott Soto (JSS) took to the stage for 'Jerusalem' segued with the band's own 'Rubicon' (Neal Schon is a true guitar legend and behind me at the mixing desk a certain Brian May was enjoying every minute of this and the rest of Journey's set), then it was off with a bang with 'Stone In Love'.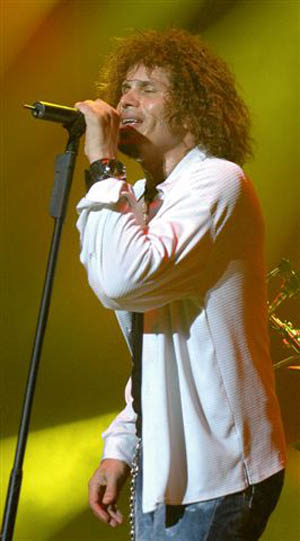 With JSS at the microphone you know it will be a good show as no matter what the crowd size he works them with ease. The set list really touches on the band's rock side, although as mentioned in Charlie Farrell's review of the Manchester show the set does seem to stall when they hit 'Mystery Mountain' mainly as most of the audience won't have that album! JSS dedicated 'Opened the Door' to Steve Perry and it was a monstrous version, with Schon on great form.
The good thing about Journey is they have vocalists in abundance, which you need in a set lasting over two hours. Drummer Deen Castronova deftly handles 'Open Arms' (boy does he hit the Perry like notes and phrasings spot on) and 'Mother, Father' which had me beaming from ear to ear to here this gem played live.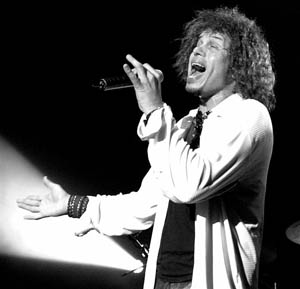 The crowd response was one of the best I've seen at the Hammersmith Apollo, with the slower tunes getting a rousing reception notably 'Lights' (cue lighters and swaying) and 'Remember Me', which JSS dedicated to Boston's Brad Delp. Also with JSS at the helm the band can cover all musical genres with a neat blues jam leading into 'Lovin' Touchin' Squeezin' and then its classics all the way until the end of the set, namely 'Where Were You', 'Faithfully', 'Don't Stop Believin' and 'Anyway You Want It'.
The band seemed to be enjoying themselves and sound wise it was very good bar a few times you couldn't hear Jon Cain's piano.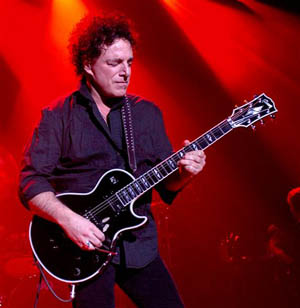 Only one encore, 'Separate Ways (Worlds Apart)' which rounded the night off in style although the audience would have happily sat through another two hours of music I am sure! With JSS on vocals the band has a new lease of life and a real front man i.e. one who knows how to work a crowd and can adapt his on stage patter to suit the audience's mood, rather than run through the same scripted banter each night.
Hopefully they will do a new studio album soon and get back to the UK even sooner!
Review by Jason Ritchie
All photos ©2007 Lee Millward/GRTR!
All rights reserved.
(Many thanks to Charlie Farrell for the setlists)
Danny Vaughn setlist:
Wings - That's What She Said - Badlands Rain - Burning Down Inside - Traveller - Forever Young
Journey setlist:
Jerusalem/Rubicon - Stone In Love - Ask The Lonely - Wheel in the Sky - Keep on Runnin' - Who's Cryin' Now - Opened the Door - Mystery Mountain (Jon Cain on vocals) - Edge of the Blade - Remember Me - Chain Reaction - Lights - Mother, Father (Deen Castronova on vocals) - Open Arms (Deen Castronova on vocals)- La Do Da - Ross Valory/Deen Castronovo solos - Line of Fire - Send Her My Love - Blues Jam - Lovin' Touchin' Squeezin' - Where Were You - Faithfully - Don't Stop Believin' - Anyway You Want It - Separate Ways (Worlds Apart)
Ross Valory interview and more photos

---
| | |
| --- | --- |
| | Print this page in printer-friendly format |
| | Tell a friend about this page |