Ross Valory founded Journey with Neal Schon in 1973 and the band went on to great commercial success in the 1980's. In the hiatus after his split from Journey in 1985 he played in Michael Bolton's band and recorded with Todd Rundgren on his 'Second Wind' live album.
We spoke to Ross in New Orleans shortly before Journey took part in the annual Mardi Gras celebrations. In March they play 11 UK dates as part of a European tour. This is only the second time they will have been to the UK in 20 years, during which time they celebrated their 30th Anniversary.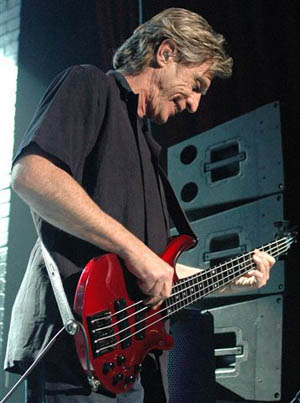 Photo: Lee Millward/GRTR!
What happened in the mid 1980s when you split from the band?
Well it's almost time to get out the little violins. At that point the band was hugely successful and egos swell: there were struggles for power and control of the band's direction. In that setting, Steve Smith and I left. We'd had enough and I think it was probably a good time to do so.
The band did hold together with some hired players and recorded 'Raised On Radio'. However it was very brief, in spite of the album's prominence and success.
The band split up entirely after that for approximately 10 years and reformed briefly in 1996 for the album 'Arrival'. It was supposed to be an album and tour but only turned out to be an album which was disappointing for some of us.
At this point, Neal and Jonathan and I stuck it out and that's where we are today
In the meantime we've had a stigmata so to speak with any newer material than the 'Greatest Hits'. We've only released two albums in the last 10 years 'Arrival' and 'Generations'.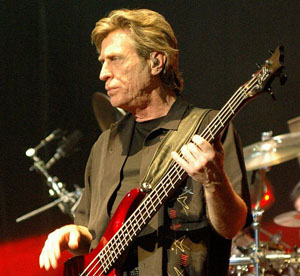 Photo: Lee Millward/GRTR!
We distributed 'Generations' at some of our concerts but when it went to retail nothing happened. Of course, 'Arrival' never happened and there was the extra problem that it had been 'bootlegged' to the internet, nine months before it was released.
The issue we have today is approaching rock stations in the USA with new material. They'll say "It's great stuff, but we only play the old stuff" And that's in spite of being in a market where your audience is the largest record-buying audience?
We're on a new path now with a new member of the band - Jeff Scott Soto - who comes to us with quite a variety of background. We're hoping to do a new album when we finish our European dates and it'll be nice also to have a break from touring.
How did the touring go last year with Def Leppard?
Fantastic. It was just great. It was a co-headline. We agreed Journey would open because Def Leppard wanted to do a more elaborate stage production.
Financially it was also a success. Madonna might have been making more money per show but I think we sold more tickets.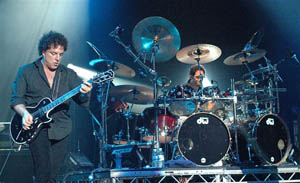 Photo: Lee Millward/GRTR!
Is that where the money is these days for classic rock artists - live concerts and tours?
Exactly. The Def Leppard/Journey tour won an award from Pollstar magazine for being the most creatively packaged. We've had a good run in the past couple of years in the States but we decided it would be good to come to Europe again.
Journey's strength is really to play what we call the 'dirty dozen' - 12 hit songs - but I think we ended up playing about 18 songs from all stages of our career. But mostly, we played the songs that most of the audience would know.
The interesting thing was the demographic of the audience: you'd have perhaps expected half the audience to be there for Def Leppard and half for Journey, but it didn't work out like that. It was more like one-third for us, one-third for Def Leppard and the other third were those who hadn't been to either band's gigs so we were courting the middle ground.
You don't get a lot of 'double-bills' like this in the UK, it seems to be a more U.S. phenomena in big stadiums (although we have the Deep Purple/Styx/Thin Lizzy tour in April)
Yes, we see there's no real reason to 'double-up' in the UK especially after the success of last year's shows.
There were reports in the press and on the internet that Journey used backing tapes on the Leppard tour?
This is another urban myth! It just didn't happen. The rumour got prominence because we were changing singers - Steve Augieri's voice did give out. It's a very difficult setlist. Not even Steve Perry could hold up very long, I believe, because these songs are very demanding of any singer.
Right now there's another rumour circulating that the drummer with Soul SirkUS, Virgil Donati, is rehearsing for a tour with a major artist - yet to be announced. The fans think he's going to replace Deen Castronovo.
Another rumour: Ross Valory is going to retire! It's very interesting that no-one told me. But this is how the story goes?
It turns out the person who stirred up the tape issue is not a journalist and didn't have the correct information. It appears to me some people have too much time on their hands, sometimes fans can be over-obsessed with the band of their dreams and they can get to be too imaginative or creative in order to provoke a response. It's like they're clutching at straws, and even inventing those straws! I don't, of course, wish to disparage the bulk of our fans.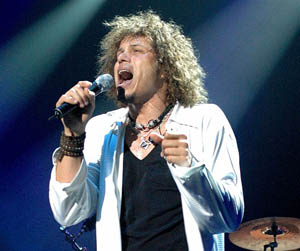 Photo: Lee Millward/GRTR!
How did you hook up with Jeff Scott Soto?
He's been performing with Neal's band Soul SirkUS and he's performed with several bands such as Talisman and Yngwie Malmsteen. It was a timely and fortunate call that we made to Jeff. He began with us two weeks into the Journey/Def Leppard tour and stepping into a repertoire that is as demanding for a vocalist as that of Journey was quite an undertaking. But he survived: he's quite energetic and with a strong stage presence and a significant vocal range.
What do you think Jeff will bring to the band apart from this incredible vocal range?
Well it's his influences too. Jeff approaches it differently: he has some of the common influences and roots that Steve Perry has. He doesn't necessarily sing it like Steve Perry does but he has an affinity with singers like Sam Cooke, Sam & Dave, and he sings in a unique and original way.
In terms of the band's future, he comes to us as a strong writer and he and Neal have already started to write the next album.
What can UK fans expect from Journey in March, will it more of the same - the dirty dozen - or will there be any surprises?
I think it will more extensive in terms of repertoire. We're going to mix it up a bit. We've rehearsed some songs from the more distant past and as far back as 'Infinity'. We will always play 'the dirty dozen' but there's lots of room to introduce and intermingle songs that have recognition with the fans. Songs like 'Winds of March' and 'Open The Door'.
That will appeal to the hardcore?
That's one thing about the hardcore fans, they have a greater knowledge of the repertoire, they know more of the songs in Europe than the audiences in the USA who'll say 'Don't bore us, just get to the chorus' - they only like the songs they grew up with. We can experiment a bit more in Europe. We found last year that some of the more obscure songs were received just as well.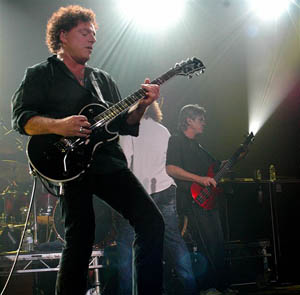 Photo: Lee Millward/GRTR!
It must also be good for you and the band to play some different songs?
Yes, we'll play the hits but sometimes we'll say "Boy, can we do something different tonight?!" You can never get fed up with playing the familiar songs because you can see the joy and happiness these songs bring to the audience.
That was the thing with the 'Generations' theme and concept: there's so many fans out there who have grown up with the band's music, they now have children and grandchildren and you'll see possibly three generations of families there, and you see how they share their appreciation.
From a musical point of view, it is nice to have something different to sink your teeth into. There is also some scope for varying the 'hits' in the introductions, the segues, solos and bridges. But certain songs you don't mess with like 'Don't Stop Believin' and 'Separate Ways'.
You don't want to reinvent the wheel. In this case having a new strong band member helps to augment that and give new interpretation - so I think any variation will mainly be in the singer's approach. But it's important to retain the flavour of the original.
What do you consider to be Journey's finest album, or one album that means more to you personally?
It's difficult. I would have to say that, in terms of getting the band back together in 1996, 'Trial By Fire'. I think it's a fine album, there may not have been enough rock n roll in there for some people but it was an accomplishment.
I'm equally proud to have participated in 'Arrival and 'Generations' The reason I am saying these albums is because of their circumstances, they mean a lot too me.
I was blessed to be successful with Journey, even before Steve Perry it was a successful band. With Steve of course it was wonderful again, and then to reunite in 1996 - as brief as it was - was fantastic. And of course, now we are reinventing ourselves.
We hope now to get some new music on the radio. We're still who we are, and we play how we play. But we're looking for the first time at overseas markets such as Australia, South America and at returning to Japan. There's still a lot to play for!
Journey's UK tour starts 1 March at Sheffield City Hall.
---
Interview © February 2007 David Randall
Photos where indicated © Lee Millward/GRTR! All rights reserved.
Gig review
Album review