THRESHOLD Dead Reckoning Nuclear Blast (2007)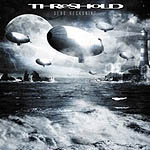 Following on from 2004's excellent 'Subsurface' album released via Inside Out Threshold are now signed to Nuclear Blast. It will interesting to see how they market the band as really are one of the best UK bands around in any genre at the moment.
For this album they have added a darker edge lyrically and added even more harmony vocal parts (just listen to 'Elusive' for some cracking arrangements). They really do progress on each album, whilst keeping their core sound intact.
'Slipstream' is possibly their best song yet - great riffing from guitarist/producer Karl Groom, wonderful vocal delivery from Andrew 'Mac' MacDermott (with Dan Swano adding growls on this track and 'Elusive'). Special mention to Richard West who lays down some phenomenal keyboard runs notably on 'This Is Your Life' and 'Pilot In The Sky Of Dreams' (the latter is brooding epic with plenty of time changes and solos to keep the listener interested). 'Fighting For Breath' again melds intense riffs with keyboards galore.
If you have yet to try this band I suggest starting here as it encompasses all that is great about them.
Threshold should reach a whole new audience with this album as the music is very accessible yet with enough twists and turns to keep you coming back for more. Can't wait to hear these songs played live!
*****
Review by Jason Ritchie

---
| | |
| --- | --- |
| | Print this page in printer-friendly format |
| | Tell a friend about this page |
***** Out of this world | **** Pretty damn fine |
*** OK, approach with caution unless you are a fan |
** Instant bargain bin fodder | * Ugly. Just ugly