Just witnessed your best live gig?..send us a review!

FIREFEST
Day 1: 26 October, Nottingham Trent University
The UK's best annual melodic rock festival, courtesy of the fine folk at Fireworks magazine, is bigger and better than ever for 2007. 12 bands over 2 days, with some very rare UK appearances included. Also, sadly, final gigs for some of the bands.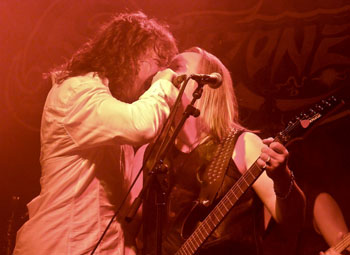 Stormzone, photo: Ian Pollard
The Friday line-up is housed in the 900 capacity Trent University student union building, which has a reasonable sized stage and good lighting for a venue this size. A healthy enough sized crowd are in attendance for opening act, Stormzone. Going out on the road with a twin lead guitar setup instead of the single guitar / keyboard arrangement featured on their debut album 'Caught In The Act' gives the band a more powerful live sound. The Whitesnake / Purple influenced melodies are still clearly evident though, with some nice vocal harmonies introduced too. Front man Harv Harbinson works the crowd well, and the whole set is polished, professional and highly entertaining. Stand out track for me was 'Spellbound', and it looks like Ireland have a new melodic rock contribution to be shouting about.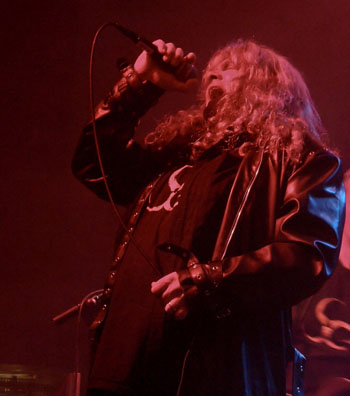 Steve Grimmett, photo: Ian Pollard
Former Grim Reaper / Onslaught / Lionsheart front man Steve Grimmett is up next with his new band, supporting their 'Personal Crisis' release. This represents a change in direction to a keyboard driven sound, in comparison to Steve's previous output with the aforementioned bands. The same signature powerful vocal is there and some of the songs still have the same unmistakeable twin lead feel to them, with some big sing-a-long choruses and great riffing. The sound, and choice of apparel (long black leather coat) will no doubt draw comparisons to Saxon, and based on this outing, they should not be unfavourable.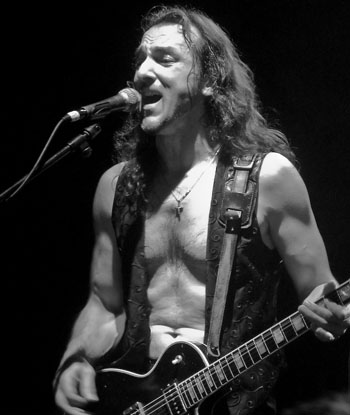 Soul Doctor, photo: Ian Pollard
Germany's Soul Doctor arrive next for their first gig in the UK. I missed these guys playing at SRF earlier this year, and was really looking forward to seeing them here. Any band that lists their influences as Zeppelin, Lizzy, Whitesnake and Bad Company are bound to get my attention. I was not to be disappointed as they played a blinder of a set, with Tommy Heart showing why he is getting so much good press around the scene. Charismatic and energetic, a true star of the genre (he has of course performed in the UK before, with Fair Warning). Aside from the quality of the songs from current album 'Blood Runs Cold', and their 3 previous releases, they also found time to include a well thought out, and superbly executed medley of Led Zeppeling songs – with much appreciation from the assembled crowd.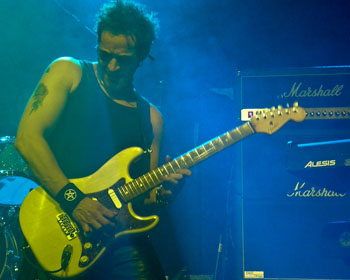 Demon, photo: Ian Pollard
The first 'last of' set is next, with NWOBHM stalwarts Demon performing for the last time in the UK. Just back from a European tour that morning, they also suffered at the hands of the schedule – having to cut their set short due to some earlier technical problems and overruns. What they played, however, was typically professional and we were treated to their classics 'Sign of a Madman', 'Don't Break the Circle', and 'Night of the Demon'. It will be a shame if this is their last goodbye on English soil as they never fail to entertain.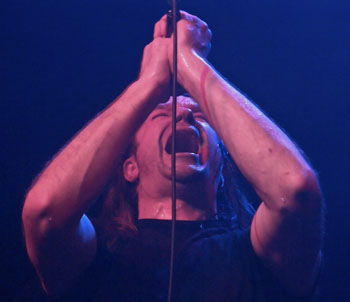 Threshold, photo: Ian Pollard
Headlining the Friday show is probably the most under-rated band in the world right now. With a stunningly brilliant 2007 album release 'Dead Reckoning' under their belts, Threshold's singer Mac decided to leave the band at short notice. Fortunately, original vocalist Damian Wilson was available to step back in to the fold. Able to match Mac's vocal ability, he also brings a real edge to the charisma of the band with a highly energetic performance. Opening the set with the frighteningly powerful 'Slipstream', Threshold serve notice of intent to blow everyone away. The power continues throughout the set, with Damian jumping into the crowd at some points, Pete Morten & Karl Groom delivering huge riffs, and outstanding drummer Johanne James smiling his way through lots of stick juggling. 'Pilot in the Sky of Dreams' (soon to be featured on a movie soundtrack) is the standout track.
Day 1 finally closes at around 1:30am, and that is what you call an impressive 'warm-up' show!
Review and photos by by Ian Pollard
Firefest Gallery 1

---
| | |
| --- | --- |
| | Print this page in printer-friendly format |
| | Tell a friend about this page |