GILLAN The Singles Edsel (2007)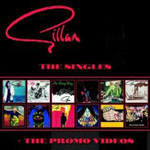 Edsel have done great service to the memory of Gillan, the band that the Deep Purple singer put together in 1978 after the jazz rock route taken with the Ian Gillan Band.
This box set, complete with an introduction by Ian Gillan and annotations by Valerie Potter (a 'Sounds' staff writer at the time), collects all of the singles (11 of them) and they are all presented in repro sleeves with the original artwork.
This is a great opportunity to obtain the 'bonus' non-album tracks or replace your crackling original copies but, beware, the bonus tracks are also spread across Edsel's recent album reissues.
Starting off with 'Vengeance' and finishing with 'Long Gone' the singles chronicle the rise and rise of the band during a four year period.
With Bernie Torme's arrival, and the release of Mr Universe in October 1979, Gillan's sound became overtly metal. The unrestrained Torme and big bald John McCoy on bass gave the band some visual interest too as evidenced in the bonus DVD which brings together all their videos during this period.
But the best was yet to come. Signed to Virgin, Gillan released 'Glory Road' in 1980 which spawned two singles 'Sleeping On The Job' and 'No Easy Way'. At this time the band were part of a nascent NWOBHM and they had managed to ride out the punk phenomenon largely by having great success in Japan.
The singles 'Trouble' and 'Mutually Assured Destruction' are non-album tracks but both became staples in the band's live set-list, and the former has several live tracks to confirm that the band was always a better bet in that environment.
Two singles from 'Future Shock', 'New Orleans' and 'No Laughing In Heaven', and then Torme quit to be replaced by the less musically volatile Janick Gers (who later joined Iron Maiden).
'Nightmare' and 'Restless' were from 'Double Trouble' whilst Stevie Wonder's 'Living For The City' and 'Long Gone' appeared on the Gillan swansong 'Magic', released in 1982.
Essential for Gillan fans but a nice package if you want to relive the glory road of one of our more enduring late seventies/early eighties rock bands.
****
Review by David Randall
Related>>Album reissues

---
| | |
| --- | --- |
| | Print this page in printer-friendly format |
| | Tell a friend about this page |