25 YARD SCREAMER Cassandra 25YS/GRTR!(2007)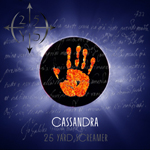 From Carmarthenshire, South Wales and already highly rated by GRTR!, three piece 25 Yard Streamer have really come up with the goods on their third album, Cassandra.
Waves lapping a shore and US newsclips from 9/11 herald a dramatic and atmospheric intro to the epic title track Cassandra. Running in at a healthy prog like 29 minutes it's a wonderful example of the genre - building progressively - with what may well become recognised as trademark drum patterns - to crashing crescendos and driving riffs before swooping through melodic interludes reminiscent of Brave period Marillion, then building again to a ferocious finale.
With acknowledged influences of Rush and Marillion, it's easy to see the reference points - Nick James vocals are definitely from the Steve Hogarth school of crooners, and his more melodic guitar work has the trade marks of Steve Rothery. While elswhere the drive of the rhythm section is as solid as a freight train.
But 25YS are no copycat band and on the other centrepiece of the album - the 20 minute Backlight - the band rocks out with the power of Korn, Metallica, or Tool. Again it's another number that moves with ease through an endless series of moods - from children playing in a playground, through power rock and melodic interludes (which again bring Marillion to mind) and back again.
Two other 'normal' length tracks complete the album, both coming in at less than 5 minutes. Insomnia is a lovely piece with some interesting drum patterns and guitar work, while Boy In The Window is uptempo melodic rock with hooks to die for. But it all fits togther to form one of those rare beasts - a concept album that works.
Power and passion, Cassandra has it all - some absolutely wonderful playing from the band - Matt Clarke (bass), Nick James (guitar and vocals) and Donal Owen (drums). It's a remarkably confident and mature work, maybe highly Marillion influenced in places, but it's as good as anything the post Fish line up of that band have released. And believe it or not this was recorded and produced at home.
Classic rock of epic proportions. It would be a crying shame if this didn't reach a wider audience.
****½
Review by Pete Whalley

---


Check out our interview and the track 'Boy In The Window' in our podcast!
MP3 quality samples in our 25YS Primer!
---
Insomnia
© 2007 25 Yard Screamer. All rights reserved.
---
| | |
| --- | --- |
| | Print this page in printer-friendly format |
| | Tell a friend about this page |