Just witnessed your best live gig?..send us a review!
LOU REED
Hammersmith Apollo, London 1 July 2007
If there was something incongruous about former Andy Warhol protégé Lou Reed reprising his 1973 'Berlin' concept album with its narratives full of junkies, suicides, domestic violence in front of a well heeled audience of Guardian readers, then how do we deal with the sight of an almost humbled and magnanimous Reed at the conclusion of this memorable show?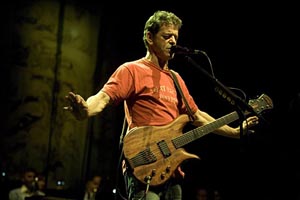 Photo © 2007 Paul Bergen.
Perhaps the answer lies simply in the sense of individual validation and collective achievement that this rapturously received show brought to both Lou and his coterie of musicians. For here was one of icons of rock's underbelly fronting a 26 piece ensemble that included the 12 piece New London Children's Choir and a mini orchestra comprising a 4 piece horns section and a trio of string players, complete with an elaborate set and audio visual props, intent on breathing fresh life into one of rock's most critically panned concept albums.
Looking back, the 1973 'Berlin' was possibly one concept album too many at the time. After all, it was only two years before Reed announced his earnest attempt at art with 'Berlin', that Zappa's '200 Motels' had deconstructed both the rock industry and the concept album in one fell swoop.
Photo © 2007 Paul Bergen.
But last night's Hammersmith Apollo show demonstrated that Reed's dark and troubling work detailing the doomed relationship of Jim and Caroline finds a much more ready acceptance in the post modern world 2007 simply because the world has grown up. Lou himself seemed to totter between bouts of intense concentration and the occasional shrug of satisfaction, safe in the knowledge that his original idea of a piece of rock theatre has belatedly worked. This was in no small part due to the core elements of band, choir, mini orchestra and a superlative backing vocalist who did him proud.
Even Lou's unwillingness to countenance the traditional concept of singing in no way diminished his own song cycle, and he enjoyed a personal triumph by slipping into his role as the detached narrator who only occasionally let the mask slip to nod to his band in appreciation or to suggest guitarist Steve Hunter that he take another extended solo.
The 10 songs were topped and tailed by the melody of 'Sad Song', which comprised some subtle ensemble interplay in stark contrast to its lyrical content. Lou brought real presence to the cynicism of 'Men of Good Fortune' and spat out the lyrical venom of 'Oh Jim' over a lush arrangement featuring both the choir, backing vocals and horns. Not for the first time guitarist Steve Hunter excelled himself this time on the jammed out middle section of 'How Do You Think It Feels'. But much of the evenings overall success was due to judicious use of the whole ensemble, no more so than on the harrowing 'The Bed'.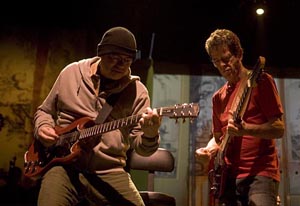 Steve Hunter & Lou Reed. Photo © 2007 Paul Bergen.
Somehow the starkly detached and cold portrayal of Caroline's suicide was played out over a complex musical arrangement. The song opened with an understated intro featuring an acoustic guitar and two cellos before building up to an extended sweeping choral outro that bought an uneasy climactic feel to Reed's deadpan narration of the devastating solitary act. By the closing grand finale of the reprised 'Sad Song' there was a real feel of achievement in the air.
Lou finally returned for an interesting triple treat that included a startling vocal from Fernando Saunders on 'Satellite of Love', and two magical moments when the choir delivered one of rock's most popular backing vocal lines on 'Take A Walk on the Wild Side' before saxophonist Pat Clahar blew the cobwebs off Ronnie Ross's original timeless solo.
Review by Pete Feenstra
Related>> Album review

---
| | |
| --- | --- |
| | Print this page in printer-friendly format |
| | Tell a friend about this page |