LOU REED Berlin 2007 Tour Edition, SonyBMG (2007)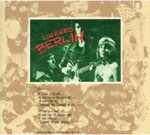 It's become the vogue to revisit seminal albums in a live environment - Tull/Aqualung, Waters/Dark Side, Purple/In Rock. And now, ladies and gentlemen, for your aural and visual pleasure - Lou Reed's Berlin.
Performed live for the first time in 2006, Lou is bringing Berlin, complete with 30 piece ensemble, on the road to Europe including London and Manchester dates. And to commemorate the event a one-off run of remastered 'Tour Edition' cds has been produced. Although apart from the digi packaging you'd be hard pushed to realise this was a commemorative release.
And when you consider the album was originally conceived as a double and had 14 minutes chopped off its running length at record company insistence, it's a missed opportunity to restore it to it's full glory.
Released in 1973 and the follow-up to Transformer, expectation was high for another glam/pop/rock masterwork. But Reed had other ideas and instead came up with his own rock opera concept album telling the harrowing story of the breakdown of a relationship between a violent drug addict and his prostitute girlfriend set in a city that was itself divided.
When it was released it received a critical panning, although to this day Reed maintains it was one of his best pieces of work. Maybe as a result, he never performed it live. Of course, we all look back on the 1970s with fondness and when it first was played live in 2006 it was acclaimed as a tour de force.
And performed as a semi theatrical, multimedia performance it is probably well worth seeing - if only be able to brag that you saw Lou Reed's Berlin live. So, a monumental failure back in 1973, is it worth shelling out for the Tour Edition? Well, the absence of any bonus material does not make that a particularly attractive prospect for those who have made Berlin something of a cult possession.
But hearing the album for the first time (like many others, I bailed out after Transformer) it is an interesting concept album. While it might have appeared overtly bleak back then, cynicism of the human race grows as the years go by - is it really a better world we live in?
A masterpiece? Perhaps not, but Berlin has worn rather well over the last 33 years and it's probably as relevant today as it was back then.
****
Review by Pete Whalley
---
| | |
| --- | --- |
| | Print this page in printer-friendly format |
| | Tell a friend about this page |