UXL Can I Dream Again? Mab Records (2007)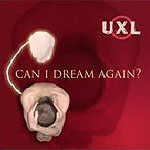 Fresh from a support slot on the latest Magnum tour (there's obviously a deeper connection - both bands are Brum based, but Magnum guitarist Tony Clarkin is credited for allowing access to his guitar collection, and you don't do that for just any old band (with an average age of just 18) UXL release their long awaited debut album.
And the first thing you feel is the quality of the product - even the booklet is lovingly put together. But UXL aren't about the packaging. They're a rock band. A band influenced by rock heavyweights such as Zeppelin, U2, Maiden and the Peppers. None of this lightweight indie stuff that seems so prevalent at present.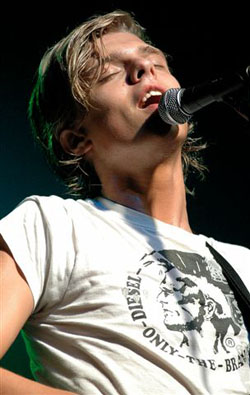 Photo by Lee Millward/GRTR!
They've got a great 'meaty' sound, delivering remarkably mature melodic rock, and in lead singer John Tierney they have a vocalist of rare talent.
The four piece - the Tierney brothers on vocals, guitar and drums with Dan Clark on bass -sound like a band who've worked the circuits for as long as some of the bands they've supported - like Magnum and Wishbone Ash. Clearly the band didn't waste this 'learning opportunity - looking, listening and absorbing.
As a result, the band have a remarkably polished sound for a band only 3 years old and it's easy to see why UXL are widely tipped to be one of the major rock breakthrough acts in 2007.
In truth they sound as if they have American roots - Can I Dream Again? has shades of Evanescence and would go down a storm Stateside.
Promised Land opens with atmospheric vocals in classic John Wetton style before exploding into a melodic but hard-hitting number somewhere between Free and Asia.
The 7 minute New Dawn Waiting is a rock epic with great riffs, great vocals, and great guitar playing underpinned by a rock solid rhythm section.
Those three tracks made up the band's taster EP and form the centrepiece of the album. The question in my mind, could they come with an album this good? And the answer is an emphatic, yes.
Intro shows the scope of their intent - laying down a cinematic soundscape that would not be out of place behind the opening credits of Terminator 4.
Stranger and Make It would be perfect on US FM soft rock radio, while This Life has structure reminiscent of Magnum's song writing style, and Stay Awhile would be the perfect number to close a live set.
Elsewhere, Change shows the band's versatility building from a slow moody opening complete with horns, through a Brian May-like guitar break, into an anthemic climax Metallica would be proud of.
UXL would probably be the first to admit they're not the finished article, but if Planet Rock and their peers would play more of this sort of stuff and less of their repetitive and predictable play list, the world would be a better place.
****
Review by Pete Whalley
UXL play the Cambridge Rock Festival on Thursday 16 August.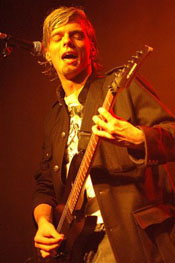 Interview with John Tierney, UXL, 27 June 2007 (11:36)
© 2007 David Randall/GRTR!. All rights reserved.

---
| | |
| --- | --- |
| | Print this page in printer-friendly format |
| | Tell a friend about this page |