The liner notes suggest the band have approached the album conceptually as they divide the running order into side one and two, with side two featuring more of Dennis songwriting skills.
The up tempo, riff driven 'I'm So Alone' features a double tracked guitar line and could easily have come from either an early Dr. Feelgood album and is a distant cousin of the bands own early career.
But Dennis can never be pigeonholed and he works up a smoking lilting groove on 'It's Never Too Late'. In many respects this is the closest Dennis will ever get to a rapped out narrative. It's a surprisingly cool effort that is full of a big back beat and starling harp swoops, before Mark responds to Dennis's invocation; 'why dont'cha blow your face out man? Mark duly obliges with another great solo, before a perfunctory ending.
'Hit the Ground Running' features guest guitarist Ian Cummins and has a hook that a lot of FM rock bands would kill for. It's another fine Greaves penned effort - all clever word plays, crunching riffs, chiming guitars and dynamic harp.
The following 'A Man Out of You' sounds almost like a coda of 'Hit the Ground' with its insistent vocal line and another sing-along hook. Glenn Tilbrook adds an eastern inference on sitar while Greaves Jnr. adds bv's.
There's a full complement of family friends on 'Fairweather Friends' which employs a New Orleans shuffle beat and gospel style outro.
The band nicely round things off with 'You' another Greaves/Feltham penned rocker. It's a big sounding arrangement from the Springsteen School of exclamatory choruses and a booming hook. Only a sudden ending robs us of what could have been a worthy climactic finish to the band's best effort since 'Ice Station Zebra'.
****
Review by Pete Feenstra

---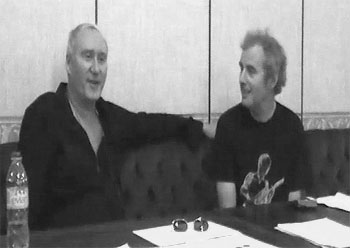 Get Ready to ROCK! Radio Features Editor Pete Feenstra talks to Dennis Greaves (13:38) Real Audio required
© 2009 Get Ready to ROCK!/Pete Feenstra. All rights reserved.
---