WINGER Karma Frontiers (2009)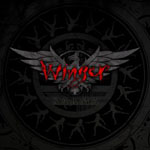 It's fair to say that in their heyday 20 years ago, Winger had a credibility problem, what with Kip Winger's heartthrob status and being lampooned by Beavis and Butthead. The irony was that they were uncomfortable being lumped in with the glam/hair metal genre and, along with Mr Big, were the most talented musicians in that scene.
Wind forward to 2006 and reaction to their reformation was underwhelming - their comeback Winger IV, though a thoughtful album lyrically and musically, was just too introspective an effort. But with Karma, they manage both to maintain their musical integrity and give long-time fans a more classic sound.
Opener Deal with the Devil, with self referencing lyrics akin to Nickelback's Rock Star, gets the album off to a punchy start and it could be 1990 all over again, while the crisp clinical riffs of Reb Beach (so underused in Whitesnake) and gruff vocals of Stone Cold Killer, Come a Little Closer and Feeding Frenzy called to mind Black Album-era Metallica or Judas Priest.
The album is refreshingly diverse, with even a nu-metal style verse on Big World Away - thankfully offset by a more melodic chorus. Pull Me Under sounds very contemporary with guitars and keyboards battling for supremacy, while Always Within Me is the most straightforward melodic rock song on offer. It is an album of two halves, with most of the early songs clocking in at barely three minutes, but a trio of slower, longer songs later on, which give the band a greater freedom to stretch out.
After All this Time is a lazy blues, but the album's crowning glories are Supernova, with a massive chorus made for arenas, and closing song Witness, with big harmony vocals and a brilliant solo from Reb Beach.
An excellent album and one that gets better with repeated plays. Write them off at your peril - like Europe, Winger have plenty to offer anyone prepared to listen without prejudice.
****½
Review by Jason Ritchie