Career high for blues to rock virtuoso...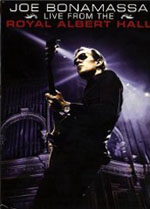 A couple of years ago could have been forgiven for thinking Joe Bonamassa was but a talented conduit for the collective memory of an aging rock /blues audience, who enjoyed the flash back of the golden era of the second British Invasion that spawned Cream, Beck, Tull, Ten Years After and eh hem, Yes! But that was until the outstanding 'Sloe Gin' and the chart topping 'Ballad of Joe Henry' albums that confirmed a rock/blues artist coming of age.
So where to go 20 years after starting out as a child protégé? Well, as Joe explains in the opening interview, he heard Cream when he was 4 and it became a life long goal to be a guitar player and play The Royal Albert Hall. So mission all but accomplished save for the gig itself, which turns out to be a triumph. Suitably suited and booted and with two drummers and a horn section in tow, all that's missing is the suitable denouement of having both Clapton and original blues boomer Paul Jones on stage with him and hey presto you have a career fulfilled at a remarkably young age and musical history coming full circle.
'Joe Bonamassa Live From The Royal Albert Hall' is in fact much more that that, as it succeeds on many levels from the inspirational playing and high tech production to its ultimate achievement in that it conveys the feeling that you are there. This superbly shot DVD (12 cameras and high definition surround sound) is even cute enough to include an 'intermission'.
It elegantly captures both the essence of Joe's playing and taps into the supreme self-confidence of a major talent who is secure in the knowledge that the tight arrangements and superbly routined band will bring out the very best of his abilities on a tension filled night.
But dress sense aside, you'd never know there was so much at stake as Joe solo's with alacrity conjuring up a variety of tones and attacks best exemplified by a magnificent reading of 'So Many Roads' on which his playing is supreme and the horns acts as a perfect foil. And it's testament to Joe's maturity that he is able to maintain the show's momentum with the well chosen bluesy arrangement of Sam Brown's 'Stop!' - a slow burning climactic blues - which shows just how far his singing has progressed since his 'A New Day Yesterday' debut album barely 9 years ago. He further leans into his solos and comes up with some deep toned flurries.
Of course one of the most significant aspects of the night was that it proved the rock/blues genre is still very much alive and capable of filling the Albert Hall. And while Clapton's 'home from home' appearance on 'Further On Up The Road' is a welcome bonus and in many ways a historical confirmation of Joe's career arrival, it does provide for an eloquent bluesy conversation between two stellar guitars that ends in a mutual smile and as you would expect wild applause.
A quick switch to acoustic neatly circumvents the question of where to go next and Joe strips things down on 'High Water', complete with a drum duet outro. The following 'Sloe Gin' - arguably a career high - is the perfect summation of his expressive vocals and fluid playing style. The mid-number silence between his phrasing is a telling moment as the enthralled crowd hang on to his every nuance.
Intermission over, Joe further adds some historical biographical info explaining how he came to open for BB King at barely 11 years old and this is nicely juxtaposed by some muscular soloing on an impressive cover old 'Lonesome Road Blues'.
Paul Jones leaps up for 'Your Funeral My Trail' finding just enough space in between Joe's powerful opening to add some lyrical harp phrases. Joe subsequently slips into the slow 'Blue Deluxe', a poignant number that originally brought him much internet radio presence. He also celebrates his new found vocal confidence on the emotive smoking blues 'The Great Flood'. And as if to maintain a sense of balance he rocks out on the hard riffed 'Story of a Quarryman' and switches to his flying V for some serious shredding, beautiful tone control and Theremin flourishes on the jammed Zeppelin section of ZZ Tops 'Just Got Paid'.
One of the twelve cameras dwells on his studied concentration on the Eastern sounding opening of 'Mountain Time' and you realise it is the concentration of a master guitarist who you suspect will embrace other careers highs long after this milestone gig has become a best seller.
The bonus cuts include an excellent tour bus interview, with Joe explaining the meaning, motivation and musical derivates of the songs. In short it is a welcome bonus segment that nicely tops and tails a great DVD.
*****
Review by Pete Feenstra