MARYBETH D'AMICO Heaven, Hell, Sin And Redemption (2009)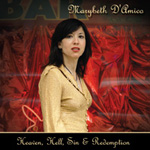 First impressions, as they say, can be everything. And sometimes, they're completely misleading.
Marybeth D'Amico's debut album sleeve is something of a contradiction - the title, Heaven, Hell, Sin And Redemption sounds edgy - tales of someone who's been to the darker side and returned to tell the tale. On the other side of the coin the cover photo looks like a carefully posed shot of business woman or a Mom in her Sunday best ready for church.
But perhaps that's not such an inaccurate portrayal - even if the sleeve is unlikely to capture the curiosity of the casual record shop browser. Because the Germany based, American singer came to song writing relatively late in life.
In 2002 Marybeth lost her job as an editor of an Amsterdam based magazine, and with time on her hands, the mother of two - inspired by the work of Patty Griffin - decided to give song writing a shot.
And thank goodness she did. The result - Heaven, Hell, Sin And Redemption, could have been an abortion. But it's emphatically not.
Though drawn to dark themes and clearly influenced by country cross over artists like Griffin and Lori McKenna, Marybeth's style is tempered by the commercial sensibilities of artists like the Eagles, and CSN&Y, Carole King and James Taylor.
Heaven, Hell, Sin And Redemption is a very fine debut with a set of excellent songs delivered story teller style with some wonderful accompaniment by Lloyd Maines on pedal steel and dobro, Richard Bowden on violin, David Webb on Keyboards, Paul Pearcy on drums and Bradley Kopp on bass, guitars and backing vocals.
Difficult to pigeon hole, but firmly rooted in the country cross over genre, Marybeth's debut is essential listening for those who enjoy the more mainstream work of singer songwriters like Suzanne Vega. All it lacks is more intriguing cover art.
****
Review by Pete Whalley

---
| | |
| --- | --- |
| | Print this page in printer-friendly format |
| | Tell a friend about this page |