PENDRAGON Pure Toff Records (2009)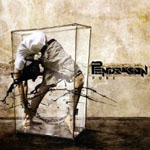 Pendragon follow on 2005's excellent 'Believe' with this equally as good, if not better album. Threshold's Karl Groom co-produces and you can hear his influence in the clear, crisp, heavy guitar riffs that pop up a couple of times. There is a DVD on the deluxe edition which is well worth investing in as the interviews with mainman Nick Barrett explain the ideas behind the music with the overarching theme on the album one of the purity within us when we're children, and how dealing with insecurities and outside influences gradually causes us to lose that as we get older.
This album also marks the debut of new drummer Scott Higham who adds some very heavy drumwork on opener 'Indigo' with some wonderful guitar work from Nick Barrett. 'Eraserhead' allows all four members of the band strut their stuff including cracking guitar and keyboards interplay between Nick Barrett and Clive Nolan.
The epic song 'Comotose' is split into three parts with 'View From The Seashore' throwing in all manner of musical delights from a Beatles like interlude circa 'Sgt. Pepper', big bombastic guitar which reminded me of Queen and to top it all a simply stunning string section leading into part 2 'Space Cadet' - Dream who? Finally part 3, 'Home And Dry' is very Pink Floyd complete with female backing vocals and a few spacey guitar touches.
'Freakshow' starts off with a heavy riff but soon pans out into the albums most instant and accessible song. 'It's Only Me' rounds off the album in fine style starting with just a piano and harmonica before lifting off into Pink Floyd territory again but never overtly so.
After many listens I have come to the conclusion that this is the best album the band have produced. It's got everything you'd want really - epic musical passages, harmony filled choruses, modern prog metal touches, truly uplifting guitar solos and enough musical variety to keep the most demanding prog rock fan happy. Grab the deluxe edition from the band's website and enjoy!
*****
Review by Jason Ritchie

---
---
| | |
| --- | --- |
| | Print this page in printer-friendly format |
| | Tell a friend about this page |