PENDRAGON (Nick Barrett)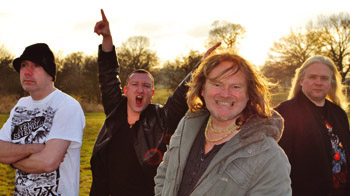 What are you currently up to?

At the moment we are just about to release a new DVD called Concerto Maximo, which was recorded in Poland on our last tour we are doing lots of tour dates and some festivals weíre playing Loreley in the summer weíre playing the Fish convention also and some other gigs over Europe.
Mainly at the moment we are still promoting PURE. The reaction from people has really been incredible for this album so its seems like a good thing to do to really get behind it and promote it.

Could you take us through the new album e.g., the story behind the songs, the song writing process etc?


The whole album songwriting process wise came about through the initial riff that I had with Indigo but also some of the music that I had listened to over the last couple of years was probably more of a new metal and grungy kind of music. I'd heard this on a lot of motor cross videos - which my son really liked - so I got to hear a lot of this new music and, I thought, well actually this combined with some of what we do which was the older style prog stuff could make a very interesting combination.
There was a kind of feeling about getting something youthful again in the music and using some approaches to the guitar playing that I might have used 15 or 20 years ago, the trouble is when you get older you tend to move away from experimenting and risk taking and generally play safe, I really felt I didnít want to do that with 'Pure'.

In terms of the concept its all about growing up and the difficulties we have when we go through teenager-hood trying to make our mark on the world and trying to find our way through the difficulties we have, fighting, the whole authority thing we feel from parents, schools, police etc.

Have you been pleased with the reviews for 'Pure' including a good review in classic rock magazine how does the band go about promoting the CD given that you donít have the PR that a record label would have?


I am very pleased with the reviews that we have received so far we have just got another one in classic rock magazine from Geoff Barton which is another 8/10 in the prog round up which I was very pleased about.
Really with promotion its not that difficult because Iím quite a good networker when it comes to thinking through who to approach and how to approach them, obviously we have been going for many years and have built up a huge database of names and addresses and people who are writing about this sort of music all over the world.
There are people all the way from Japan to America who have radio stations or fanzines or magazines or websites so pretty much we get in touch with them and hope they are keen to do something on Pendragon.


What were the highlights of the 30th anniversary tour?

The highlights I think were - obviously the gigs, selling out the Boerderij Holland was quite a landmark but really just getting really fantastic crowds every night I mean every gig was a cracker there wasnít one single bad gig Ė which is pretty unusual LOL
Personally for me my favourite show was Thunder Road in Italy because I find the Mediterranean type audiences very passionate they really get involved those guys really let their hair down and always go pretty nuts at a concert so I like that that makes for a very good night.

How does the band spur each other on creatively given that the band has been around for so long now and have kept such high standards of musical output?

Thatís a bit of a strange question because the only person who writes in Pendragon is me, I write the music and the lyrics, so creatively I have to spur myself on, and I have to find the things that I want to write about and be creative about, its different when we have to rehearse for tours because we have got together in rehearsal rooms and pulled songs apart together and creatively thatís been great for the live stuff and thatís a good way to work.
So Iím not taking all responsibility for that but in fact on the last album PURE we did actually work out a lot of the drum stuff before we went in to the studio which was really good to do because when we went to record we had some idea of what we were doing, there is quite a good amount of enthusiasm generally in the band, having new blood having Scott in the band has really helped a lot because he has a terrific amount of energy and enthusiasm which helps enormously .

Why do you think that progressive rock is so much more popular on mainland Europe yet many of the greats in pop prog rock- yourselves, Pink Floyd, Genesis, Marillion, IQ et all have originated in the UK? Why is it so difficult to do a decent tour in the UK?

Itís a bit of a weird one that, I'm not particularly sure, the bar is set fairly high in the UK, generally speaking I think quite a lot of the music press over here is quite tough and hard to get through to but also in Europe donít forget this is where a lot of classical music came from a lot of very melodic music came from Europe.
Places like France are very passionate places creativity, they always have been with the arts, so places like that are kind open to our more shall we say arty type of music, think of Britain it is quite hard to get through to the audience because we donít get the profile and promotion we need over here.

How do you view the current music scene in light of the credit crunch? Have you seen an upswing in interest over the last couple of years in progressive rock music?

We personally have seen an upturn in interest because we brought a new album out, but we have done it in a very different way.
As with the credit crunch as has been pointed out when people cant afford holidays and new houses and cars, they might be able to afford 1 or 2 CDís, so instead of buying expensive things they are buying lots of little things so maybe that has helped us, we have kept the album at a reasonable price and put it out through our own label and through the website and on the tour first before putting it through the distributors so financially its helped us a lot to survive.

How did you get your first break in the music business? What piece of advice would you pass on to budding musicians?

Our first decent break was when we met Marillion back in 1982 and got on well with them because their manager put on a concert with us supporting and then they asked us to play in London so from there on we really we had a opportunity to play in front of people which was really a big door open for us.
Budding musicians you have just got to keep trying - Someone said to me once there will always be a audience for what you do somewhere itís a case of finding them, I think thatís true it doesnít matter what you do you have to find where your audience is, the main thing is to persevere.


What do you like to do with your spare time outside of music?

I got back into a few things a few years ago when I wasnít doing so much music because I got divorced and just after the divorce I wanted a big change in my life and re-evaluate things, do some of the things I was interested in when I was 12 and 13.
I spent a lot of time surfing again which was brilliant, the last few years I've been to Costa Rica twice and Lanzarote surfing three times so I've enjoyed getting back into surfing, and itís a great lifestyle that s not that dissimilar to music it has that same kind of timeless feel about it.
Also I got into some motor cross and dirt bike riding another thing that I liked very much when I was younger but could never afford to do, recently I got an enduro bike, I've ridden in a few enduroís which were very exciting if a little dangerous. And also I bought a motor cross bike too.
I like camping and just going out to fields having a fire, playing the guitar, drinking beer after a day's surfing that to me is absolute bliss.

Message to your fans?

Yes go and buy the album and come and see us when we play live and if you already have it buy the DVD!


---
Interview © March 2009 Jason Ritchie.
All rights reserved.
---
| | |
| --- | --- |
| | Print this page in printer-friendly format |
| | Tell a friend about this page |