HOUSE OF LORDS Cartesian Dreams Frontiers (2009)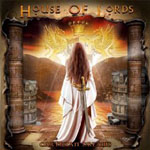 Hot on the heels of last year's 'Come To My Kingdom' House Of Lords are back with possibly their best album since 'Sahara', yes its that good folks. All that's really missing is the pomptastic keys of Greg Guiffria as there are keys on here but the guitars take on a lot of the parts the keyboards would have filled previously. Vocalist James Christian has certainly uncovered a great guitar talent in Jimi Bell as he gets better with each album he plays on (fellow guitarist and one of the hardest working men in rock Tommy Denander appears on a few songs as well). James Christian has also hooked-up with writer Mark Baker who last worked with the band on 'Demon's Down' which is where this album could have naturally followed on from.
Highlights are the whole album to be honest from the ballad 'The Train' through to the pomptastic title track which sounds like Dream Theater in their more commercial mode.
'Repo Man' is simply stunning, one of the best songs to bear the HOL name with a massive guitar riff, James Christian on fine form and an Ann Wilson approved female wail on the chorus which I assume is Mrs.Christian Robin Beck. This song rocks and then some.
'Bangin' (no, not what you're thinking...) is another hard rock stomper which will doubltess sound good in the live arena.
Bar the blip with 'The Power and the Myth' this band deliver every time and unlike other bands from the late 80's still produce new material to a high standard rather than live off past glories. One of the band's best to date and bound to please the fans.
*****
Review by Jason Ritchie

---
| | |
| --- | --- |
| | Print this page in printer-friendly format |
| | Tell a friend about this page |
***** Out of this world | **** Pretty damn fine |
*** OK, approach with caution unless you are a fan |
** Instant bargain bin fodder | * Ugly. Just ugly
get ready to rock is a division of hotdigitsnewmedia group