WHITESNAKE Reissues EMI (2009)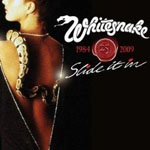 Slide It In isn't the first Whitesnake album you might immediately think of if asked for a recommendation. But in 1984 it was the first 'snake album to be released in the US and was remixed especially for that market, going on to achieve quadruple platinum status.
And to commemorate its 25th birthday, UK audiences now get the opportunity to hear the sound that broke Whitesnake stateside. The differences are subtle, but Jon Lord's keyboards and Neil Murray's bass are mixed down in favour of more prominent guitar and drums parts, with John Sykes adding some additional guitar lines on top of those of Mickey Moody and Mel Galley.
Not only was the sound tweaked to be more US radio friendly, but the running order was altered and that US release takes up the first 10 tracks of this consummate package.
CD space constraints mean that the whole UK release isn't included - Love Ain't No Stranger makes way for the live acoustic version from Starkers In Tokyo, while Hungry For Love is dropped in favour of the rare single b-side blues cover Need Your Love Bad.
But the party doesn't end there. The deluxe packaging includes a 24 page booklet with rare and unpublished photos, and the liner notes and brand new artwork were designed in conjunction with David Coverdale.
And if that wasn't enough, a 7 track DVD (six of which are available on DVD for the first time) is included to make this an absolutely essential purchase. The promo videos for Guilty Of Love, Slow & Easy and Love Ain't No Stranger are all present and correct, as are TOTP, Monsters Of Rock and Live - In The Still Of The Night appearances.
But it's the remastered US remix that makes this package, laying down the foundations for the eponymous follow up 1987 which would go on to sell over eight million copies in the United States alone. But seriously, classic rock doesn't come any better than this. *****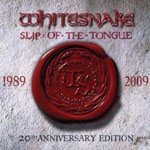 It was never going to be an easy for Whitesnake to follow their mega successful eponymous 1987 album which shipped eight million copies in the United States alone. Especially with David Coverdale's squad rotation policy. Out went John Sykes, Neil Murray and Aynsley Dunbar, and in came Adrian Vandenberg (only to be immediately sidelined through injury and replaced by Steve Vai), Rudy Sarzo, and Tommy Aldridge.
And in truth, while shifting 4 million copies, Slip Of The Tongue fell (and still falls) well short of the mark set by the two previous 'snake albums. Yes, Steve Vai gives it 'plenty' but let's be honest [girls] it's not how quick you can do it, and while there's no arguing over the man's technique, fast licking isn't everything (is it David?). No, as the main man will tell you, there's nothing quite like a slow, er, poke.
Yes, the 'snake had shot their bolt. But nevertheless they give it plenty, and while maybe never quite reaching the dizzy heights achieved by Slide It In and Whitesake 1987, Slip Of The Tounge still delivers a good hard shag with favourites such as Judgement Day, Fool For Your Loving '89, Now You're Gone and The Deeper The Love. .
And if that's not enough to get your rocks off, in consolation the 20th anniversary expanded edition includes the odd bonus or 13 for your titilation.
For a start, there's six bonus tracks - the b-side Sweet Lady, the US single remix of Now You're Gone, the Vai Voltage mix of Fool For Your Loving '89 and Monsters Of Rock 1990 live versions of Slip Of The Tounge and Kitten's Got Claws.
Those 2 live tracks also feature on the bonus DVD, plus the promo videos for Fool Fot Your Loving, Now You're Gone, and The Deeper The Love. And if that's not enough you also get the videos of The Deeper The Love and Sailing Ships from Starkers In Tokyo.
Perhaps not essential, but nevertheless a damn fine listen. ***½
Review by Pete Whalley

---
| | |
| --- | --- |
| | Print this page in printer-friendly format |
| | Tell a friend about this page |