Ultimate Kiss and tell...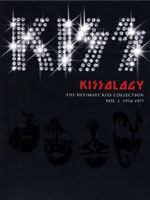 Kissology- The Ultimate KISS Collection Volume One 1974-1977 (Eagle Vision EREDV746) is a reminder that long before KISS became a money-making nostalgia machine (and one allegedly employing a 'wig man' called Dave who ensures that they 'stay on' throughout each performance- for legal reasons I must point out that this nugget of information was learnt from Michael Francis' excellent, and highly recommended, 'Star Man' book) they were, in fact, one of America's biggest and best groups of their genre and indeed era. This new DVD covers one of the most successful periods of the band's 36-year career. European fans have been awaiting this release for a while now as the Region 1 DVD was released a couple of years ago.
This 3-year period covers the beginning of the band up until their massively successful 'Love Gun' album. Although, the quality of the sound and footage varies throughout as we are presented with amateur footage, professionally shot film and TV appearances. There are 4 concerts, shown in their entirety, including Japan's The Budokan in 1977, Detroit's Cobo Hall 1976 and San Francisco's Winterland from 1975. There are also a host of interviews and other TV footage, promo films and documentaries included on what I can only describe as a good value for money, absolute must-have for fans which gives a real insight to the golden era of the band. All the favourites from this time are here, including "Rock and Roll All Nite," "God Of Thunder," "Detroit Rock City," "Deuce" and "Love Gun".
There appear to be 2 different bonus discs, depending where you order this DVD from - the one I have here includes a 7-track concert from New York's Madison Square Garden, filmed on my 4th birthday, 18 Feb 1977, nice touch!!! ****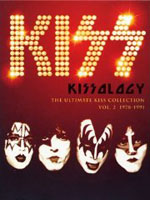 Kissology- The Ultimate KISS Collection Volume 2 1978-1991 (Eagle Vision EREDV747)
This 3 DVD set is the second volume of the Kissology collection and covers 13 years, 2 drummers and 4 guitarists where, following a long period of apparent stability and worldwide success, the band goes through various changes. DVD 1 contains the film 'KISS Meet The Phantom Of The Park'. Although today this appears rather cheesy, back when it was released the original band were a massive draw in the States, and this collection sees the first release of the film on DVD in Europe.
DVD 2 covers the leaving of Peter Criss and introduction of new drummer Eric Carr, including the CNN interview with Criss in which he talks about his departure. You also get a 1980 Australian tour documentary and gig, plus various TV appearances and promo videos.
DVD 3 is the one though. You get the band's final gig in make up- when in June 1983 KISS played to quarter of a million fans in Rio. As well as this you also get the MTV Unmasking special and interview, parts of gigs from 1983 and 1987 and a full gig from 1990. There is also a news report covering the sad death of Eric Carr and the music video for 'God Gave Rock n Roll To You II', which was his last appearance with the band.
As with Volume 1 there is a bonus disc and this time it features Tokyo's Budokan Hall and a 9-track gig from 1988's Crazy Nights tour.
All in all there are nearly 7 hours of footage here and this collection is highly enjoyable as a fan. There is a Volume 3 in the works, as the KISS story does not end here and has many more twists and turns to come. ****
Review by Nikk Gunns