W.A.S.P. Babylon Demolition (2009)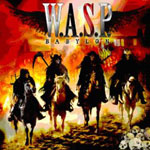 Now this is what I call a decent new album. Blackie Lawless and crew are back and on form.
This is classic W.A.S.P. - not the rough stuff of the first few years, but solid and intelligent heavy metal. Lawless' distinctive vocals are as good as ever, and there's some decent guitar work too.
Blackie, always the political observer, has centred the lyrical theme of the album around comparing the current climate (financial meltdown etc) to biblical visions of the Four Horsemen Of The Apocalypse. And having spoken to Blackie Lawless a couple of days ago, he sounds as intelligent as the lyrics (in places a hark back to Headless Children).
The opener 'Crazy' is a nod to star crazy fans - 'Crazy to love me' kind of thing, apt in the wake of the death of Michael Jackson (something Lawless compared it to).
Ever since Wasp covered Uriah Heep's 'Easy Livin' - in a by numbers fashion, the covers have gotten a lot better. 'The Real Me' was good, and here you get a meaty take on Deep Purple's 'Burn'.
There are quieter intros, but Blackie's voice does work well on a metal ballad, big voice and big sound.
There are nods of Crimson Idol here, but overall this is an excellent Wasp album with power and melody (well as melodic as they can get) and riffs and solos. It's all there.
A breath of fresh air. Is that because Blackie Lawless has made a damn good album, or a poor state of other new releases? A fair bit of both.
****½
Review by Joe Geesin

---
| | |
| --- | --- |
| | Print this page in printer-friendly format |
| | Tell a friend about this page |