THE WHO Live At the Isle of Wight Festival 1970
Eagle EDGCD339 (2009)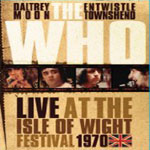 'Live at the Isle of Wight Festival 1970' has long been the missing jigsaw in The Who's recorded canon. Of course this concert was released circa 1996 but it has been unavailable for some time.
Now comes a splendidly re-mastered version which manages to deliver a startlingly clear audio transcription of the band at their best, which is brash, loud and unflinching. Of course many Who fans may have the Deluxe version of 'Live at Leeds' which contains much of the material here, but as the knowledgable liner notes of Mike Brown make clear, this is the de facto live concert experience.
The opening brace of songs comprising Entwhistle's 'Heaven & Hell' and the much earlier 'Can't Explain' illustrate the quantum leap The Who had made from being a chart singles band to being an American stadium band. Full credit then that they took it upon themselves to play most of their new rock opera 'Tommy'. And in many respects it is our subjective relationship with this most ambitious piece of work that will probably determine whether you are going to seek out this excellently re-released disc or not.
Some rock fans might opt to stick with the acclaimed 'Live at Leeds', but those more adventurous fans will be rewarded with a few unforgettable magic moments that bring trademark rock power to the sometimes pedestrian 'Tommy' libretto.
First of all there is the explosive 'I Don't Even Know Myself' which ended up as a bonus track on the 1995 re-issue of 'Who's Next', while the band rock out on 'Sparks', a track on which Townsend's raging guitar work echoes the idiosyncratic guitar work of The Groundhogs' Tony McPhee.
The crowd reaction suggests that whatever reservations some of us had at the time about 'Tommy', the Isle of Wight crowd were really behind the band, especially so given the roar of recognition for 'Pinball Wizard'.
And just as disc two starts to wilt under weight of Townsend's conceptual pomp, the band pull out all the stops on 'I'm Free'. Roger Daltrey further shines on 'We're Not Gonna Take It' and the band thrash away gloriously on Cochrane's 'Summertime Blues'.
There's even room for a return to their R&B roots with Townsend guitar playing at its best on a three number segue starting with 'Shakin' All Over'.
If nothing else, this live performance finds The Who bristling with real verve, energy and purpose, as they somehow manage to overcome the seemingly stylistic schism between The 'Oo as an unreconstructed rock band and Townsend's role as a Meher Baba influenced rock opera disciple.
****
Review by Pete Feenstra

---
| | |
| --- | --- |
| | Print this page in printer-friendly format |
| | Tell a friend about this page |