THE JOKERS The Big Rock 'N' Roll Show (2009)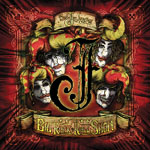 Where do these great young bands steeped in 70's rock sounds keep coming from? The Jokers are the latest to join the Answer, Glyder, Draven, the Trews, Black Stone Cherry and Jaded Sun as 'must have' bands in your collection. A four piece from Liverpool comprising of vocalist Wane Parry, guitarist Paul Hurst, bassist Simon Hurst and on drums Chris Bate. The album is mixed by Mike Fraser (AC/DC et al) so sound wise you have no worries.
Listening to this album each song recalls one of the 70's greats but the Jokers add their own twist taking them above mere copycats. Say you fancy some Aerosmith swaggewr try 'Studio 54' or the title track. In fact the only gripe I have with the whole album is that these two songs sound a bit too similar in their respective riffs. Want a fix of T. Rex then 'Super Groover' sounds uncannily like the late, great Marc Bolan on the chorus. The band cheekily name pinch a bit of Liverpool's most famous band the Beatles and their their song 'Revolution'.
The immense ballad 'Ocean Of Kings' is Robert Plant and Led Zeppelin in full swing. The vocals again are very similar to Robert Plant, a spine tingling delivery. The other slow number on the album, 'Hell To LA' treads a similar path but not to such great effect. 'Star Raver' with it's 'ooh ooh's' takes you back to the Rolling Stones in their late 60's and early 70's pomp.
What a strong set of songs for a debut album by a band who deserve their chance in the limelight. One of the best debut albums I have heard since those by the Answer, Jaded Sun and Glyder. Crank it up and enjoy!