HEAVEN AND HELL The Devil You Know Roadrunner (2009)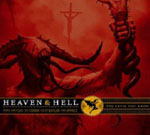 This of course is the Dio-era Black Sabbath under another name, namely one of their classic albums and glad to report that this album is better than 'Dehumanizer', which had its good moments but did have a couple of fillers. The advancing years thankfully have done nothing to the awesome power of Ronnie Dio's voice whilst Tony Iommi is still the undisputed master of that slow, doomy metal riff. Add to this for me Sabbath's best rhythm section of Geezer Butler and Vinnie Appice, with Geezer Butler's bass in particular to the forefront in many of the songs. The there is the production which really is crystal clear allowing the riffs to sparkle and shine alongside Dio's vocals.
There are no real musical surprises bar maybe the slow acoustic intro to 'Bible Black' which lulls the listener in and then hits them with a big riff. The music never really hits the frantic tempo of say 'Neon Knights' apart from on 'Eating The Cannibals' (with a song title like that you just know this is a Sabbath album) which for me is the only downside to the whole album. Not one song is a filler and in the doom laden 'Atom And Evil' and 'Fear' you have some genuine fuure live classics from the band. 'The Turn Of the Screw' sees the band at their most commercial with an instant riff and chorus and don't be surprised to see this end up on a film soundtrack sometime in the future.
With any band like Heaven and Hell expectations will be high from fans and of course Ozzy-era Sabbath fans are unlikely to be won over. The band have delivered, playing to their strengths and really nailing that doom sound that many try to imitate but only these guys can really do justice to. The band all seem back on good terms and firing on all six which can only be good news for fans and more importantly they want to tour, something which has always hindered the Ozzy fronted Sabbath at times. Messers Iommi, Dio, Butler and Appice we salute you!
****½
Review by Jason Ritchie

---
| | |
| --- | --- |
| | Print this page in printer-friendly format |
| | Tell a friend about this page |