ELEKTRADRIVE Living 4 Valery Records (2009)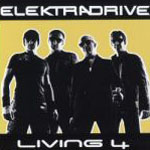 Elektradrive caused ripples in 1989 with their second album 'Due'. The Italians' fourth album - after a 6 year gap following 'Big City' in 2003 - is equally convincing. They started out 25 years ago and while it is possible to hear why they have never made it beyond their homeland (due largely I suspect to changing musical tastes) their time may have finally come. Let's hope so.
Opener 'Evil Empire' is a fantastic track, great vocal from Elio Maugeri and chorus, Kings-X style riffing and a superb breakdown with chorused guitar and solo. This simply rocks. And if you think that was a fluke, they follow up with 'Feed The Ground' which is just as impressive. Think a heavier Toto with eco-aware lyrics. The trick is repeated later on with 'WYSIWYG', a simply superb slice of hard rock.
"What We Still Don't Know" continues a Kings X vibe (but mixed with an Iommi-style riff) whilst 'Living 4' is equally robust, characterised by excellent vocals, harmonies, and urgent guitars. There is even a touch of the proggers Yes in this one. Prog flavours continue on 'Get Power From the Sun' with an unexpected flute solo from Mauro Pagani.
And when they slow it down the band are just as convincing: 'Do It For Everyone' is a spine-tingler and the vocal vibe reminds me of Coast To Coast Glenn Hughes but with the purpose of Todd Rundgren, whilst 'Pain', 'You Are Always On My Mind' and 'Son Of The Universe' are other class ballads always topped with a superlative guitar solo. I particularly like Simone Falovo's chorused figures throughout which lend the album a reflective vibe in between the heavy riffing.
The more upbeat 'Dirty War of Bloody Angels' (shades of latter-day Bad Company swagger) and 'The Water Diviner' would - like all tracks here - be great live, the latter echoing the best of 'Start From The Dark' period Europe mixed with prime-time Queensryche as does 'In A Superficial Way'.
I could be wrong but it may well be management/PR that have prevented the band's wider success in the past and at least in the last decade. Their website needs sorting for a start, last updated in May 2008.
The album too needs careful promotion - and touring - if the band aren't going to slide through the cracks again. They'd be ideal for a gig like 'Firefest'. And in between House of Lords and Winger - both turning in exemplary melodic hard rock albums this year - Elektradrive's current offering sits loud and proud.
This is a class act and a simply wonderful sounding album that inspires, both on a musical and on an emotional level.