THE ANSWER Everyday Demons Albert Productions (2009)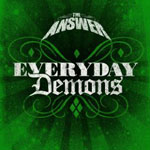 The Answer were trailed as the next big thing when they made their debut in 2006 with 'Rise'. They've gigged solidly since and some three years later comes the "difficult" second album.
Is it worth the wait? Hardcore fans of the band will be pleased that 'Everyday Demons' is really more of the same but this time served up with more bravado and a confidence based on the passing years.
If I have one criticism of the band - who are often compared to a nascent Zep or Free - there isn't much light and shade, or in truth originality. Just very well-executed blues-based rock and excellent vocals from charismatic frontperson Cormac Neeson.
From the opening track 'Demon Eyes' the bar is set high and the blueprint set up with 'Rise' pretty much survives intact. The early single 'On And On' is compulsive whilst 'Pride' is equally single/radio material. All in all the album is accessible although economical (with most tracks clocking in at under 4 minutes or less, and only 11 of the b----rs). The Special Edition comes with a bonus disc of live tracks and reaffirms that live is the best format for this band as well as giving the best value.
'The Answer' became the darlings of classic rock hacks who saw them as saviours of the genre back in 2006. If their flame has dipped a little since, high profile touring with AC/DC (soul brothers in terms of influences - strangely an AC/DC sleeve appeared in my media player when playing this CD) won't do them any harm. They do need to introduce some variety if they are not to be regarded as mere standard bearers for seventies-style blues rock.
***½
Review by David Randall


***** Out of this world | **** Pretty damn fine |
*** OK, approach with caution unless you are a fan |
** Instant bargain bin fodder | * Ugly. Just ugly
© 2002-2022 Get Ready to ROCK! All rights reserved.