Just witnessed your best live gig?.. send us a review!
THE ANSWER/Black Spiders/Voodoo Johnson
Nottingham, Rock City 1 December 2009
Photos by Ian Pollard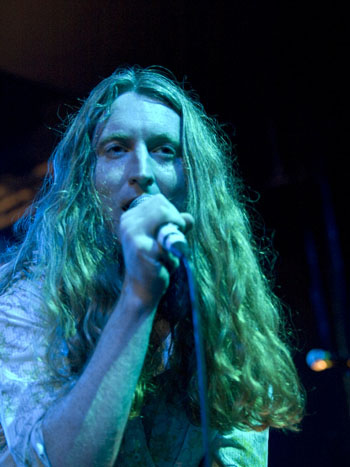 Photo: Ian Pollard
A chilly Rock City welcomed Voodoo Johnson to the stage to get proceedings under way for the evening. Front man Kev Bayliss noted the ambient temperature with a somewhat more creative expression.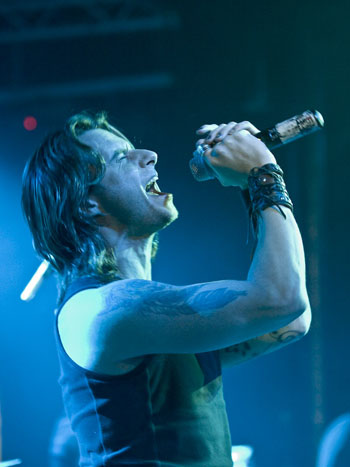 Photo: Ian Pollard
However, this 5-piece, with their roots firmly in the twin-lead sound of NWOBHM, laced with more than a hint of mid-80's West Coast sleaze, and all freshened up with more modern subtleties, soon warmed the place up with a short but energetic set. First time I have seen them, but definitely worthy of further investigation.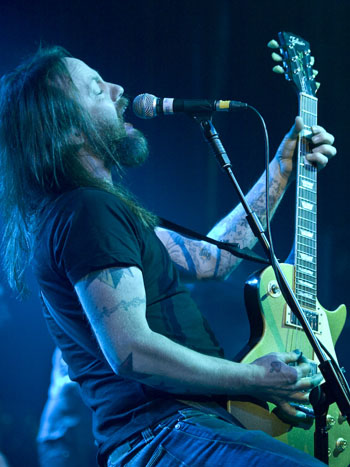 Photo: Ian Pollard
What to say about the Black Spiders, next up for a similarly short set? Well, if you weren't warmed up already, you would have to be sitting in a fridge not to be warmed up by the time they finished. Possibly the craziest bunch to ever take the stage at Rock City?
Their drummer (sorry, don't know any names), is a full evening's entertainment all on his own. Their motto, "Eat Thunder, Sh*t Lightning" seems very appropriate. Oh, and their brand of Sabbath influenced stoner-blues-rock is pretty good too.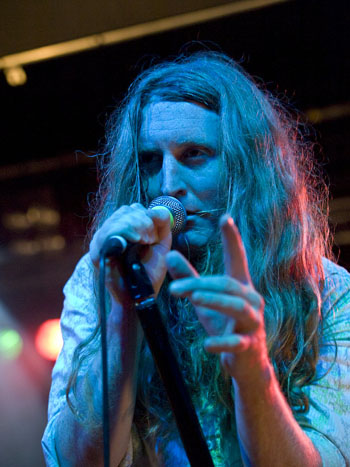 Photo: Ian Pollard
Main event time and a very finely polished live act arrive. Hardly surprising after a year of touring, mostly opening for AC/DC - The Answer are guaranteed to learn a few things along the way there. Still, they have managed some headline shows and even got a new album released in the midst of that world wide tour. "Everyday Demons" forms the basis of the set list tonight, with all bar one of the tracks being aired. The best of "Rise" also remain in the set.

Cormac Neeson is in fine form, losing himself in the music and delivering a great vocal performance, particularly on "Under The Sky".
It is so good to see a young guitarist who is able to play slide guitar with feeling, as well as rip out the riffs and solos with aplomb. Paul Mahon fits this bill perfectly and appears to get better every time I see him.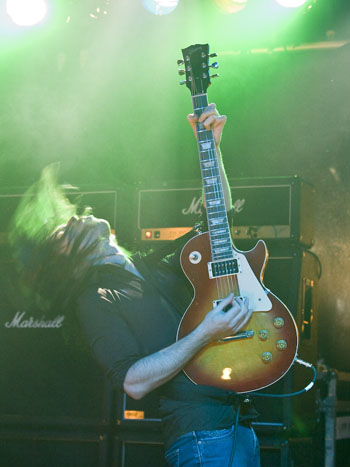 Photo: Ian Pollard
It is also good to see that James Heatley's hand problems from earlier in the year seem to be completely resolved now. No signs of any of the pain that kept him off the drum stool for a while.
Michael Waters completes the line up on bass, forming a tight partnership with James. The end result is the best new "70's hard rocking blues band" to hit the scene for over 30 years.

Surprisingly, I found the encore song "Preachin'" the highlight of the set. It was never my favourite on the CD, but live it is an absolute house. I guess I just wasn't playing it loud enough! This closes the evening nicely, setting the seal on a fine performance from a band that are rightly expected to go far. How far remains to be seen, but you can't fault the band for effort or ability.


Set List:

Tonight/ Demon Eyes/ Come Follow Me/ Walkin' Mat/ Cry Out/ Never Too Late/ Too Far Gone/ Why'd You Change Your Mind/ On And On/ Evil Man/ Comfort Zone/ Dead Of The Night/ Keep Believin'/ Under the Sky/ Preachin'

Review and photos by Ian Pollard
---