Just witnessed your best live gig?.. send us a review!
THE ANSWER/Black Spiders/Glorious Chaos
HMV Forum, London 9 December 2009
Photos by Noel Buckley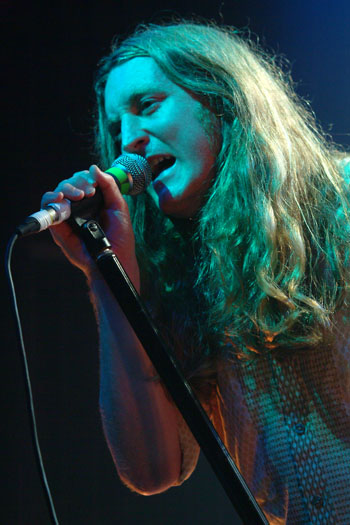 The last time I saw The Answer they were supporting Paul Rodgers at the Royal Albert Hall and played a storming support set, albeit looking a little lost on such a big stage. The venues they were playing back in 2006 were much smaller than tonight's venue.
There is a good sized crowd in, many wearing AC/DC T-shirts, a band who have taken the Answer on tour with them in the US and Europe which will have certainly won them new fans.
But before the main event we have two support bands, the first of which the Black Spiders play a Sabbath inspired doom metal set. Mind you the band certainly have a good sense of humour in that how many bands do you know get the audience to sing 'f**k you' back at them.
Couple of good songs but the sound was not great and the vocals were indecipherable in many places. Mind you they were a darn sight better than the next band, Glorious Chaos a three piece band with a guitarist who looked like he had dropped out of Aztec Camera! No real memorable songs and again the sound wasn't the best.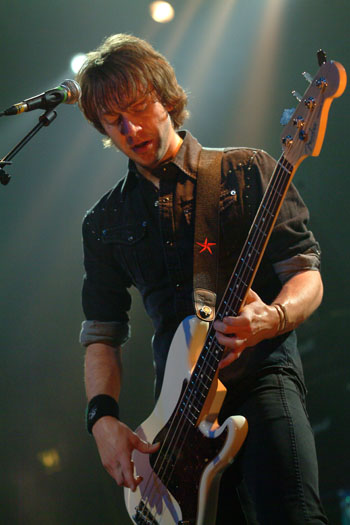 The Answer played a good mix of their two albums to date, namely 'Rise' and this year's 'Everyday Demons'.
Plenty of highlights including throwing 'Come Follow Me' early on, one of the band's best songs in my book. 'Never Too Late' allowed vocalist Cormac Neeson to strut his stuff whilst 'Too Far Gone' allowed for a slight breather.
The band really played their rockier songs, even 'Preachin' seemed a lot heavier than on the album. The new single 'Comfort Zone' shows the band can move outside of the blues rock label they are often given and the ending again allows Cormac Neeson to flex his vocal range again.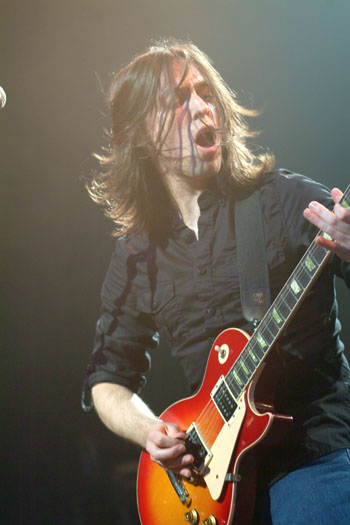 Surprisingly little on stage banter bar a rather rambling tale about England manager Fabio Cappello wanting the drummer, James Heatley to play for England. Not a chance with his massive drum sound, straight from the John Bonham style of drumming.
The band couldn't put a foot wrong with such an enthusiastic audience and the set list seemed to keep everyone happy. No needless soloing, no egos just a band at the peak of their musical powers and one deserving more airplay to get them up to the next level, Hammersmith Apollo next time they visit London.

Despite being a relatively new band the constant touring has seen the band become fantastically tight musically and a 'must see' live. Now lets hope they pop-up on some UK festivals next year - Guilfest with the mighty Quo would be good...
Review by Jason Ritchie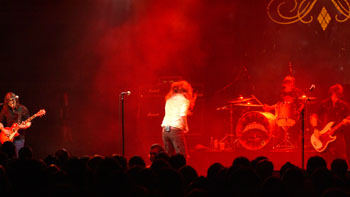 Andy Nathan writes:
With the release of their second album Everyday Demons and the coveted support slot on AC/DC's stadium tour, 2009 was meant to be the year one of classic rock's brightest young hopes broke into the big time. However it hasn't quite happened that way: although this UK tour has seen them playing their biggest venues yet, the Forum was half empty for their London headlining show.

The audience was a mixture of younger fans and those old enough even to remember their inspirations like Led Zeppelin and Free first time around, but I cannot recall a more predominantly male crowd in a long while.

The Northern Irishmen played a similar set to their show at Dingwalls earlier in the year, heavily showcasing the new album, kicking off with the commercial Tonight and no holds barred intensity of Demon Eyes.
It was noticeable however that older songs like Come Follow Me and the Zep-esque Never too Late got the better reception, implying that they have not picked up as many new fans as expected.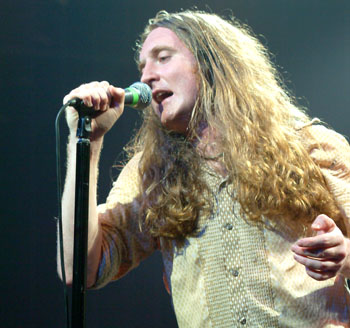 Of the new songs, Cry Out was so retro sounding it even reminded me of Family, Cormac Neeson's bluesy croak making him sound like Roger Chapman.
Other highlights included Walkin Mat, the moody Why did You Change Your Mind, and above all new single and ballad Comfort Zone with its catchy 'Can I embrace a moment with you' chorus.
However, for my money, a few of the new songs (Too far gone, Dead of Night) were run-of-the-mill plodders, lacking the spark to set them apart from the crowd.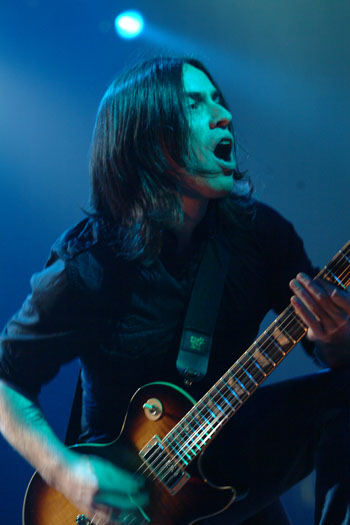 The set ended on a high with Under the Sky, giant balloons being thrown into the audience, and the mosh pit at the front growing, before encoring with High Water or Hell (inexplicably confined to the Japanese version of the CD) and Preachin', giving the band a chance to extend into a bluesy jam with Paul Mahon's slide guitar to the fore and Cormac diving into the crowd.

Cormac's intensity, flailing hair and ill co-ordinated dancing remain the focal point of their stage show, while Paul, bassist Mickey Waters and drummer James Heatley are all energetic, powerful players.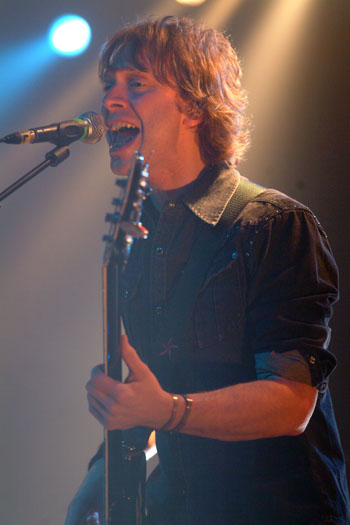 However they are missing a certain star quality, for all their welcome modesty and humility: compared to previous bands that have revived blues rock, such as Thunder or the Black Crowes, they lack charisma and showmanship.

Despite hearing some of the best classic bluesy rock this decade, I still left the gig thinking there are question marks against The Answer's continued rise.
Review by Andy Nathan
Photos by Noel Buckley
---
---