KIM WILSON Tigerman/That's Life Retro World FLOATM6012 (2009)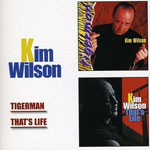 There's a curious contradiction at play in this double re-issue of Kim Wilson's 1993 'Tigerman' solo album and the 1994 follow up 'That's Life'. For while albums now appear to be re-issued less than a generation and half after their original release, the music within is living American musical history. And the Fabulous Thunderbirds front man, and harp playing vocalist Kim Wilson is the perfect conduit by which the traditional blues is given it best possible contemporary airing.
On both albums he contents himself with only three self penned songs and both albums showcase the blues side of Kim Wilson, marking a sharp contrast to his work in the mid 80's with The T Birds.
And while much will undoubtedly be made of his harp playing, it is his signature voice that adds colour, life and expression to an array of songs that showcase the blues in all its many styles.
On both the title track of 'Tiger Man' and the stop-time arrangement of Johnny Guitar Watson's 'She Moves Me' it is Wilson's authoritative vocal phrasing that brings the lyrics to life. He has a rare ability to dig deep for every little nuance and uses the gentlest of vocal inflections to communicate real feel, though even Kim's fine interpretation of the laborious ballad 'If I Should Leave You' can't rescue the song.
Predictably he saves his best for his own material most notably on full harp tone exploration of 'Hunch Rhythm' and the self explanatory 'Boogie All Night'. But almost as if to add balance he saves his most potent piercing notes for 'Sonny Boy's slow blues 'Trust My Baby', conjuring up the kind of tone sends a shiver down your spine.
'That's Life' the more recent CD is more of the same, with consistent performances from all concerned and given the stellar Austin base line-up involved there's much to choose from.
Duke Robbilard opens 'Baby Please Don't Lie To Me' with a stinging solo as he sears over both a punchy horn arrangement and another effortless vocal performance from Kim.
The highlight for me is Wilson's own 'Don't Bite the Hand That Feeds You', proof if proof was needed that not only is he a fine interpreter of classic blues, but he is also in the vanguard of contemporary blues. Kim's songs evoke the past but cast their focus on the future while the lyrics convey as much irony as the music does intent.
The band really leans into the number as Wilson achieves another awesome harp tone. The band further picks up the pace on another great Wilson outing, the humorously titled instrumental 'Humpin' to Please' with Rusty Zin adding some nice guitar voicings over Richard Innes' impressive drum patterns and Wilson's flighty harp.
And there's yet more quality playing and real feel to be found on a cover of James Lane's 'Blues Leave Me Alone' on which Kim's harp and vocal line dominates before the album winds up with the quite wonderful and suitably titled closing instrumental 'Low Down'.
This is a welcome mid price double pack re-issue, crammed full of quality blues played with real feel and spirit. Perhaps we could have done with some decent liner notes to give both these former Antones sessions their due context but the music rings out true and clear.
****
Review by Pete Feenstra

---
| | |
| --- | --- |
| | Print this page in printer-friendly format |
| | Tell a friend about this page |