Just witnessed your best live gig?.. send us a review!
NEW YORK DOLLS, 100 Club, London 14 May 2009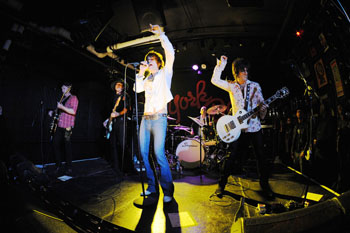 Photo by Paul Bachmann
So what are to make of the glam proto-punk rockers the New York Dolls in 2009?
With the passing of Johnny Thunders, Jerry Nolan and more recently Arthur Kane, the band are based around their surviving core members, the charismatic vocalist David Johansen (think Jagger meets Robyn Askwith) and his diminutive fiery guitar playing partner Sylvain Sylvain.
Former Hanoi Rocks bass player Sámi Yaffa adds a more contemporary touch of androgyny and guitarist Steve Conte make a good fist of imitating Johnny Thunders' shapes, while drummer Brian 'fancy pants' Delaney' holds it all down solidly.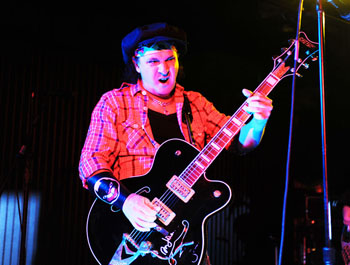 Photo by Paul Bachmann
In many respects the band are like a cartoon characters come to life. But this is one shit kicking garage band with an r&b heart and a batch of new songs from their impressive 'Cause I Sez So' album that suggests they might extend their resurrected career for a good few years yet.
In many respects the 100 Club was the perfect setting, a hot sweaty unpretentious club with a r&b and punk h istory and this is after all the band that has been described as 'blues with mascara' but with a punkly edge.
Perhaps much like punk itself the The New York Dolls are best remembered as a band that went on to influence future musical generations, but if nothing else this show suggested they still have plenty to give in their own right.
Given the Johnny Thunders, MC5, Damned, Stooges T shirts and presence of support band Spizz 'Where's Captain Kirk' Energi everything pointed to a nostalgic return to the late 70's. But in fact the Dolls pre-dated punk and in the case of 'Jet Boy' (thrillingly reprised tonight) they were a direct influence on bands like The Ramones.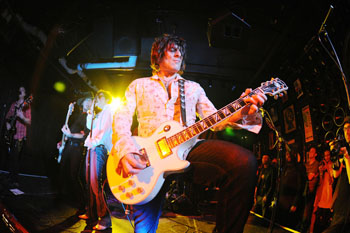 Photo by Paul Bachmann
Perhaps it was a combination of Johansen's mirror image of Jagger and the band's r&b leanings that made them unpalatable to 70's UK audiences. Over 3 decades later they seem to have finally found their niche as agent provocateurs on the post punk garage scene. Their unflappable high octane show in cauldron like conditions cast a surprisingly wide musical net, with the recently re-recorded 'Trash' even slipping into a surprising reggae section.
The Dolls also enjoyed a couple of hearty call and response sequences on the primal stomp of 'Babylon' and the rapturously received cover of Bo Diddley's 'Pills'. And as if to demonstrate their soft core, they even worked up a full blown love-in on the Johansen harp led 'We're All In Love'.
But it was the impressive newer efforts like the funky groove of 'Nobody Got No Biznis', the bone crunching wall of sound riffs of 'Muddy Bones' (vocally reminiscent of Eddie & The Hot Rods) and best of all the chanted hook of the very catchy new single 'Cause I Sez So' that augers well for the future.
Sylvain worked the audience to the max and put the emphasis on fun with another enthusiastic call and response sequence on the shifting tempo changes of 'Stranded in the Jungle'.
Johansen meanwhile displayed that priceless ability to wander across the stage with a confused look and an occasional perfunctory clap of the hands to bring him back to the present.
In short The New York Dolls rocked the house, took us up, down, sideways and then back to the top again. And when at the end Johansen proclaimed 'I think we did a pretty good rock & roll show', what do you think'? no one in the house was about to argue.


Review by Pete Feenstra

---
| | |
| --- | --- |
| | Print this page in printer-friendly format |
| | Tell a friend about this page |