STEVE HACKETT Out Of The Tunnel's Mouth
Wolfworks Records (2009)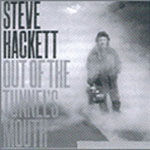 It's testament to Steve Hackett's musical integrity that he has consistently ridden roughshod over the fluctuating music scene and eschewed commercial considerations, 'Spectral Mornings' aside, to build a substantial body of solo work outside of his Genesis past.
For as 'Out of The Tunnel's Mouth' gloriously confirms, Steve Hackett is an innovative composer and exemplary guitarist for whom quality remains a given, while other considerations can follow at a reasonable distance.
'Out of The Tunnel's Mouth' is an album that he describes as 'probably the best album ever recorded in a Twickenham living room'. And while you may not wish to argue the point, if you take the location out of the quote, you might be forgiven for thinking he's in the same boat of many of his contemporaries. After all given the relentless march of technology there's a raft of respected musicians who could now probably record in a telephone box if they so wished.
No matter. From the opening quiet/loud, choral explosion and guitar solo of 'Fire on the Moon', Hackett plays to all his strengths. There may be familiar musical elements infusing all 8 tacks, from the David Gilmour feel of the opener to an undeniable Procol Harum melody line on 'Emerald And Ash', but the album as a whole does the opposite to what Steve himself suggests in the accompanying press release and that is he does indeed leave his identifiable mark.
So while he may change tempos and guitar textures from the full blown solos on 'Fire' and shift from Spanish to angular electric guitar on 'Ghosts in the Glass', he remains stylistically coherent at all times.
Listen to the gentle Spanish guitar intro and percussive castanets on the evocative 'Nomads' and the horn led orchestration and processed voice of 'Emerald And Ash', or indeed the rumbling bass and industrial sounding synth guitar of the very 70's jazz fusion sounding 'Tubehead' and you are hearing the product of Steve's core restless musical imagination.
Whatever the style and the micro musical diversions Steve Hackett's only given consistent is musical excellence, and there's plenty of that in this album. In many resects the challenge he sets himself - domestic recording facilities aside - is to come up with something strong and inspirational enough to channel his undoubted talent. And on balance he does more than that.
'Sleepers' for example, gradually shifts from a western film sounding intro via an ascending keyboard line to an ethereal Floydian vocal resolution. The song's inner structure gives it the space to irresistibly gather momentum. And as on all solidly composed pieces the melody line is allowed to develop and bubble underneath a quite lovely vocal harmony before the inevitable big drum-led rock format with more processed voice. This is classic rock at its best topped by some frantic noodling and startling time changes that Zappa would have smiled at.
Here is the ultimate example of the impatient muse bursting out of the arrangements before eventually settling for the thumping rock-blues swing of the gospel led 'Still Waters' And while the closing Christine and Ron Townsend violin and soprano led 'Last Train To Istanbul' is the kind of Dervish whirl explored a decade ago by the likes of Amon Duul II, it provides the perfect ending to a great album.
Whether he likes it or not, 'Out of the Tunnel's Mouth is irresistible music uniquely stamped by Steve Hackett, a musical messenger with plenty to say.
*****
Review by Pete Feenstra

Steve Hackett is Featured Artist in our Guitarist Series in October (www.getreadytorockradio.com)