FOREIGNER Can't Slow Down Atlantic/Rhino (2009)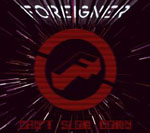 It has been 15 years since Foreigner's last studio album 'Mr Moonlight' and we have been left since with several recycled greatest hits packages. For a moment, it seemed that the band were resting on their heritage status but then a new track emerged on 2008's 'No End In Sight' compilation.
'Too Late' is included here, it doesn't matter that it appears a re-write of 'Blue Morning, Blue Day' mixed with 'Cold As Ice'. It does mean Foreigner have decided against going to the pool for the day. Starting with the excellent title track 'Can't Slow Down' it could even be a return to form.
What we have to accept is that Foreigner 2009 is a substantially different band to the "classic" late seventies incarnation. For many, the Lou Gramm/Mick Jones combination was Foreigner. Whilst Gramm's legacy is present in the vocal stylings of many a latter-day melodic vocalist, Kelly Hansen is more cast in the John Waite-crooner mould ('When It Comes To Love', 'I'll Be Home Tonight' and 'As Long As I Live').
As such, 'Can't Slow Down' emerges as a top quality selection of melodic rock songs tailor-made for daytime radio. But Classic Foreigner? Only 'Too Late' and 'Give Me A Sign' revive that memory whilst 'Angel Tonight' is an effortless slice of classic rock/pop in the best traditions of the band.
If there is a criticism, it is the overall lack of distinctiveness, some of these songs would sound fairly anonymous on AOR radio. And apart from the title track there's nothing with the urgency and hard rocking of their best output (such as 'Head Games' and 'Juke Box Hero').
As if to reiterate that, we have a new take on the heritage catalogue with a bonus disc of classic track remixes. Understandably these tracks serve to undermine the new stuff. Marti Frederiksen (Aerosmith's long-standing producer who has co-produced Foreigner's new studio album) helpfully supplies a technical explanation in the liner note, and they do sound good.
A bonus DVD does restore faith in the new line-up with live footage and interviews recorded on tour in 2009. Something funny is going on though, the soundtrack is perfect but some of the performances seem to be spliced - how else would that explain why second guitarist Tom Gimbel changes his outfit during 'Head Games'?
Overall, this is an excellent value package and if the music industry wants to know how to retain physical album sales, the combination of a new CD, the classic tracks, and a DVD is pretty much unbeatable. Ever the champions of corporate/arena rock, Foreigner have shown that they can both reinvent themselves musically and provide an irresistible marketing mix too.
****
Review by David Randall


We chatted to Mick Jones of Foreigner about the return of Foreigner and the new album 14.01.09