W.E.T Wet Frontiers (2009)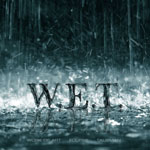 Few albums have created such a stir in the melodic rock world as this one, with opinion divided on whether it is an absolute masterpiece or been over hyped.W.E.T. brings together the main men from two of the genre's rising bands, Robert Sall from Work of Art and Eric Martensson of Eclipse, but primarily as songwriters for a set of songs that are a vehicle for the vocal talents of the talented, versatile and much-travelled Jeff Scott Soto.
Most of the songs on the album fall into two categories at opposite ends of the melodic rock spectrum: chest beating, fiery hard rock, or lush ballads. On the evidence of their 'day jobs' I would guess that Martensson provides the former, and Sall the latter.

I...wanted to give it a really modern and punchy sound just to add something new and fresh into this genre and it looks as it was a good plan as many seem to have noticed the fresh ideas on the album. But it still have the classic melodic rock ingredients that we all love and never get tired of. Erik Martensson
The end results are highly impressive: openers Invincible and One Love pack a mighty, anthemic one two punch, that would have filled stadia back in the day, and will delight fans of JSS's earlier work with the likes of Talisman, Eyes and Takara.
In contrast Brothers in Arms comes over as a cross between Journey and Toto (or, for the AOR connoisseur, Urban Tale) and Comes Down Like Rain is a moody, atmospheric slow burner. Other highlights include the Foreigner-ish Running from the Heartache, and the urgent, swaggering hard rocking sounds of Put Your Money Where Your Mouth Is and Just Go, while six minute set closer If I Fall could be a vintage Journey ballad, ironically so given JSS's short-lived tenure with them.
If I had a criticism, it would be that the instrumentation is very generic with little character to it, perhaps inevitably for a studio-based project. However this is a classy set of songs, delivered by among the best set of pipes in the business, and a thoroughly enjoyable opus.
****½
Review by Andy Nathan

---
| | |
| --- | --- |
| | Print this page in printer-friendly format |
| | Tell a friend about this page |